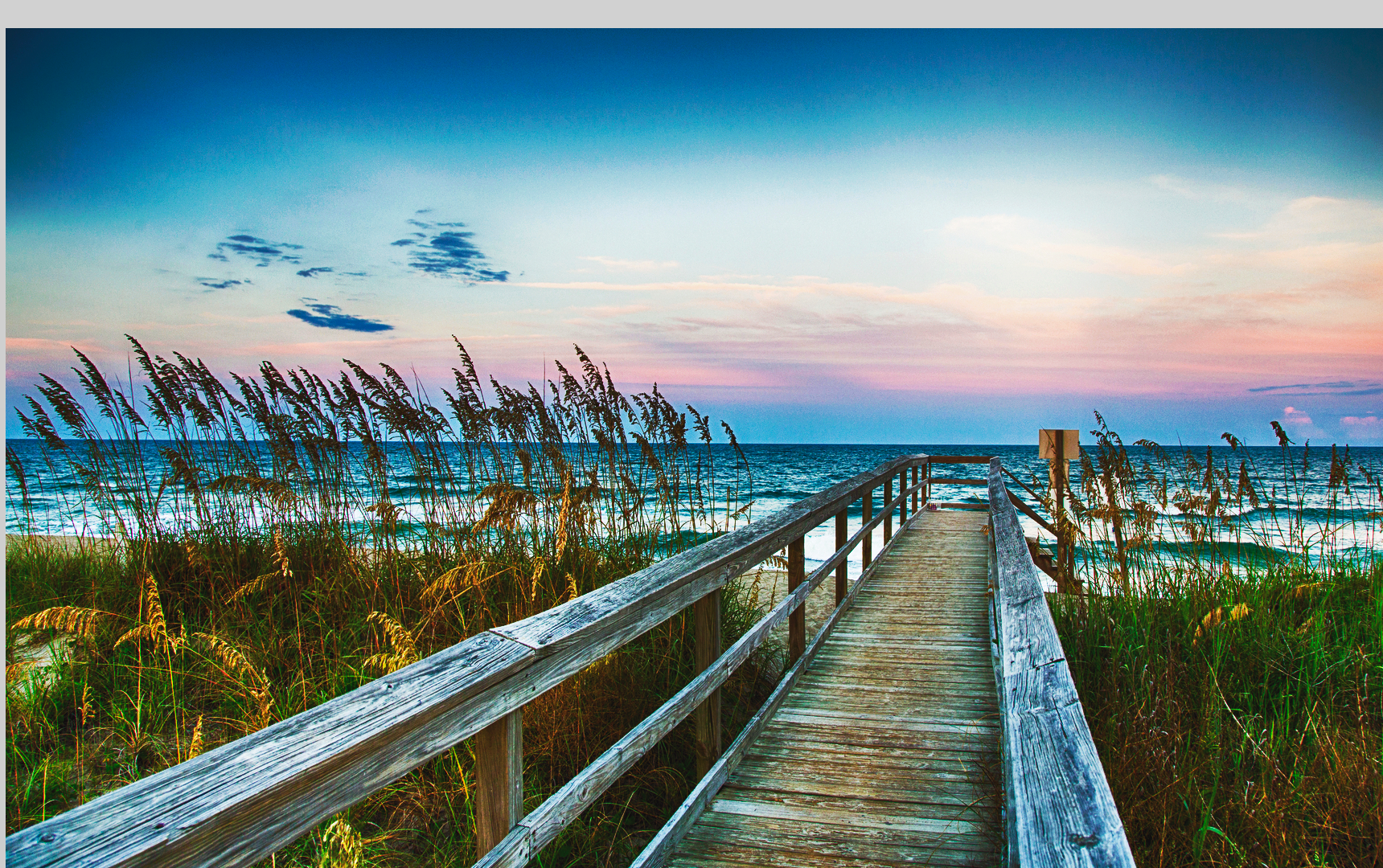 Photo by Devon Nelson


Nature
White Sandy Beaches
The Alabama Gulf Coast has 32 miles of wide, beautiful beach offering plenty of room to stretch out. If you're a beach lover, you'll appreciate the fact that Gulf Shores has some of the best beaches in the country because of the super fine sand and the beautiful water that the Gulf has to offer. Sand found on the Pacific and Atlantic coasts just doesn't compare to the fine, white beaches of the Gulf Coast, free of pebbles and course textures. So why is this? Pure white quartz crystals were first formed in the Appalachian Mountains, then flowed into the Gulf of Mexico, giving us a super fine grain that resembles sugar. What a great way to spend the afternoon!
Clear Blue-Green Water of the Gulf of Mexico
The Gulf Coast provides a beautiful, waterfront backdrop that attracts millions of visitors every year. Located in lower Alabama of course, the water remains at a very comfortable temperature for most of the year, and many people can even be seen taking a dip all year round. The coast in Gulf Shores is also "easy on the eyes" with its green and blue hues that make you think that you're in the Caribbean. You can enjoy beautiful water without leaving the states.
Bon Secour National Wildlife Refuge
Get close to nature by hiking over 6 miles of trails, launching your kayak, or just viewing all kinds of wildlife from alligators to armadillos. Bon Secour is a prestine refuge that's located off of Fort Morgan Rd in Gulf Shores.
Gulf State Park
One of the biggest natural attractions in Gulf Shores is Gulf State Park. Get ready for a plethora of activities to fill your days including hiking, biking, camping, fishing off the park's 1,512 foot pier, kayaking, and so much more. Gulf State Park is one of the gems of the Alabama coast.
The Backcountry Trail
If you love nature and outdoor activities, you'll love The Backcountry Trail. Here you will find over 15 miles of trails, covering 6 different eco-systems that stroll through Gulf Shores, Orange Beach, and Gulf State Park.


Amusements
Waterville USA
Waterville USA is located in downtown Gulf Shores just two blocks from the beach and is 2 parks in 1. The amusement park includes a roller coaster, kiddie rides, go-karts, a trampoline ride, and much more. The water park has a myriad of attractions like water slides, a simulated surf pool, lazy river, a big league raft ride, and more. Fun for the whole family!
The Track
Located just 5 minutes from the beach, The Track Family Recreation Center is a busy hub for the whole family. They offer several go-kart tracks, mini-golf, bumper boat rides with water cannons, kid's country for the smaller ones, and a 110-foot Skycoaster swing.
Owa
As of this writing, Owa of Foley AL has yet to open, but the first phase is scheduled for the summer of 2017. This huge theme park (which is said to be a cross between Six Flags and Disney) will be located about 20 minutes from the beach and is sure to be a major player for the people who live in or visit Gulf Shores. Check out an article that I wrote about Owa that gives some details and updates on the park.
Alabama Gulf Coast Zoo
I bet many pass by the zoo without even knowing it's there, but check it out the next time you're here. The Alabama Gulf Coast Zoo is great for families! Not only do they exhibit 100′s of exotic animals, but they also provide opportunities for "up close and personal" encounters with some of the animals.
The Factory
The Factory is fairly new addition to Gulf Shores attractions. This is a very large trampoline and recreation center that includes trampoline basketball and dodge ball, batting cages, foam pits and much more.


Watersports/Fishing/Boating
Inshore opportunities
The Gulf is not the only draw for those who enjoy boating, parasailing, paddle boarding, and kayaking. In and around Gulf Shores, there are many possibilities to have some inshore fun including: Oyster Bay, Bon Secour Bay, Mobile Bay, Little Lagoon, Wolf Bay, Lake Shelby, Intracoastal Waterway, Terry Cove, Bayou Saint John, Cotton Bayou, Bay La Launch, and Ole Rive.
Deep sea fishing
Whether you are taking your own boat out from the many homes that have deep water docks in Gulf Shores or taking a deep sea fishing charter, Gulf Shores gives you the chance to catch the big one. Some of the many large catches include red snapper, sharks, king mackerel, blue fish, and blue marlin.
Scuba Diving
Learn to dive or utilize one of the many diving charters to visit the beautiful waters of the Gulf.




Great Places to Stay or Live
Gulf Shores has a wide variety of homes and condos in all different price ranges, whether you are buying a Gulf Shores property or just renting for a short time. When you think about Gulf Shores, you think about relaxing and spending time by the water. Indoor and outdoor pools, lazy rivers, hot tubs and, of course, the Gulf can all be found in the properties of Gulf Shores.


Golf
Did you know that there are 5 championship golf courses in Gulf Shores? One of which is Kiva Dunes, which is located on the west end of Fort Morgan Rd and is ranked as the #1 golf course in Alabama. Nice course to have in your own back yard! Plus, being in the southeas,t you can literally play every day of the year. Here's a resource page for all of the courses in our county, including, of course, Gulf Shores.




Shopping
The Alabama Gulf Coast produces over $3 billion in revenue annually, and this number is expected to grow. Along with a multitude of singular stores and boutiques, we also have a couple of large shopping centers, as well: The Wharf of Orange Beach and Tanger Outlets of Foley. So, if you are looking for fine jewelry or just need a souvenier t-shirt, Gulf Shores has something for you.


The Food
It should go without saying that Gulf Shores restaurants have access to some of the best seafood in the world right at their fingertips. Here, there will be no shortage of great places to eat, whether you want fine dining or a laid-back beach joint.
About the author: The above Real Estate information on Things to Love About Gulf Shores was provided by Jeff Nelson of Bellator Real Estate & Development. Jeff can be reached via email at [email protected] or by phone at 251-654-2523. Jeff has helped people move in and out of properties for nearly 12 years.

Thinking of selling your home? I have a passion for Real Estate and love to share my marketing expertise!
I service Real Estate sales in Baldwin County including the cities of Spanish Fort, Daphne, Fairhope, Foley, Gulf Shores, and Orange Beach.
The post Things to Love About Gulf Shores appeared first on Condos and Homes for sale in Gulf Shores and Orange Beach, AL..