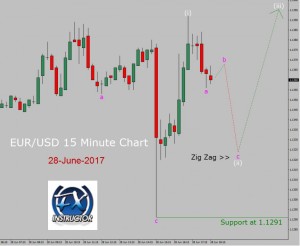 The trend is bullish in EUR/USD currency pair, 15 minutes time frame. As I have suggested few hours ago, the price of EUR/USD pair is going to drop now on a short-term basis to print a corrective Bearish Zig Zag Wave (ii) pattern and traders should look for a sell trade. Strong key support level is present at 1.1291 price level.
In my judgment, price action in EUR/USD currency pair is now going drop more to complete the bearish pullback – wave a, b and c Zig Zag leg. Based on Elliott wave analysis, the decline in price action looks like a Bearish Zig Zag Elliott Wave pattern. So, I expect the market to resume the up-trend after completing bearish wave (ii) leg.
Currently, bearish wave (ii) Zig Zag leg looks in-complete. So, first wait outside of the market and allow price action to drop more. Next, look for a possible Long trading chance to join an up-trend. However; if the price of EUR/USD breaks below 1.1291 vital support level then up trend is going to end. In such a market scenario, it would be best not to trade the market and re-analyze the EUR/USD fifteen minutes chart.