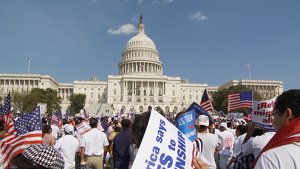 From Indivisible
Photo, video: Fuse, Kudzu Films
In February 2013, Hilary Linder began work on a project that would lead her to the making of her first Film, Indivisible, in which she followed the lives of three undocumented immigrants for almost three years. The 78-minute documentary about three undocumented immigrants, screened in 25 film festivals already, will air on Fuse, a cable network, at 10 p.m. ET July 29, 2017. Scroll down to watch a trailer.
Renata, Evelyn and Antonio meet their relatives at the United States-Mexico border
"Renata, Evelyn, and Antonio were young children when their parents brought them to the U.S. in search of a better life; they were teenagers when their families were deported," Linder said by email when asked to describe the film. "Today, they are known as Dreamers. Indivisible takes place at a pivotal moment in their lives, as they fight for a pathway to citizenship and a chance to be reunited with their loved ones." When asked about the goal of the film, she said: "I selected immigration reform as the focus of my first film because I believe it will shape the identity of the United States for generations to come and because I knew there was an incredible human story to tell. When Congress introduced a comprehensive immigration reform bill in 2013, I grew frustrated that media coverage was focusing on numbers and statistics rather than the actual people at the heart of the debate. Knowing that immigration reform is a highly politicized topic, I set out to make a film that would humanize the issue and that both undocumented and documented audiences could relate to—a film about families."
In the United States she filmed in Massachusetts, New York City, Florida, and Arizona. Overseas, she filmed in Colombia, Brazil, and Mexico. The documentary, funded mainly by the filmmaker with $30,000 of support she fundraised online and in person, premiered at the Cinequest Film Festival in March 2016.
" The most common reaction is that they had no idea that families were being separated by deportation or what it is like for families to be separated, and, now that they know, they want to do something to change our immigration system and prevent this from happening," Linder said when asked about people's reaction to the film. "Before the election, many people indicated that the film had changed their mind about who they would vote for. And today, at such a scary time for immigrants in the U.S., audiences overwhelmingly ask what they can do to help. We like to direct people to our Take Action page on our website (indivisiblefilm.com/takeaction), where they can sign petitions, receive information about contacting their Members of Congress, and sign up to host their own screening of Indivisible."