The Everlasting Phenomenon of Products Made in Britain
There is something special about goods which proudly display the label of 'Made in Britain'. We have become all too accustomed to reading 'Made in China' on many of the products we buy, but for goods manufactured in Britain there is a special significance. While China and other developed countries have overtaken us as powerhouses of global manufacturing, the tradition of British manufacturing still rings true today. Various recent surveys have revealed many Britons prioritise purchasing products made in Britain, while customers abroad are willing to pay up to 7% more simply for products from British Manufacturers.
The market research firm, YouGov surveyed Britons regarding products from British manufacturers and found that 72% of those surveyed would prefer to buy goods 'Made in Britain'. A similar study by Barclays Corporate also discovered that foreign customers were 64% more likely to purchase a product which had the Union Flag on it. In the same study, it was even found that some customers from abroad would be willing to pay up to 7% more for what they consider to be premium British products. While the number of manufacturers in Britain has continued to wane over the years, the evidence suggests that customer loyalty in British products certainly has not.
This then raises the question of why products 'Made in Britain' are enjoying such perennial popularity. Various campaigns have been set up to direct consumers towards British manufacturers such as the Made in Britain campaign which highlights some of the stand out businesses. The reasons why these are sustainable is due to the continuing support and interest in products made in Britain.
Britain's long and somewhat turbulent history in manufacturing is largely responsible for its continued success today. While manufacturing in China is relatively new and is commonly associated with fast, cheap and efficient production, the opposite can be said for Britain. British manufacturers for a long time have had a track record for technology and quality. This combined with an international reputation that British manufacturers are honest and trustworthy explains why its products can be sold at a premium and why so many people are still happy to pay it.
Furthermore, the reputation of global British manufacturers such as Rolls Royce and Jaguar ensures a positive image for the 'Made in Britain' brand overall, which enhances the image of other manufacturers in Britain as a result. It is the model of companies such as these that many British manufacturers aspire to emulate and is very much the reason why they have retained their reputation of creating products which are packed with personality, character, great design and eccentricity.
These are values that we uphold here at Rap Industries. All of our products are manufactured from our site in Peterborough where we prioritise using high quality materials and designs to create products which our customers can rely on for years to come. We continue to innovate with new products, with special consideration towards the needs of our customers in the ever changing display and partitions industry.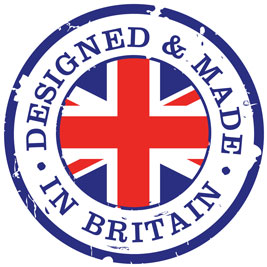 The post Made in Britain Boom appeared first on Rap Industries Ltd.