Biriyani is the king of all dishes, especially in India. India's rich culture can be seen in the flavour and varieties of Biriyani available here. It might have migrated to India but the beauty of the blessed country is so reflecting in the dish.
When you Google for a recipe of biriyani you will know the most wanted and tempting biriyani is the Malabar Dum Biriyani. Malabar Dum biriyani, as the name suggests it is from North Kerala. It is usually made in chicken, mutton, meat, fish or prawns. Egg biriyani can be made for 'eggetarians'. But for pure vegetarians, there should be an equal vegetarian alternative of non-vegetarian dish. Vegetarian biriyani, in my opinion, doesn't taste like a biriyani at all. Fried mushrooms taste similar to a non-vegetarian competent.
Recipe of Mushroom Malabar Dum Biriyani
Ingredients:
For Mushroom Marinate
Washed button mushrooms (cut into half) – 4 cups

Turmeric powder – 2 teaspoons

Red chilly powder – 2 teaspoons

Salt – as per your requirement
For Mushroom Masala
Oil – 2 tablespoons

Cinnamon sticks – 1 inch piece

Clove – 5 in number

Cardamom – 5 in number

Onion (thin slices) – 2 cups

Ginger – 1 small

Garlic – 2 whole

Green chillies – 5 in number

Turmeric powder – 1 teaspoon

Coriander powder – 1 teaspoon

Garam masala – half teaspoon

Red ripe tomatoes (chopped) – 1 cup

Coriander leaves – 1 bunch

Mint leaves – half bunch

Set curd – 1 tablespoon

Salt – as per your requirement
For Biriyani Rice
Ghee – 1 tablespoon

Oil – 2 tablespoon

Cinnamon- 1 inch stick piece

Cloves – 4 in numbers

Cardamom – 5 in numbers

Raisins – 10 in number

Cashews – 10 in number

Onion – 1 sliced into several circular pieces

Kaima Rice or jeera rice – 3 cups

Water – double of rice measured

Salt – as per taste
Note:- If the Kaima/Jeera rice isn't available, then Basmati rice will do just fine.
Preparation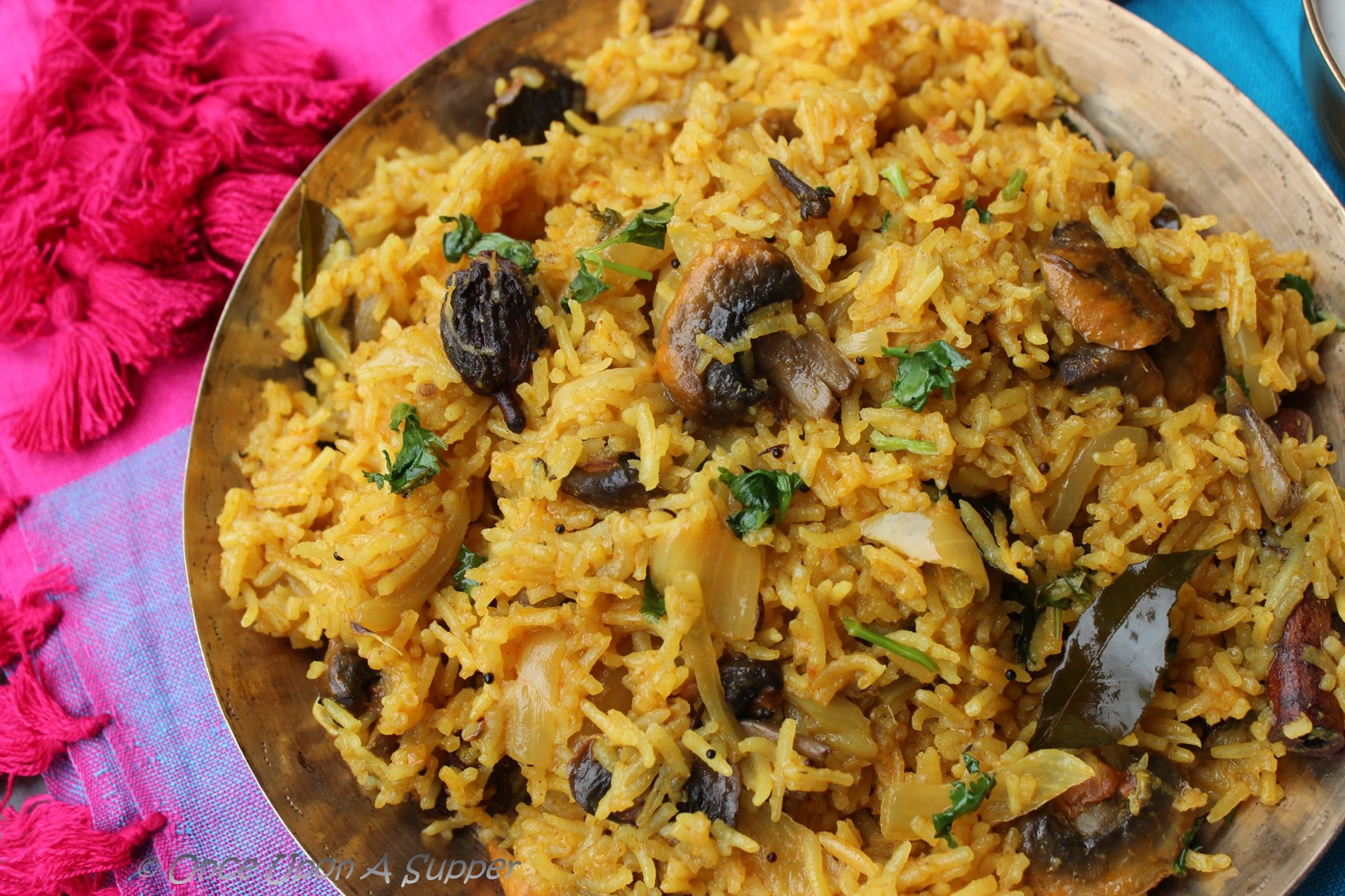 Clean the button mushrooms by scraping away all the muddy stains and washing properly. Keep it aside by marinating with some salt, turmeric powder and red chilly powder. It will taste better and the texture will be nice if it is fried. Deep fry in oil for one or two minutes.
To make the masala take two tablespoons of oil and add a small piece of cinnamon stick, three cardamom, and five small cloves. Keep the flame in sim so that it won't get burnt. Add the thinly sliced onions to it, add salt, and saute until onions turn tender. Grind the ginger, garlic, and green chillies. Add it to the sauteed onions. Make sure to saute it enough.
Under-cooking or overcooking of ginger garlic paste will make the masala taste bitter. Make sure there is enough oil to saute them all before adding the powders. Now add turmeric powder, coriander powder, and garam masala powder. Saute well and add chopped tomatoes. You will know that everything added so far is cooked enough when the oil is brimming from masala. Now is the time to add fried mushrooms, and fold everything together well. Add curd and stop the flame. Add well-chopped coriander and mint leaves. Add two pinches of garam masala also. Keep it aside. Now let's make the rice.
Before making the rice prepare the garnishing in the same pot in oil. Take the biriyani pot, heat ghee, and oil mixed. Add onion sliced into its maximum slenderness. We say it paper thin slices. Saute it until it becomes light brown. At that time add cashew nuts, saute it, and then add the raisins. When the raisins are puffed, onions and cashews should be brown and crispy. Remove it from oil before getting burned. Keep it aside. Clear the oil and now add the ingredients to make the rice.
Boil the water required for the rice prior. Rice water ratio changes depending on the brands of rice. For 1 cup of rice, I use 1 and half glass of water when I cook non-veg biriyani. For vegetarian biriyanis, for 1 cup rice 2 cups of water and 1 teaspoon of salt is required. I prefer to make rice in pots not in pressure cookers. It comes out fine.
Now, let's make rice. Add ghee and oil to the pot. Put pieces of cinnamon sticks, few cardamom, and cloves. Add the washed rice, stir it continuously without letting it stick on pot. Rice will be ready to add water gradually. The stages go like this – it first starts sticking with each other, but when we stir it continuously, each rice grain will fall apart. That is the point, we have to add boiling water and salt. Stir well and close the boiling pot after closing the lid properly keep flame sim for 10 minutes. The rice will be ready.
Now we are moving to Dum procedure or mixing of Masala and rice which makes the rice and masala to Biriyani!
What all mixtures we kept aside? Can you see we made a mushroom masala, fried onion-cashews-raisins and rice! Now we need some more things to garnish, and that is:
Juice of 1 lemon

Well chopped coriander and mint

Garam masala
A big pot will be needed to make the Dum because we are going to mix all the previously prepared items. If the vessel you made masala is big enough you can continue adding rest and can make Dum in that itself. Otherwise, take the pot, add a spoon of ghee if needed to avoid sticking. Fold in the masala, make sure the flame is lowest. Now we are going to add the rice making layers.
Add a layer of rice covering the masala properly. Throw in some of the crispy onion-raisin-cashew mixture and coriander-mint leaves also. Sprinkle some garam masala and lemon juice to the layer. Now Again we add a layer of rice and repeat the same. This will be enough for our quantity. If more quantity of rice is there you can make desired number of layers. Then take the spatula and make holes in the pot so that you can see the base of the pot. It is done to let the masala steam to mix in the rice layers. Now close the pot so that no steam is leaving the pot. You can seal the pot with a dough or just close with a lid and keep some weights above the lid. Simmer for five minutes. Our sumptuous Mushroom Malabar Dum Biriyani is ready.
Now serving, there are two ways of serving. In Malabar, authentically the masala and rice are served separately even though it is a whole one dish. But some people mix both after the five minutes of Dum. Though, the taste won't sieve out. In the end, garnish biriyani with leaves and fried onion mix. Cook, serve, and eat with love!