Working moms are very busy, but I truly believe that almost everyone can find some time for at least a little side hustling. Maybe you want to earn a little extra Money to pay off debt, increase investments so you can retire early, or you might just be hoping to save up enough to take the kids to Disney World. Whatever the reason, there are plenty of ways that full-time working moms can increase their income with a side hustle, or two!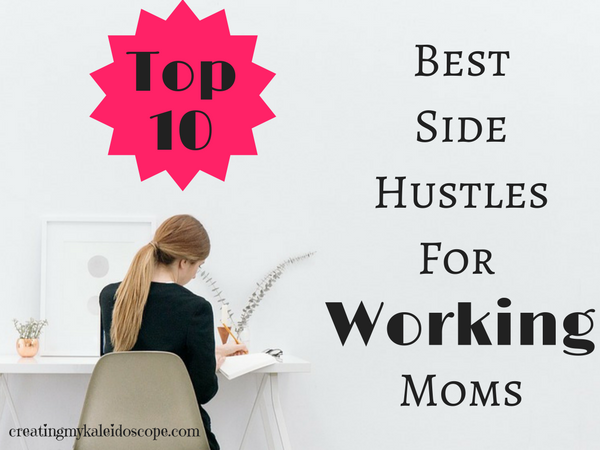 What To Look For When Choosing A Side Hustle
Before we jump into the specific best side hustles for working moms, it's important to recognize what to look for in opportunities to earn a little extra money.
You want to think about your skills and interests. Is there some area that you can tap into that really isn't being utilized by your primary employment?
Scheduling side work can be tricky when you have a full-time job. Is this work that can be performed during odd hours of the day? The best side hustles for anyone employed at a standard nine to five position is something with flexible hours. Ideally, you want to find something that can easily fit into your evenings and/or weekends, depending on when you have a few extra minutes.
Along those same lines, is it work that requires a big chuck of time or can it be done little by little? Working moms will likely have trouble finding large blocks of time, but often have a couple of minutes free here and there.
Finally, consider the anonymity factor. Would your boss be upset if you delivered a pizza to their house? What about conflicts of interest? Make sure to think about these issues before you get started with any side hustle.
All of this considered, what are the best side hustles for a working mom?
Blogging
Why are there so many mommy bloggers? Because it is such a great avenue for earning extra money even though you have lots of other responsibilities. Trust me, blogging serves a number of different purposes, but with time and the right focus, it can bring in some extra income.
Side Hustling 101: Why You Need To Start A Blog Today
Freelance Writing
I've been able to earn a decent amount of extra income by completing freelance writing assignments. The key was using my blog as a collection of writing samples. I found most of my writing opportunities through Upwork. This type of side hustle is great for working moms because you can write anonymously and on your own scheduled. The biggest downside is that many of these assignments don't pay that well – especially before you've established yourself with some good reviews of your work.
Tutoring
Helping students can be a rewarding and lucrative side hustle if you have certain types of experience, training, or education. I have really done well with an online tutoring program focused on students pursuing my specific occupation. The work can be done from home and at what equates to a decent hourly rate. I may actually look into part-time teaching at some point during our semi-retirement because it was so rewarding.
Crafting
My job is a mentally demanding one. It makes sense that one of my favorite hobbies is crochet. It's really relaxing after a long day to lose myself in creating something through repetitive, somewhat mindless motions. I swear it's almost meditative. At first, I started crochet to make items for my family, including my first project of a baby blanket for little Trey. I have been able to sell some items in the past couple of years. Being able to sell my creations is one of the most enjoyable side hustles for a working mom like me.
Ways To Make Money Selling Crafts, With NO Etsy Fees
Become A SEO Specialist
Most bloggers are familiar with the fact that search engine optimization can help bring traffic to their sites. However, it's not always clear how to use search terms in just the right way to jump to the top of Google results. My friend Claudia has a course that teaches you how to be an SEO expert – and it's not just for bloggers. Businesses want websites with search engine optimization and they will pay good money for help in this very-specific area – up to $75 an hour! This is an excellent opportunity for working moms to make a decent amount of money in a few hours, on your own schedule.
Photography
Are you obsessed with taking photos to share on Instagram? Photography might be the perfect side hustle for you. With the amazing cameras on our phones, professional equipment is no longer necessary. Take photos wherever you want, whenever you want. Then, you can earn money by selling your photos to sites like Snapwire.
Child Care
I know what you're thinking, but go with me on this one. As a working mom, you want to spend your at-home time with your children. Many of the best side hustles for working moms take your time and attention away from them, either sitting in front of a computer (for more hours of your day) or venturing out of the house. If you're already planning on going to the playground or doing arts and crafts for a few hours on Saturday afternoon, then why not earn some extra money by adding another child to the group? Ask neighbors if they would be willing to pay you a little bit for your time, while they go out for a date on Friday night. You will still be able to have time with your children, but they might have even more fun with an extra playmate.
Pay-Per-Click & Survey Sites
If you're really looking for the most flexible side hustle option, then you should probably check out websites like Swagbucks or InstaGC. You can answer survey questions or click through a slideshow in the middle of the night while breastfeeding a baby, or while "enjoying" another episode of Paw Patrol. Then, you trade in your points for a gift card or Paypal cash. It's helpful that these sites don't require much in the way of brainpower or concentration. You're already exhausted from work, home, and family responsibilities, but you could probably handle a few minutes of clicking on videos for some extra cash.
Is Swagbucks A Scam?
Another Side Hustle: Clicking For Pennies on InstaGC
Prepare Freezer Meals
Busy parents love the concept of preparing freezer meals that can be thrown in a crock pot in the morning. They make dinner so easy! But it can be tricky to find time to prep a whole bunch of meals at a time – not to mention the space to do the prepping. Ask your busy mom friends if they would be interested in buying some freezer meals from you. Just say you're making up more than will fit in your freezer. Or, why not host a freezer meal party? Friends can pay a certain price that more than covers the supplies, and leave with an assortment of meals to toss in their freezer. You could earn some money and not have to worry about what to make for dinner for a while.
Make YouTube Videos
I have always been amazed by how much money "YouTubers" can make by uploading simple videos to the site. It's actually one area where I would like to expand my side hustle efforts. You don't need any fancy equipment – just use your phone or a simple webcam. Or, you can just make videos comprised of screenshots or slideshows. Making YouTube videos is even an option for someone who wants to maintain an anonymous online presence. You do NOT need to post videos of yourself. There are people making considerable amounts of money by posting "unboxing" videos, where they open products like toys on camera. I hope to try out this side hustle in the near future and definitely update you on the results.
---
If you're trying to earn a little extra money, it isn't necessary to guilt your friends into buying leggings, jewelry or candles. There are other options – even for parents who work full-time jobs. Just be creative with your time and figure out the right side hustle for your unique situation.
Working parents out there: what's your favorite side hustle and why?
The post Top Ten Best Side Hustles For Working Moms appeared first on Creating My Kaleidoscope.