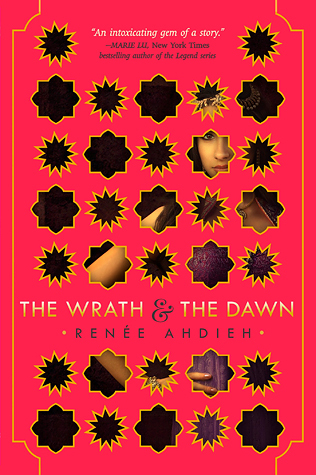 BLURB:
One Life to One Dawn.
In a land ruled by a murderous boy-king, each dawn brings heartache to a new family. Khalid, the eighteen-year-old Caliph of Khorasan, is a Monster. Each night he takes a new bride only to have a silk cord wrapped around her throat come morning. When sixteen-year-old Shahrzad's dearest friend falls victim to Khalid, Shahrzad vows vengeance and volunteers to be his next bride. Shahrzad is determined not only to stay alive, but to end the caliph's reign of terror once and for all.
Night after night, Shahrzad beguiles Khalid, weaving stories that enchant, ensuring her survival, though she knows each dawn could be her last. But something she never expected begins to happen: Khalid is nothing like what she'd imagined him to be. This monster is a boy with a tormented heart. Incredibly, Shahrzad finds herself falling in Love. How is this possible? It's an unforgivable betrayal. Still, Shahrzad has come to understand all is not as it seems in this palace of marble and stone. She resolves to uncover whatever secrets lurk and, despite her love, be ready to take Khalid's life as retribution for the many lives he's stolen. Can their love survive this world of stories and secrets?
Inspired by
A Thousand and One Nights
,
The Wrath and the Dawn
is a sumptuous and enthralling read from beginning to end.
MY THOUGHTS:
"I love you, a thousand times over. And I will never apologize for it."
When the number of books on my TBR pile was breathing down on my neck, I somehow picked this up expecting nothing. And I was surprised and happy with what I get. An amazing world filled with brilliant characters with mouth watering food. I devoured this spectacular work in one sitting when I was too sick to read. I forgot my sickness and the pounding of the head. Instead, I was wandering the palace and the streets of Khorasan.
The writing was indeed spectacular which brings the world alive. My stomach was grumbling when the food description was dancing across the pages. For Pete's sake, I even wanted to tear the BREAD pieces and consume it. So now you know how this book made me hungry. I want to put the picturesque (every)dawn in the canvas. So that I can admire it whenever I wanted. And the language. Do you know what I loved about it? The endearments were so beautiful and you will know its deep meaning even without looking up at the glossary. And the conclusion: I fell for the writing.
"Love is a force unto itself, sayyidi. For love, people consider the unthinkable ... and often achieve the impossible. I would not sneer at its power."
And the story becomes interesting when it has a witty character. Shazi, a fierce and silver-tongued main character. God, I loved her retorts. With the heart filled with vengeance, she entered the castle. As she tried to uncover the truth by crumbling the wall slowly, the next moment everyone in the castle will build the wall. As much as frustrated she became, she slowly learns the truth. And it crushed her heart. I was literally petrified by it. Then how could she not?
"Shahrzad is a difficult girl, and I am a monster. I suppose that makes for a good match."
DON'T TRUST THE ONE WHO SAYS HE WAS A MONSTER. Those who call themselves the monster are the ones who needs protection. Everyone has a horrible past and when it was brought up, the pain it will bring is unavoidable. The reason behind his monster activity was something I couldn't put my mind on. And how it grieved Khalid was beyond painful. He knows how cruel it is but for his kingdom he needs to do what he has done. And the soul that was torn was sewed by the passionate Shazi. The romance between them was something that made my heart flutter.
Apart from the main characters, I liked others too. Tariq, the first love of Shazi. He wants nothing but to save her from the hands of the monster. Rahim, his friend. How I loved their banters! Their bond is something I very much appreciate and love. And my dear Jalal. HE IS EVERYTHING. He will do anything for his family. If that isn't love then what is, tell me. He was hilarious. I was constantly waiting for his appearance throughout the book.
"You are—remarkable. Every day, I think I am going to be surprised by how remarkable you are, but I am not. Because this is what it means to be you. It means knowing no bounds. Being limitless in all that you do."
If you are ready for an adventure, then pick up your flying carpet now. And be amazed by this wonderful journey.
MY RATING: Exceeds Expectation
This post first appeared on Bibliophile, please read the originial post: here