AN AFFECTIONATE PERSONALITY
Green cheek conures are gentle, undemanding, curious, kind, affectionate, extremely intelligent.
They do not pinch, do not make noise, they are loyal and stable in character. And, the icing on the cake, after the cockatoo, these are, of all the parrots, those who love being caressed and pampered the most. It is said.
Origin: South America
Size: 20 to 25 cm
Legal status: Annex 2 Cites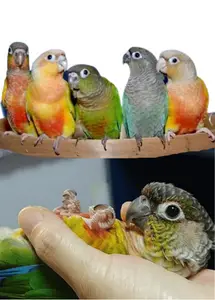 But if you are not available, the Green cheek is also capable of independence, playing for hours alone in their cage. They will also continue to make clowns by hanging from the roof of the cage, lying on their back to play with their paws, or by attacking a toy.
These birds are incredibly smart. Recalling them can take just a few hours, they seem to understand everything immediately in a rather amazing way.
Generally, they adapt very easily to a new environment and get along well with all members of the family. And even if a favorite human is chosen, it will be done without any exclusivity, which is very pleasant for the rest of the family.
Chewing on wood or other toys is an essential activity for these active birds. Toys and any other object (cardboard, not too hardwood, etc.) are essential.
Their voice is very pleasant, very soft, even quite serious. Noise is therefore not to be feared, even in the event of a crisis of excitement!
The conures of Green cheek have a real passion for the shower and are able to take a bath absolutely in any container. Water at will, therefore, whatever the temp.
Why I Chose a Green Cheek Conure and Never Will Again