Kashmir is a well-known tourist destination for many reasons which we need not even point out. The beauty of Kashmir has been captured by million eyes and continues to be the top most preferred destination for vacations by every age group.
The hustle and bustle of tourists can be seen round the year as Kashmir is proven to be scenic, tranquil, and a treat to the eyes in every season.
What is famous in Kashmir other than its breathtaking landscapes, and lip-smacking cuisine, and endless shopping options is Crafts.
Yes, you heard it right!
And one such craft which we are going to be throwing light on is none other than Kashmir's Papier-Mâché.
Recommended Story – Handicrafts in India – Checkout the variety and craftsmanship
Papier-Mâché – Meaning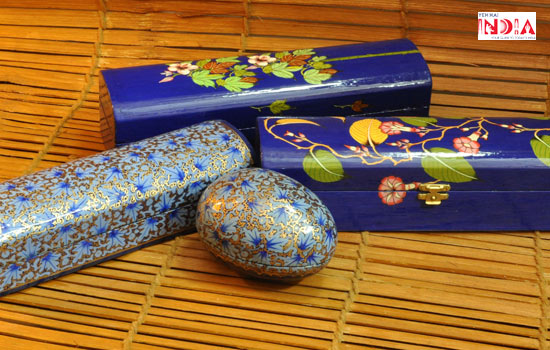 A French word for 'chewed paper', Papier-Mâché basically means objects created into various shapes by moulding paper pulps which is then designed and decorated with various colours. This craft is now identified as the art of Kashmir.
History of Papier-Mâché
The Papier-Mâché technique was adopted in the 15th century in Kashmir by king Zain-ul-Abidin. It was in the late 14th century when a Sufi mystic named Mir Sayyed Ali Hamdani came along with his followers most of them being craftsmen.
The craftsmen were well-versed with different craft techniques such as woodcarving, carpet weaving, and copper engraving and settled down with their families permanently in Kashmir making it their home. They even used hand-made paper pulp brought in from Central Asia and Iran.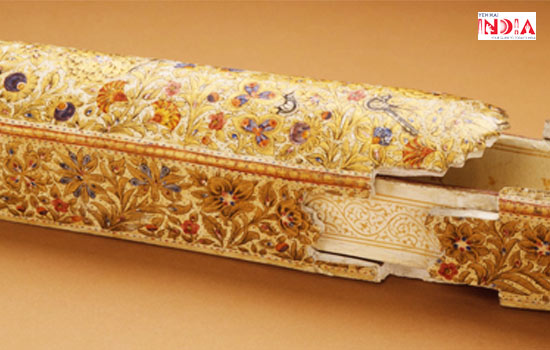 Initially, this art form was called 'kar-i-qulamdan' as the colourful drawings were made on wooden objects like pen holders and other personal trinkets.
Then came another term called 'kar-i-munaqqash' where crafting was done on smooth surfaces using paper pulp.
The craft started on the jackets of the book and then covered many objects such as tables, bangles, table ware, cups, plaques, lamp stands, screens, and even cabinets.
It was then during the Mughal Era when the art spread to different home furniture's that were made in Kashmir. Notable objects from these have even been exhibited in museums from round the world.
This artwork of the ancient times can still be witnessed at the Madin Sahib Mosque built back in 1444, on the ceiling of Shah Hamdan Mosque, and the Shalimar garden which is one of the Mughal Gardens in Srinagar.
The older designs had intricate designs and detailing of maple leaves and kingfishers among others such as 'Arabesque' and 'Hazara'. It is still very much in practice today which why to encourage it further, the Government of Kashmir has included this art form as a part of the curriculum subject in schools.
Recommended Story – Top 10 Online Handicrafts Stores In India
Process of Papier-Mâché
There are two aspects of the process – Sakhtsazi and Naqashi.
Sakhtsazi
In this part of the process, the paper pulp is completely soaked for around 3-4 days and then is put into stone mortar and ground to ensure that there is uniformity in the consistency of all the paper. Before being with 'atji' which is a kind of rice glue, it is left to dry under the sun.
To shape the paper and glue mixture, a mold of either clay or wood is used. Before being completely dry, the paper is taken off the mold. It is shaped followed by lacquering to promote the smooth finishing of the outside layer.
A thin layer of butter paper protects the outside and helps keeping the paint intact of the finished product.
Naqashi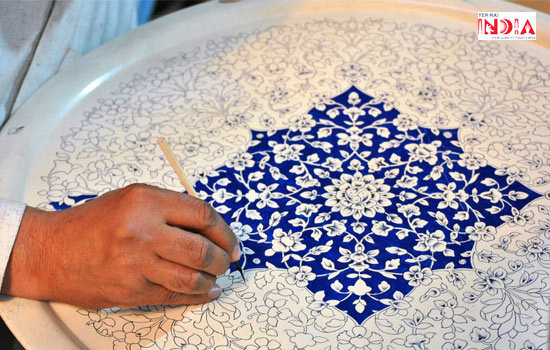 During this part, a base coat of paint is applied. Then the artist creates design by hand outside the paper mache object. Artists often use colours derived from organic, minerals, and even vegetable bases.
The themes you can usually spot on Kashmiri paper mache products are jungle motifs, box patterns, flowers, and symbols describing Kashmir such as almonds and chinaar leaves.
Present Practice
In the present practice, the layering of pulp over the mold is completed at one stage itself and then dried before polishing it with gemstones. A saw is used to detach the artwork and again rejoined using a denser glue.
The joint is slowly rubbed with a file called as 'Kathwa' which is made of wood. The polishing of the surface takes place till all irregularities and edges become smooth.
A combination of silver and gold along with chalk and glue is applied to the exterior and the interior of the object using a brush. After the object gets dry, the surfaces are yet again polished with baked brick pieces.
To prevent cracks, more paper strips are pasted and again the polishing of the surface takes place to get the colour of zamin or earth. The surface is then painted with yellow colour which is then followed by designing made with different dark or light colours.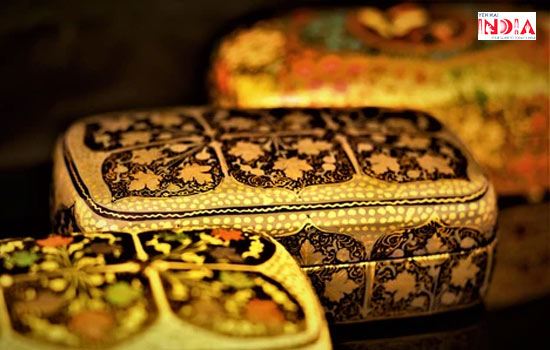 The design part is done along with the application of 'dor' made of zarda, sugar, and glue as adhesive along with application of silver and gold foils.
The object is then put to try and once dried is given a varnish coat of amber in a solution of methyl spirit. It is then sun dried and after the surface is dried, it is cleaned properly with a wet cloth. It is yet again treated with a coat of silver and gold foils and designs are yet again created over the surface followed by smoothening using gemstones such as jade (yashm).
The last part of the process is sun-drying the object again and making it all set for painting. The painting is done with distemper colours made with pigments and glue using brush made of animal hair of goat, cat or even donkey. Various designs are designed making each paper mache object unique and distinctive.
Challenges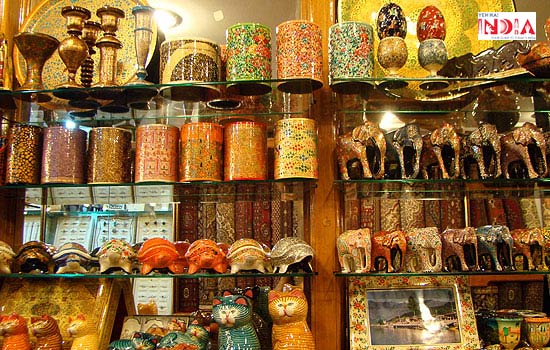 New technologies and manufacturing techniques is posing a big threat to this artwork as it is slowly dying. The machine carving and artists preferring other jobs has stated to pose a hurdle in letting this art and craft work revive. It caters more to the premium luxury sector with prices being high.
Interesting on how such marvellous artworks and crafts exists in our country without much of our knowledge. Let's spread the word, celebrate the artwork and the artists behind it.
Also Read – Ivory Handicrafts in India
The post Papier-Mâché of Kashmir appeared first on Yeh Hai India.