Just like Diwali is the festival of lights, Holi is the festival of colours, Makar Sankranti, a popular eve celebrated in Rajasthan and Gujarat is the festival of kites. If you have ever visited Rajasthan, especially Jaipur around January, you may have encountered this enormous and beautiful festival.
The sky is full of green, red, blue, multi colour kites. There are different kinds of colours and combinations. Well, you may be thinking that Makar Sankranti is only about kites. This isn't the case; Makar Sankranti is much more fun and there are various other elements associated with it. So, Let's know about 'Makar Sankranti'.
Delicious Mouth-watering food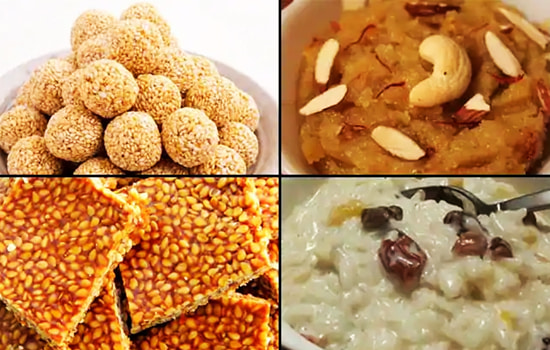 Food always comes first and that's pretty much true. Rajasthan is famous for its exquisite cuisine. On Makar Sankranti, people are assigned their duties for prepping up food as guests come over during the whole day.
Makar Sankranti is celebrated on 14th January, this year the weather is quite cold. You may see rays of sunlight only in the afternoon or mid-evening time. So, the perfect snacks to munch at this time are garam-garam pakoras, popcorns, papdi-chat and the list goes on.
Recommended Story – Durga Puja Festival in Pandemic: A celebration of Good Over Evil!
Lohri comes one day before Sankranti and people take rounds around the holy fire and eat the most amazing winter snack combo: Moong Fali – Til Revdi. You should try this combo once during winter season, it's heavenly magic. So, while the kids fly kites, the elders soak up wintery sunlight and eat this combo (of course gossips are unwelcomed add-ons).
Apart from snacks, the famous dish of Rajasthan, Dal- Bati- Churma is made for dinner. After a long day of fun, one is pretty much tired and exhausted. So, to charge up your energies, this heavy dinner is made. There are many other things made on Sankranti like laddoo's, gajak, etc, but these are the most prominent ones.
Snaan aur Daan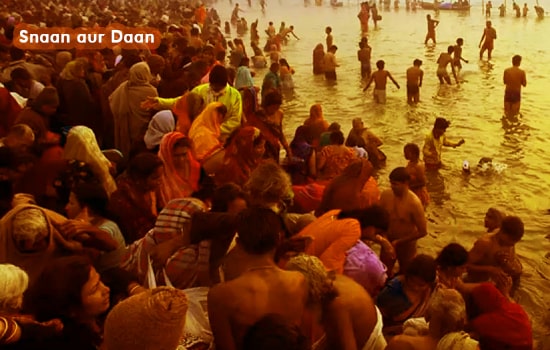 On Makar Sankranti, many people take dips in the holy river Ganges all over India but in Jaipur people arrive to the Galta Ji Temple and bathe in the seven kunds over there. The main purpose behind taking digs is their belief that through this God will forgive all the sins they have committed. The Sun God is worshipped on this day.
Not only holy Snaan in the river but Daan also makes you a good human. Donating clothes, food, money, and other stuff to poor people evokes the feeling of humanity. Jaipurites share happiness of this festival with these people by inviting and then feeding them food.
Some people have certain rituals when it comes to donating food or money. Every year they donate food and clothes to 11 people as they consider it a good sign. The reason may vary but the cause is still very pure.
Kite Flying and Kite Buying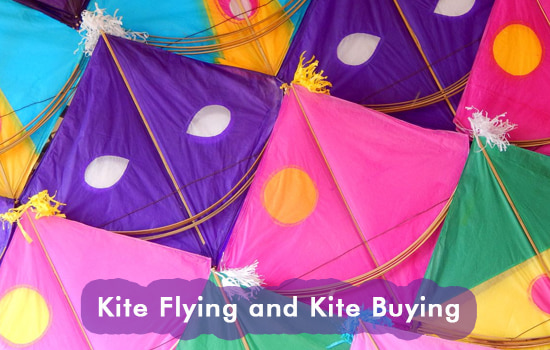 What is so special about Kite Flying and Kite Buying? Well, ask the questions to the experts itself. Jaipurites take a lot of time in buying kites because they evaluate the present scenario.
The wind direction determines the size of the kite whereas shape depends on other external factors. Colours and patters is definitely not based on science but personal taste. Everyone in Jaipur head out to the famous kite markets like Kishanpole Bazaar, Handipura, Haldiyon Ka Rasta, etc.
Recommended Story – The Hemis Festival – A grand celebration in Ladakh, the Mini Tibet of India
The popular designs of kite are Glass-dara, Tripatta, Dadhiyal, Chaand-Dara, etc. You can buy anyone of them as per your choice. After Kite- Buying comes a tedious task like Kite-flying.
On the day of Makar Sankranti, the sky is filled with kites. You should be prepared in advance as then you won't get time to put tang in kites. So, the whole family sits together one night before and does this job.
Usually, it's the mother who wakes up the child but, on this day, the big banging woofers does the same job. People wake up at 6 am and then set up the speakers and play songs. The vibe to those songs while flying kites. The feeling is nothing less than going to a club and partying.
The Dreaming Evening Sky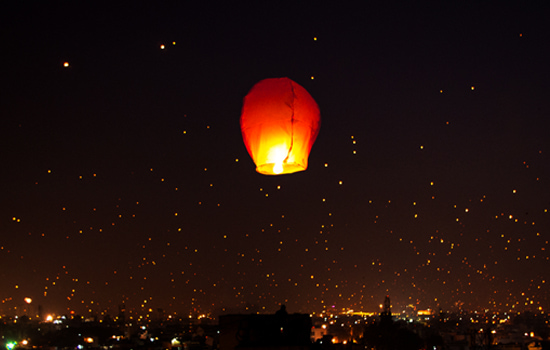 The day is all about having fun flying kites with sunglasses on their eyes, but the evening time hits different. The sky is lit with fireworks and colourful lanterns. These lanterns are also known as 'Kandeel' or 'Tukkals'.
The night view of the sky and the city is different. You can't miss out this thing if you are in Jaipur.
What's different this year?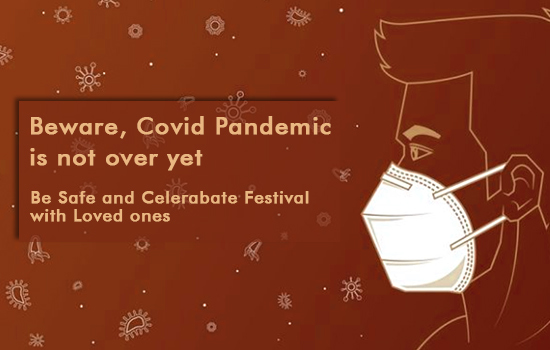 The year 2020 was one hell of a rollercoaster ride because of COVID which still prevails in the country. Though it's a new year but there are certain limitations which one has to follow while celebrating Makar Sankranti.
The foremost and basic one is to wear your masks and sanitize your hands from time-to-time. Make sure you avoid too much public gatherings or visiting your friends. Everyone has the right to celebrate Makar Sankranti and have fun but not on the cost of someone else's life.
Is that what you want? Every year many birds and small children get injured dure these Chinese manjhas. So, this year at least try to go for Cotton manjhas and opt for safe measures.
Everything mentioned above be it making food or buying kites can be done this year too. The only difference is that you have to be extra careful because as it's very well said, 'Savdhaani Hati, Durghatna Ghati'.
Makar Sankranti is celebrated in India on 14th January but people in different cities fly kites on different occasions. You may have noticed that kite flying in Delhi is done during Independence Day. It's an expression of patriotism, freedom, and unity.
In Alwar, kite flying is done during Raksha Bandhan. Now, Alwar is a district in Rajasthan but still there are more kites in the sky during Raksha Bandhan than Makar Sankranti. So, everyone has the liberty to fly kites as per their culture, norms, cities, etc.
Makar Sankranti 2021 is also going to be a huge one with your loved ones being by your side and the yummy food, of course.
'Be safe and have fun.'
Recommended Story – Hornbill Festival of Nagaland
The post Makar Sankranti 2021 appeared first on Yeh Hai India.