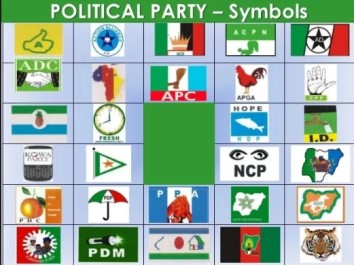 Only recently, precisely at the commencement of this year, the Independent National Electoral Commission (INEC) presented certificates of registration to twenty-one newly registered Political Parties, saying that they have equal status with any parties; an action that surged the total number of political parties in Nigeria to sixty-seven. Mahmood Yakubu, INEC chairman, while making this presentation made a necessary quip: "for the 21 new political parties, it is pertinent to always remember that your certificates of registration not only formalize your status as political parties but also confer obligations on you to operate within the requirements of the law at all times." He further argued that the proliferation of political parties was a good one. In his words: "The number of political parties is good for plural democracy however political parties must cooperate with the commission for a successful election." The caveat at the end of his words gives an eerie feeling that all that glitters is not gold, after all.
Has INEC gone wrong with the increase of political parties in the country? Constitution-wise, one cannot unmitigatedly say it has. Section 153(1)(f) of the 1999 Constitution establishes the INEC and by the provision of 153(2), empowers INEC to exercise the powers as contained in Part 1 of the Third Schedule to the Constitution. According to Item 15, Part 1 of the Third Schedule to the Constitution, INEC is empowered to carry out three primary functions: (i) Organise, undertake and supervise all elections provided for in the Constitution [item 15(a)]; (ii) Register political parties in accordance with the provisions of the Constitution and an Act of the National Assembly[item 15(b)]; (iii) Arrange and conduct the registration of persons qualified to vote and prepare, maintain and revise the register of voters for the purpose of any election under the Constitution [item 15(e)]. Supported by the country's constitution, the commission has done its best to present to Nigerians many political parties to choose from, which is good for the electorate, and increases political engagement. In effect, 67 parties are in the preparation stages for the next round of elections, after about one and half decade the commission de-registered many others.
Despite this constitutional success of Nigeria's electoral commission, the question remains: Is proliferation of political parties, such as this embarked by INEC, counterproductive for the country's nascent democracy? The Economist contends that too many parties can spoil politics. It gives reasons for its contention thus: "Yet excessive fragmentation has drawbacks. As parties subdivide, countries become harder to govern. A coalition of small parties is not obviously more representative than one big-tent party. Big parties are also coalitions of interests and ideologies, but they are usually more disciplined than looser groups, and so more likely to get things done. Having too many parties is often unwieldy. Coalitions become harder to form and often include strange bedfellows…Such oddball pairings rarely act decisively and fall apart easily. They also take longer to form, distracting politicians from the business of governing… Small parties may render government incoherent by seizing control of the policy areas they care about." ThisDay newspaper in its editorial believed that proliferation is counterproductive to Nigeria's democracy. It vehemently averred that these parties are not built on any ideology or interest, but are more as "business ventures", which from past experience, are unlikely to exert any remarkable influence good enough to win elections. Its major case study for such conclusion was the recently concluded Anambra State governorship election. For it, the election was a replay of waste, a crude abuse of the freedom of association and a cheap ego trip for many of the contestants. "A record 37 political parties vied for the position where about 20 of the contestants garnered less than 100 votes out of the 422,300 valid votes. What's more, the man who scored 38 votes is now in court seeking nullification of the election!", ThisDay newspaper deplored.
The Sun newspaper considers the proliferation of parties as a ploy by politicians to plunge electorates into confusion as well, pose administrative hurdles for the electoral umpire during national elections. To understand the mad rush by politicians to finding these political parties is even difficult. These political parties are now viewed as business ventures set up in expectation of financial offers in return for furtive endorsements of affluent candidates running for office; a phenomenon which is troubling. As found by The Sun, "some of these parties often have nothing on the ground in terms of membership, influence or geographical spread, and may not even have more than a couple of offices in a few cities. Their essential credential is that they are registered political parties, recognised by INEC to compete for power in national elections. This system of selling endorsements can only lead to corruption."
An Abuja- based lawyer and political analyst, Mr. Tomiwa Bamidele- Smith gave another perspective to the issue of proliferation of political parties while maintaining the lines that it is counterproductive to the country. He argued that those behind the forming of new parties could be doing so along tribal, religious or ethnic lines, and not necessarily to see to the development of the country. He further cautioned that having so many parties allows for the frequent formation of coalition governments, which frequently break down and does not allow for continuity in a single policy for the continuous development of the country. For Port Harcourt- based public policy analyst, Dr. Wilfred Diepreye, since Nigeria's democracy is nascent, the country only needs a few but "strong" political parties. If not, it becomes "… much harder to get anything done with too many parties. Everything would always be a compromise." Wale Odunsi, a writer and political analyst, in his 2012 article titled, "Nigerian politics: A needless multiparty system", claimed that there was no need forming new parties since those formed in previous elections, especially that of 2011, were formed to the detriment of a strong and competitive polity. He disparaged these new political parties as futile, canvassed that they should bow out or be shut down. His point was that many of these political parties are not good enough to contest in an election and will only end up wasting people's time and resources. Illustrating this, he said, "a situation whereby parties are unable to garner one per cent of votes cast is repugnant. How will the leadership of a party explain the inability of its candidate to secure a quadrant of ballots, albeit he is from that area! For instance, there was a party where the father was the national chairman and his son, the national secretary. What can a party like that offer other than to intermittently organise tea parties?"
In the face of this charade carried out in the name of forming new parties, it is apt to say that a wise alternative for us is to return to a two- (or not more than three ) party system. Some may kick against it as bothering on the democratic right to form political parties, but then it is better than what we have now. Many political parties within the country do not have any guiding ideology and are basically run as business ventures. They tend not to have considerable influence to win an election. There is no need abusing the freedom of political association as enshrined in the constitution. All what the country needs is a small and manageable number of political parties that are strong and formidable instead of having many parties which are not viable.
Consequent upon the immediate foregoing, the INEC should ensure it sets up rigorous conditions for new groups seeking registration as political parties so that in the end, only the viable ones would be presented to the electorate in 2019. Professor Oladele Akinboye of the Political Science department of the University of Lagos state advised the INEC not to be in a haste to register these new political parties so that the electorate would only be presented with "good" choices in the 2019 elections. He said, "In terms of setting up the criteria for registration, INEC could look at the groups' programmes before setting them up. For instance, one of the factors INEC could consider is: does a group seeking to have a party have secretariats in all the states of the federation? This is because it is very important for every party to have a national outlook."
To better stifle the proliferation of political parties which is on the increase now is obliging the federal government to stop the provision of subventions to these new parties during elections. Although the government claimed to have stopped it, we will only know for sure come 2019 elections. The Deputy President of Nigerian Senate, Ike Ekweremadu, in June 2017, gave reason for the federal government stopping the provision of subventions as such subventions were often abused by party leaders. He is quoted as saying, "Giving subventions to political parties was the case in the past, but we had to amend the constitution to remove that, the reason being that it was thoroughly abused by some people. They would register a political party and wait for election; the government gives them subvention, then they would put it in their pockets and make no efforts to win. To them, political parties are platforms for making cool money from the government."
Let's block ads! (Why?)