According to Statista, 52.2% of all web traffic came through Mobile devices in 2018. E-commerce store owners haven't been able to capitalize on this opportunity primarily due to the difference between how users behave on desktop and smartphone devices.
In this article, we will look at 5 ways in which you can boost your e-commerce conversion rate for mobile devices.
1. Improve Website Speed and Efficiency
Let's face it. Mobile users are not as patient as you might think. A delay of a couple of seconds is enough to make them leave your website.
In fact, according to a study by Google, the average time required to load a mobile webpage is 22 seconds, yet 53% of visitors will abandon the website if it takes more than 3 seconds to load.
To improve the speed and efficiency of your website, make sure you are optimizing the following 2 aspects:
Website Speed
To retain your mobile website visitors, you can rely on Progressive Web Applications (PWAs). PWAs are web applications that offer in-app functionalities in a browser environment combining the best of both worlds. PWAs allow you to deliver a smooth experience despite a slow internet connection. Moreover, if you are not connected to the internet, the app will transmit data once the app is back online.
To gain a deeper understanding of your site, you can run your website through Google's PageSpeed Insights and you can check the mobile compatibility of your website here.
Time to Interact (TTI)
TTI measures the time taken by the page to become interactive, i.e. it's the moment when the user can interact the web page once the first visual content appears on the screen. To optimize TTI, it's a good practice to load interactive and high-priority elements first. Here are 3 tips to optimize the TTI:
Load above the fold elements first
Among them, load the essential interactive elements first. For example, loading Add to Cart CTA is more important than loading social sharing icons.
Compress images with TinyPNG without impacting their quality
Bonus Tip
Use geolocation to determine the location of the user so that you are reducing one more step the user has to take, making the process even more efficient. Here is how Amazon does it:

2. Maintain a Minimalistic Approach for the Smartphone Experience
Let's imagine you land on a page that is just cluttered with way too much information and pop-ups showing up out of nowhere. With so much disarray, you would hardly be motivated to stick around.
The adage "Less is more" holds true when it comes to optimizing the conversion rate for mobile websites. Keep content as less as you can to increase the chances of the visitor making a purchase. You don't want to bore them with too much verbosity to the point where they exit your webpage.
To make your website minimalistic, here are 3 simple suggestions:
Remember to optimize your page load speed
Convey the key product features in a bulleted list format
Avoid using pop-ups as a wrong tap might divert the user from completing their purchase
3. Design for the Thumb
The screens of smartphones have grown bigger in recent time. Although this brings the perfect opportunity to design experiences for accurate finger taps, the user behavior doesn't necessarily sit with this assumption. Smartphone users predominantly use their thumb when holding the device single-handedly. This restricts the area where the thumb can move freely. Steven Hoober introduced the term The Thumb Zone in his 2011 book Designing Mobile Interfaces. According to Steven, the thumb zone is the most comfortable area for touch with one-handed use.
Therefore to provide a user-friendly experience, keep in mind the thumb zone when designing for mobile devices. Below is the thumb zone for different screen sizes: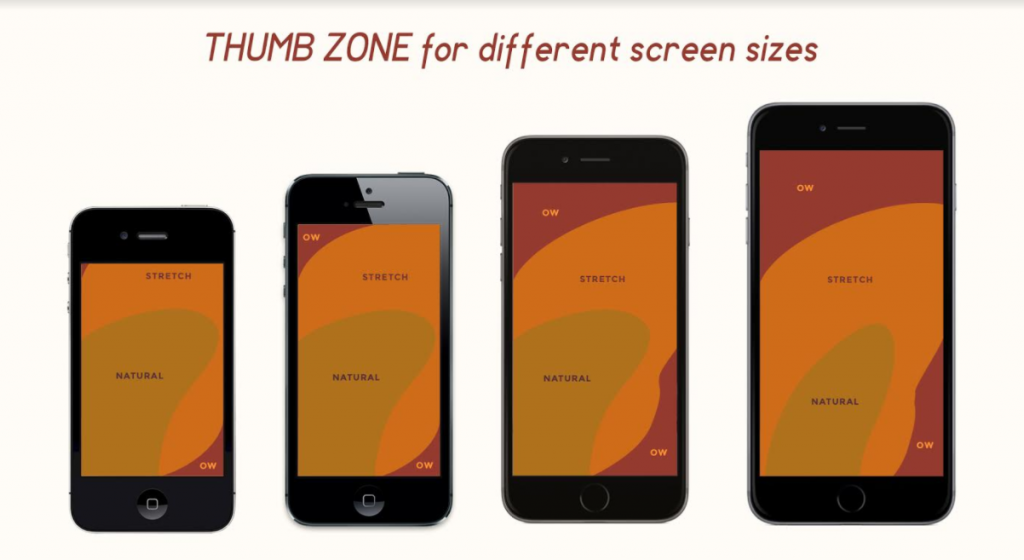 In the above representation, the areas named Natural are the most optimal to place content. Areas titled Stretch are the ones where you can place content which doesn't have high priority. OW areas should be strictly avoided.
In the following examples, you will notice that:
The products are placed in the Natural area. In the right-hand side image, as you scroll the choices come in the Natural area
Buttons such as Filter, Sort, Add to Cart and Buy Now are well placed in the Natural zone at the bottom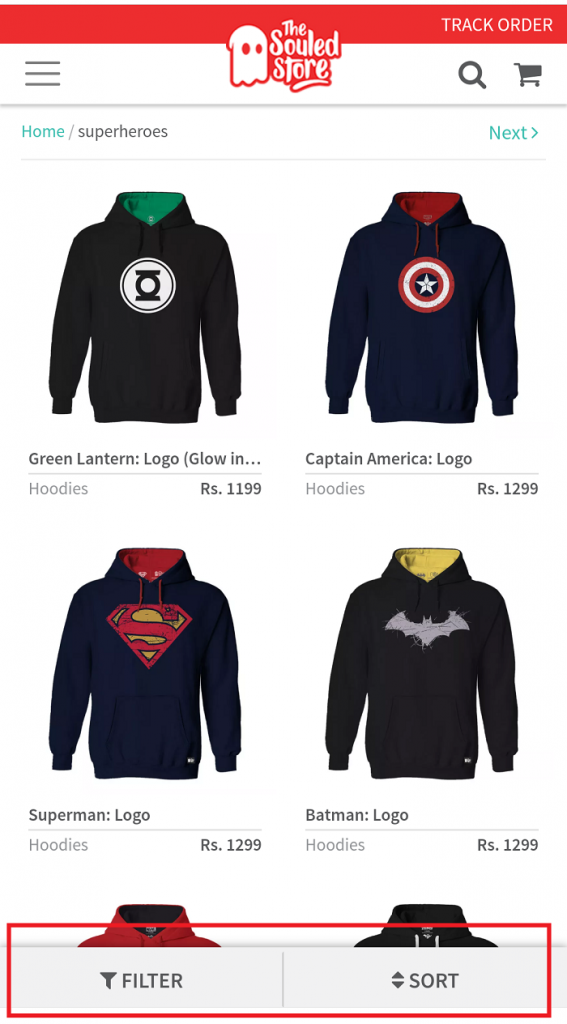 4. Prioritize Uniform User Experience
When talking about UX, context is the key. Providing a uniform UX should be a priority regardless of the device. Your shopper might use a website, mobile app or mobile website to shop on your store. Your aim, however, should be to deliver a seamless, consistent UX across each touchpoint. Let's look at 2 main UX aspects that you must have on your website to boost the conversion rate:
Simple Navigation
You can not give too many options on mobile devices as there is simply not enough space. Therefore having simple navigation would always work. It would be best if you primarily mentioned the brand name, a search field, a menu, contact information or your unique proposition and a shortcut to your cart.
Here is how Zappos does it:

Scale UI for Both Views
Smartphone shoppers use their device on both – landscape and portrait views. Make sure your website is appropriately scaled for each of the views.
5. The Search Functionality Should Be On Point
Smartphone shoppers usually look for products on the fly. They often have a predetermined shopping intent, unlike web shoppers who might be going through your website as the proverbial window shopper.
Therefore, to cater to this specific need, your mobile experience needs to have powerful search functionality. A semantic search tries to grasp the searcher's intent by understanding the meaning and context of the query hence being better at returning results that are most relevant to the user. A thematic search produces results based on the keyword itself without understanding the context.
You can enhance the chances of increasing your conversion rate by implementing semantic search in your website.
Conclusion
It's staggering to see that despite being in 2018, many e-commerce stores fail to deliver a good UX on smartphone devices. The most significant advantage of smartphone shoppers is that they have already made up their minds to purchase a product. All you need to do is facilitate them towards the checkout process. Being able to deliver the ideas as mentioned earlier will undoubtedly help you boost this process.
The post 5 Ideas to Boost Your E-Commerce Mobile CRO appeared first on HumCommerce.