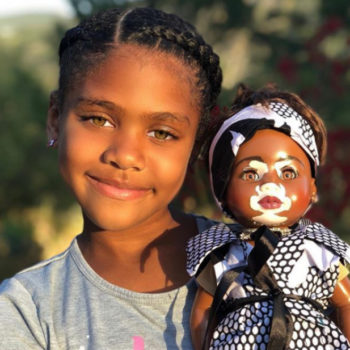 Perhaps the adults should sit back and take a Lesson from the kids. Jayceon Taylor, a.k.a. The Game, definitely got a few pointers from his Daughter, Cali Dream, earlier this week.
Mood. My baby gone off her @iamcardib lol… love this little girl to death !!!! Oh' & @snoopdogg & @tamiroman Cali said her bonnet game tight & y'all don't want no smoke , holla for a feature
The rapper made plans to teach his youngster about Beauty coming from within and flowing outward via a doll crafted to look like America's Next Top Model contestant, Winnie Harlow. What The Game learned is that his daughter is more appreciative and in tune with true beauty that he thought.
"I was in Amsterdam and I was gifted this doll by a very sweet woman 'Ellen Brudet' who is a doll maker," Taylor shared with his Instagram fans on Tuesday. "She wanted to make my daughter one of her dolls," he continued. "I had to pick how I wanted it and out of the things I could've thought of."
The best reason to come home from tour ever…… she got my heart ❤️ #TwinsOrNah 🤔 [ by Daddy]
"I had an idea to have her create one that favored one of my favorite people @winnieharlow whom I've never met but ghost follow (LOL) and admire because her strength, confidence and perfect imperfections are the type of things I want to instill in my baby as well as explain to her that beauty is not based on others opinion of what others think a person may or may not look like physically but simply in God's creations which we are all cut from."
Surprisingly enough, "I pull it out my backpack and Cali says 'Ooooh Daddy, it's Winnie, I love her… she's so cute.' And I'm like awwww d*mn… there goes my daddy teaching his daughter something moment. She was already hip and didn't need to be put on… but that's children these days, smarter than we think and very appreciative."
The post THE GAME GETS A LESSON ON BEAUTY FROM HIS DAUGHTER appeared first on BCK Online.