Daniel
Rodriguez
, known as Grymey D, invited girls to his home after contacting them on Instagram, Facebook and Blackberry Messenger.
Explicit videos of the 28-year-old with the girls were found at the Hackney home of his parents, where he also lived.
Judge Joanna Greenberg QC sentenced Rodriguez on 15 counts relating to seven victims, including sexual activity with a child, sexual assault, making indecent photographs and causing or inciting a child to engage in sexual activity.
She told him: "Your modus operandi makes it clear to me that your desire for them was because they were young girls."
She added: "Your expressions of remorse ring hollow."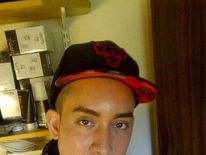 The judge went on: "You cannot have failed to be aware just how seriously the sexual exploitation of children is dealt with" and pointed out that many victims of such crimes "feel a life-long degradation and shame".
Prosecutor Edward Lucas said during the trial: "This defendant is predatory. He preyed on young, vulnerable girls around the ages of 13 to 15.
"He used his experience, charm and his guile and ultimately his force - his force of personality - to indulge in his own perverted activities."
Defence counsel Charles Evans had argued the rapper "certainly did not appreciate the gravity of what he was doing" and was "absolutely stunned" when he learnt of the seriousness of the offences.
Judge Greenberg did not agree, saying the rapper "must be blind and living as a hermit" to have missed news of similar cases involving high-profile people.
Rodriguez was caught when detectives examined the phone of a 14-year-old girl and found messages suggesting he was in a sexual relationship with her.
After sentencing, Detective Superintendent John Macdonald said the jail term sent a "strong message" to those targeting children for the purposes of sexual abuse.
He added: "I don't accept his remorse. If there is any it is probably because he realises the effect on him of a long sentence."
An NSPCC spokesman said: "Parents should talk to their children about keeping safe online, including who they are talking to on social media, and make sure they know when and how to seek help."