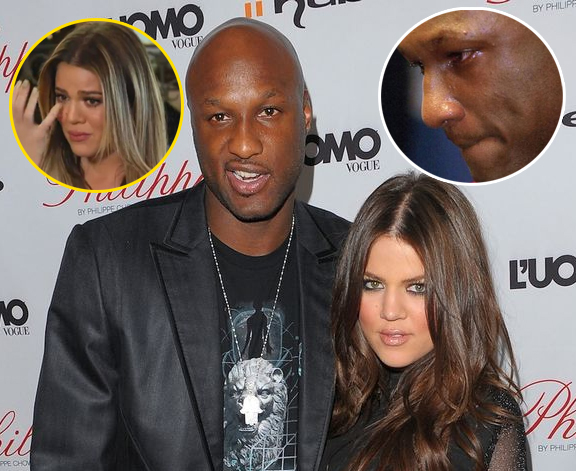 It was back in March of 2016 that headlines reminded us that Lamar Odom had somehow recovered from a life-threatening overdose and that his wife, Khloe Kardashian was insisting that a stint in rehab was required if the NBA star wished to remain her husband.
Did he follow through?
Sadly, no, and after a few failed interventions along with ample amounts of threatening to leave, it would seem that Khloe is done with her husband. In early June of 2016, a series of tweets from the reality TV celebrity indicated: "she certainly knows how to not be bothered with what's happening with Lamar Odom."
And what is happening with him at this time? The answer to that seems to depend on the day of the week. After all, in a recent episode of "Keeping Up with the Kardashians" viewers were treated to an emotional exchange between Scott Disick and Odom. In it, we hear him speaking (with obvious gratitude) about surviving a drug overdose in 2015 and the 12 strokes that followed (yes, that was a dozen strokes in the span of a few months).
Yet, in that same timeframe, friends of the basketball celebrity admit to finding crack pipes in his new home. In fact, one report said this about him: "friends are now claiming that he's been 'acting very strange' lately and they're worried he's back on drugs…
Insisting to friends and Family that he does not need rehab, though surrounded by drug paraphernalia, drinking heavily, and living alone, it seems he is pushing everyone farther away.
This is why few were surprised when Khloe announced in May of 2016 that she would once again be filing for divorce from Odom. In fact, some sources say that she is more committed to the process this time than she was in 2013, and even going so far as to create distance between them. Kicking him out of the home she and her mother had prepared for him in Calabasas (just a short drive from the Kardashian home), Khloe obviously fears her husband's choices and the inevitable outcomes.
While receiving a lot of tough love from his soon-to-be ex-wife, Odom appears to be getting the opposite from his family. According to a TMZ report: "Lamar Odom flatly rejected the 'tough love' intervention, so his other family is trying a different approach … TLC."
Explaining that his New York-based family members have been offering moral support and attempting to boost his self-esteem, the report also says that inquiries have been made about outpatient facilities in the Los Angeles area.
Will it be enough to save him? Based on the statistics and Odom's patterns of behavior, it is unlikely that any outpatient treatment will be tough enough to help him overcome is issues. If losing your wife, your reputation, and your stability is not enough to get you to quit drinking and drugging…what is? Hopefully Odom wakes up before he faces another brush with death, or worse.