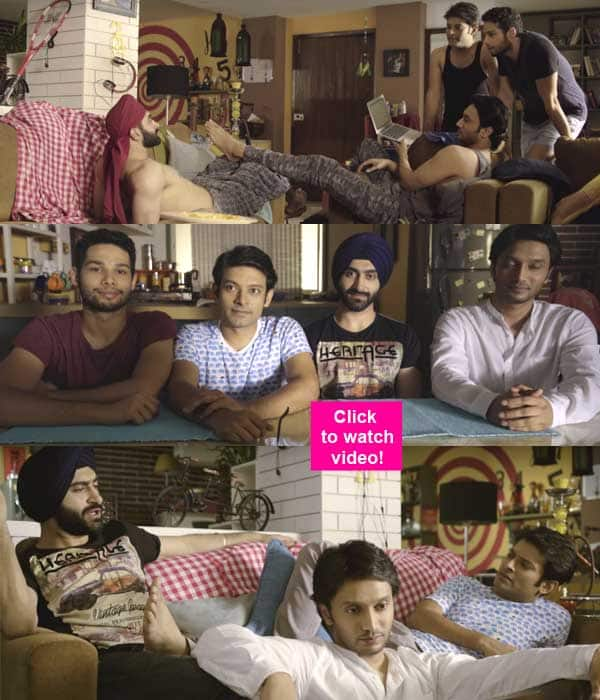 Only men will see humour in this…
Web series in India is not a novel concept. Permanent Roommates have a dedicated fanbase who wait for every webisode eagerly. Clearly, it has found fandom. It isn't a flourishing medium but it's growing and getting big. When you have Yash Raj Films' Y-films devision making kickass web content with Band Bajaa Baraat and now Ladies Room, you have to admit it's grabbing eyeballs. Hence, we have yet another web series trying to cash in on this small wave, Life Sahi Hai. It's directed by the Pyaar Ka Punchnama director Luv Ranjan, so no points for guessing what it is about. BOYS, of course and their perils in this world (read: girls) which is out to get them. Interestingly, the first episode keeps it to the guy problems only which in his case is pretty refreshing! But it's only for men to enjoy it.
What's it about:
Life Sahi Hai is a tale of four friends who share a flat and go through everyday problems of staying with roommates. The first episode is titled The Maid. Clearly, it's one of the most important survival lesson of being bachelors. Getting a good 'bai' is a task in itself. You might finally discover God but not a good maid. They decide to go for professional maid services which they get after a lot of hassle. But men being men couldn't keep their carnal emotions on check as their bai (didi) is too hot to handle.
What's hot:
Despite being a director who loves to 'expose' what girls make their boyfriends go through, he has kept the first episode focusing on guys and their issues only. That's really interesting. There are a few funny moments in the episode like when Jasjit speaks to his mom and says he wouldn't want his wife to be a bai. Makes you feel there are people who think that's not why you get married or the time when Sahil tries his best to shield his 'didi' from the lusty eyes of his roomies. The dialogues are very relatable as you hear people converse this way everyday. Performances by all the actors are commendable.
What's not
It's supposed to be humorous but it hardly cracks you up. You can watch the whole episode without chuckling even for a minute because it isn't something we haven't heard or seen before. Given the fact that how boys live together is fairly known to everyone, the concept hardly makes you say, wow!
What to do
Men, please watch it. For you, this will be your life getting a digital expression. Women, watch it if you think you don't already know what men do when they live together.