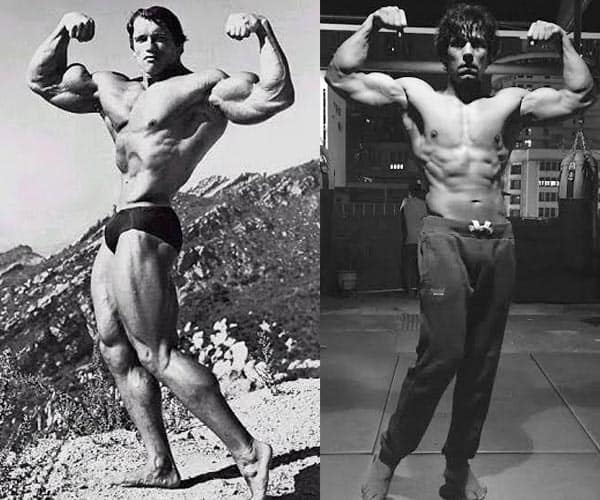 Quite uncanny, don't you think?
Coming from the background of giving it all for roles taken, surely Randeep Hooda tops the charts of Mr Authentic of Bollywood. I mean, he always does an extra bit for all the roles he takes up so as to give fans a kick from his acting. Add his insanely hot looks and we're in for some trouble! Oh of course, trouble with respect to resisting dirty thoughts about this hunk. The actor, who recently gave a stellar performance in and as Sarbjit, is not satisfied with just one performance. Maybe that's why he's coming with his second project, Do Lafzon Ki Kahani co-starring Kajal Aggarwal.
Now if you remember, the actor had lost some tremendous weight for Sarbjit to bring more authenticity to the character. And look at him gain some pounds for Do Lafzon already! In a recent tweet, he had stated that from 65kgs in Sarbjit he jumped to 95kgs for Do Lafzon Ki Kahani, that too in a year! We bow down to you Mr Hooda! You're actually the epitome of crazy body transformation. Soon after posting that tweet with this hot picture, Randeep also shared that it was an inspiration to his idol, Arnold Schwarzenegger. We all know very well what a fine bulked up body, Schwarzenegger had once upon a time. With the same pose and body, Hooda just gave a tribute to his idol!
From 65kgs in #Sarbjit to 95kgs in #DoLafzonKiKahani .. It was one hell of a year ..Pls don't try this at homepic.twitter.com/HhxhkUrP2E

— Randeep Hooda (@RandeepHooda) May 30, 2016
It's also my tribute to @Schwarzenegger..the pose and all.thank you#inspirational #pumpingiron #DoLafzonKiKahani pic.twitter.com/hTj7DeyVTp

— Randeep Hooda (@RandeepHooda) May 30, 2016
Isn't that awesome? If this doesn't surge your excitement to watch Do Lafzon Ki Kahani then what will? Tell us your thoughts on Randeep in the comments section below! Also, stay tuned to this space for more gossips and latest updates!