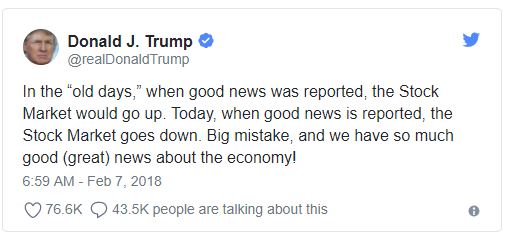 Everyone's having a field day over President Donald Trump's comments about the Stock market going down. But he doesn't actually have that much skin in the game.
His investments mostly involve real estate and not stock, which probably explains why his Tweet about stocks has caused so much confusion.
It's quite possible that Trump might not have lost as much money as everyone else has since the market started going down last Monday, Jan. 30.
In his last public disclosure of his holdings — filed July 15, 2015 as a prerequisite to run for president — stocks comprised no more than 15% of his $10 billion in holdings.
A copy of the form is embedded below.
The form indicates that he held at least $1 million in Apple and Bristol Myers Squibb, at least $500,000 in AT&T, Verizon, Altria, IBM, ConocoPhillips, Caterpillar, and JPMorgan Chase, and at least $250,000 in Visa, Waste Management and Microsoft.
In the 2015 disclosure, Trump also reported a capital gain of at least $5 million from Bank of America and capital gains of at least $1 million from Apple, Best Buy, Boeing and Facebook.
Since then, Trump has told interviewers that he doesn't invest in the Stock Market, preferring real estate over stock.
Donald Trump Likes REITs
However, he does invest in a few things that trade as stocks: include real estate investment trusts (REITs) and exchange traded funds (ETFs) comprised of REITs and other pooled real estate.
for the equities in his portfolio that aren't related to real estate, it's possible he has been selling them off since he made his disclosure.
He may well have chosen to unwind some of this over the past ten days. Now what if managed to capture his gains by selling stock when the jobs report came out on Friday, January 27, or thereabouts?
Readers, what concerns do you have about the stock market right now?
The post Has Donald Trump Even Lost Any Money in the Stock Market This Week? appeared first on Dual Income No Kids.