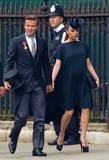 Now that Victoria Beckham has basically confirmed that she's been invited to Prince Harry and Meghan Markle's wedding, it's time to obsess over what she'll be wearing. While the British designer unfortunately won't be creating Meghan's dress, we can't help but be excited at the idea that the Beckhams will be at another Royal Wedding.
Of course, Meghan and Harry's big day will be quite different from Kate and William's. This time around, Victoria won't have to dress a baby bump (she was expecting Harper when the Duke and Duchess of Cambridge got married), but she will have to wear a very specific outfit consisting of a modest day dress and a hat.
Whatever she chooses, we know Victoria will wow us - and we think we might know the kind of outfit she's going to show up in. Read on to get a look at our predictions.
Related: Now Obsessing Over: What Kate Middleton's Going to Wear to the Royal Wedding