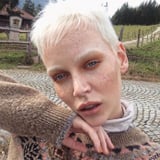 I firmly believe in the universe's influence in our everyday lives and that a good eyebrow can set the tone for the day. Whether you reach for a wand, pencil, or shadow to fill, shape, and groom your brows, when they go on right, everything just seems that bit simpler.
But picture this: what if you skipped eyebrows altogether? On and off the catwalk, more Beauty Queens are adopting bold, bleached brows. Not only are they shaving off 10 minutes from their morning routine, but they're also switching up their beauty look in exchange for a more daring statement - and we're here for it!
Read on to meet the girls who will convince you to bleach those brows at least once in your lifetime.