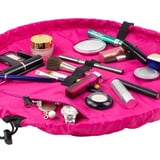 My Makeup Bag used to be a giant black hole of cosmetics that I was constantly digging through to find that one eye shadow. Everything changed when I discovered this Lay-n-Go Cosmetic Bag ($30) on Amazon. I quickly purchased it and used it on my last trip - I can safely say I'll never use anything else again.
The drawstring design allows the bag to lay flat so all your products can be spread out and easily viewed. Its design has raised edging so that small round items and brushes won't roll off when the bag is flat. It also features a convenient zipper pouch inside that is perfect for storing jewelry. But by far my favorite part is that it's machine washable! I always found that my cosmetics cases seemed too used and dirty after a certain point; being able to clean this one makes it an investment that's totally worth it.
If you're ready to organize your Makeup collection, this bag has your name all over it. It comes in 13 different colors and designs that you can use at home or on the go!