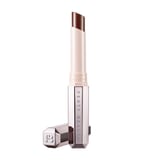 Only Rihanna could have women all over the world cheering for that time of the month! Among the 14 new Fenty Beauty Mattemoiselle lipsticks is a shade called PMS that has women all over the internet freaking out and praising Rihanna. Finally, periods can be celebrated with a popping, sexy lipstick instead of tear-jerking romance movies and chocolate. The gorgeous all-matte lipsticks range from emerald greens to hot pink and orange, but it's the "moody" brown PMS shade that epitomizes Rihanna's effort to really appeal to all women.
The collection of all 14 shades will be available on Dec. 26 at 9 a.m., because even after Christmas, Rihanna knows how to deliver as Mrs. Claus. In addition to PMS, the other shades have witty names like "Spanked," "Midnight Wasabi," "Saw-C," and more. Even when not PMSing, the shade is simply badass and made to excuse any unpredictable mood swings, as seen above (not pictured: mood swing). Check out Rihanna in PMS below along with some of the best reactions to the shade.
#PMS | #MATTEMOISELLE will be available December 26!
Rihanna has a lipstick called PMS. pic.twitter.com/Z3tvdUOjN9

- Jasmyn Lawson (@JasmynBeKnowing) December 18, 2017
rihanna titling one of her lipstick shades PMS has healed me from this wretched year

- Sarah MacDonald (@sarahsmacdonald) December 18, 2017
Can we get a slow clap for @rihanna for naming one her lipsticks PMS 👏🏼

- Danielle Pomarico (@DanielleNoelPom) December 18, 2017
rihanna naming her dark red #MATTEMOISELLE "PMS" is what keeps me going on this otherwise dark day

- maggie but festive (@mag_dev_) December 18, 2017
just when you thought she couldn't get more perfect rihanna goes and makes a shade of lipstick called PMS

- Natalie Weiner (@natalieweiner) December 20, 2017
rihanna is releasing a lipstick shade called "Pms" and i've never wanted something that bad and THE COLOUR IS SO MEEEEEE

- كلودينْ (@claudonee) December 20, 2017