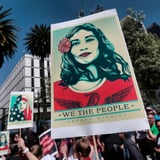 The Women's March on Washington, The Handmaid's Tale, and the #MeToo movement all shaped Merriam-Webster's 2017 Word of the Year: "Feminism." Though other politically charged words were certainly considered and in the running, this decision seems ultimately the more powerful and important. In a press statement, the legendary dictionary company said, "The word was a top lookup throughout the year, with several spikes that corresponded to various news reports and events."
At the very start of the year, searches on the word increased with the Women's March. As part of the history-making demonstration, which took place the day after the inauguration, millions of women across the world marched to protest Donald Trump and the incoming administration. It wasn't solely about the newly inaugurated president, though. It was about the gender pay gap, attacks on reproductive rights, Sexual Harassment, and much more.
According to Merriam-Webster, the word resurfaced again when Kellyanne Conway said she did not consider herself a feminist "in a classic sense." At the Conservative Political Action Conference in February, Conway said, "It's difficult for me to call myself a feminist in a classic sense because it seems to be very anti-male, and it certainly is very pro-abortion, and I'm neither anti-male or pro-abortion."
Conway's personal definition of the word doesn't in fact align with that of Merriam-Webster, which defines feminism as, "The theory of the political, economic, and social equality of the sexes" and "organized activity on behalf of women's rights and interests."
In pop culture, both The Handmaid's Tale and Wonder Woman helped contextualize feminism for larger audiences, although in very different ways. Toward the end of the year, however, the word was invaluable in relation to the enduring #MeToo movement and the many individuals who spoke out about sexual harassment and assault.
While Merriam-Webster's other words in the running referenced the president and his chaotic first year in office - namely "complicit," "recuse," and "dotard" - this one was and always has been a force unto itself.