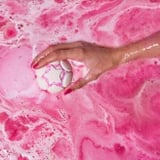 Now that Halloween is over and done with, we march boldly onward into another holiday season. So, snow bunnies and Winter goddesses, listen up: Lush has just released a Snow Fairy Jelly Bomb ($8) for you to cuddle up with as it gets cold outside.
Lushies will know what we're talking about: the vanilla and bubblegum scent is already a beloved shower gel ($10), body conditioner ($20), soap ($7), and sparkle jar ($10). Now, it's been reincarnated as a carrageen-seaweed-infused bath bomb that dissolves into pink Jelly upon being dropped into your bath.
Pink isn't the first color one imagines when they picture a Winter wonderland, but that's a damn shame, and we're glad Lush is here to change it. Be warned, though: this rosy putty is just a limited-edition release, so be sure to stock up while you can this Winter.