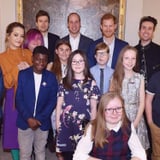 - BBC Radio 1 (@BBCR1) October 20, 2017
We already knew that Prince Harry and Prince William have hearts of gold, but now we have even more proof. On Wednesday, the royals hosted a reception with Rita Ora at Kensington Palace to meet with BBC Radio 1's Teen Heroes of 2017 ahead of the official Oct. 22 ceremony. The charity honors young adults who have shown dedication to helping others through selfless achievements, and William and Harry presented the finalists with special Teen Hero badges. "It's just really crazy. You'd never think that you'd be here," one of the kids said. "When you seen them on TV, you're like, 'They're going to be really posh when you meet them,' but they're actually really friendly."
During the event, the kids also got a taste of William's sense of humor when he joked about a pile of cookies behind them: "See the biscuits lying around? This plate is full behind you. That means you have not been trying hard enough!" The Teen Heroes are set to receive their awards at the Radio 1 Teen Awards on Sunday. The event will feature performances by Rita, Liam Payne, The Vamps, Camila Cabello, and Dua Lipa.