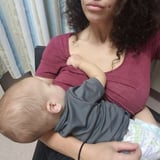 Update: Candler Hospital has apologized to Kymmie since the incident. Its PR manager, Scott Larson, told Today the part-time employee "has been re-educated on [the hospital's] views regarding breastfeeding."
Original story: We've heard of moms being told not to breastfeed in shopping malls, at restaurants, in church, and on public benches - and while women have every right to do so, we also understand that somehow there are still people who are just unaware of the importance of nursing, the need for babies to eat, and the legal protections a mother has to do so.
So when a women was flagged at a hospital for breastfeeding her son, we were shocked. And when we discovered that it was a hospital employee - not some uninformed passerby in a waiting room - who sounded the alarm, well, we've now officially heard it all.
Mom Kymmie Snyder was at Candler Hospital in Savannah, GA, for a "quick outpatient procedure" for her daughter. In a Facebook post she shared with Breastfeeding Mama Talk, she said that while waiting to be called back, her son – who has cystic fibrosis - grew hungry.
"His pancreatic and digestive system are not the same as a normal, healthy baby, resulting in him being hungry very often, due to the malabsorption of nutrients," she wrote alongside a photo from their breastfeeding session. "So we nurse, and we nurse a lot."
That's when a hospital employee did something completely inappropriate. She wrote:
I have NEVER been so mad in my entire life. There is NO skin showing, no nipple out, you honestly can't even tell that I am breastfeeding if you were to look straight on. A woman who is EMPLOYED at Candler walks right up to me and had the audacity to cover my child's head with a towel! When I snatched it off, she tried to tell me that I "had to cover his head" and myself if I wanted to remain in the hospital. I asked her if she knew what she was doing was illegal. She then tries to tell me it is "hospital rules." WHAT THE HELL KIND OF HOSPITAL HAS EVER HAD THAT RULE!? LOL. So, Mrs. WILLIAMS of Candler Hospital - I don't know who you thought you were approaching this morning but I am certainly the wrong one! Cover your own damn head if you have a problem with my son eating.
Kymmie told Breastfeeding Mama Talk that she complained to the hospital administration and that they "were not helpful." Maybe they will be now that her post, which has more than 9,000 reactions and counting, is going viral.