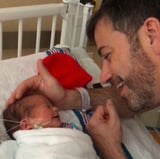 I am thankful to love and be loved by these two Brave Guys. Both criers. pic.twitter.com/NL0C3K3Q4E

- Molly McNearney (@mollymcnearney) May 2, 2017
On Monday, Jimmy Kimmel opened his show with a touching and heartbreaking story about his family. After telling the audience that he and his wife, Molly McNearney, welcomed son William on April 21, he revealed that their little guy is battling a serious heart condition. Jimmy said that Billy underwent one of likely three open-heart surgeries a few days after his birth, and that he had to be hooked up to numerous IVs after the procedure. Shortly after he revealed the news while fighting back tears, professional snowboarder Shaun White, who shares the same heart condition as Jimmy's son, stopped by to talk to the host about what it was like growing up with the condition and to put his mind at ease.
Molly also spoke out by sharing a beautiful photo of Jimmy and Billy on Twitter on Tuesday. "I am thankful to love and be loved by these two brave guys. Both criers," she wrote alongside the snap of Billy smiling up at his dad. She also thanked everyone for their kind words, writing in another tweet, "We had a baby. Here is the story told so eloquently by my sweet husband. Thank you for all the love, support and prayers. xo" It's safe to say that Billy is in very good hands.