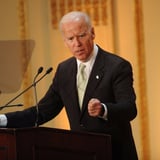 Joe Biden wants Betsy Devos to know how he feels about her stance on Title IX. The former vice president recently spoke with Teen Vogue to discuss his sexual assault prevention organization and also DeVos's handling of Title IX, which regularly protects students who are survivors of sexual violence.
"It bothers me most if Secretary DeVos is going to really dumb down Title IX enforcement. The real message, the real frightening message you're going to send out is, our culture says it's OK," Biden said in reference to DeVos's unwillingness to agree that she would uphold Title IX, specifically in reference to sexual assault on college campuses, during her hearing to become secretary of education. "It would be premature for me to do that today," DeVos said at the time.
"You know, the major reason why women drop out of college when they're a freshman is because of sexual assault. Not their grades, sexual assault. And so, it would be devastating," Biden stated during his interview with the teen publication. "No father or mother should drop their kid off this late August, early September at their first day at college and drive away worried [if she is] going to be safe."
Biden also expressed his belief that Title IX "is the vehicle" to prevent sexual discrimination, which he says includes rape and assault. Read his full interview with Teen Vogue.