According to NDTV Air Deccan flight ticket bookings have started, with the airline set to begin flight operations from December 22, 2017. Initially, Air Deccan will fly on Mumbai, Nashik, Jalgaon, Pune and Kolhapur routes, according to its website – airdeccan.co.in. A search on the Air Deccan bookings portal on Friday showed tickets for one-way flights from Mumbai to Nashik at the end of December were available from Rs. 1,310. Air Deccan is the pioneer of low-cost airlines in India. Air Deccan is owned by Captain G R Gopinath, who brought the concept of low-cost airline in India in the early 2000s. Air Deccan later merged with now-defunct Kingfisher Airlines. The first of the Air Deccan flights will take off on December 22 taking off from Nashik to Mumbai, according to its website.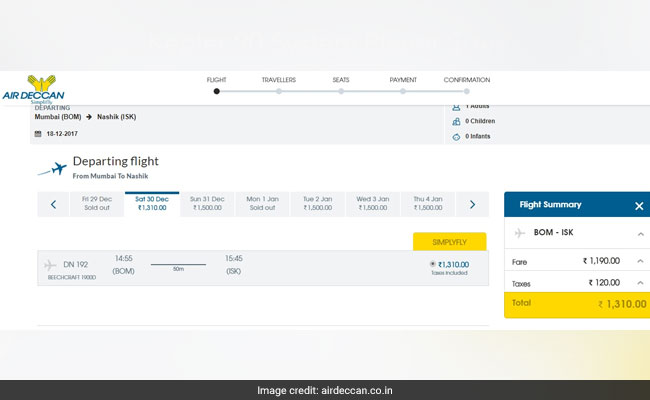 Also, tickets for one-way flights from Pune to Nashik on December 30 were available for booking from Rs. 1,670, the portal showed.
Air Deccan will later have bases in Delhi and Kolkata. flying to cities around them. Five carriers, including Air Deccan, had won the rights to operate UDAN flights in the first round of bidding held in March. They were awarded 128 routes.
Air Deccan (airdeccan.co.in) will add more routes, according to its website. Air Deccan will soon open bookings for flights from Kolkata to destinations including Jamshedpur, Rourkela, Durgapur, Bagdogra, Cooch Behar and Agartala, and from New Delhi to Agra, Shimla, Ludhiana and Kullu, among others, according to the airline's website.
Under the regional connectivity scheme (RCS), also known as UDAN ('Ude Desh Ka Aam Nagrik'), airfares are capped at Rs. 2,500 per person for an hour's flight to Tier-2 and Tier-3 cities in which the government will provide subsidy for keeping tickets at low prices. It is aimed at improving air connectivity to Tier-2 and Tier-3 cities.