Hot Chocolate, sometimes referred to as cocoa, the most famous drink in the world other than coffee maybe, it usually contains some shaved chocolate, melted chocolate buds or cocoa powder, to all of that you add some heated milk and sugar if you love it really sweet and there you go. Hot chocolate! It has been said that the first Hot Chocolate drink was made way back 2000 years ago by the Mayans and it was an important part of the Aztec culture at the time. As the years went by the drink became popular world wide and pretty much is consumed everywhere on a daily basis, i know i love it.
The Hot Chocolate Machine
There are plenty of different types of hot chocolate makers, some are pretty simple and straight forward with a glass container and a mixer to stir all the ingredients and some are very sophisticated machines that can make hundreds of cups per hour. With so many makes out there, how do you know which one is the best hot cocoa machine for your kitchen? Like always, we got your back and we reviewed the best machines for you so you won't have too. We hope you find the one you're looking for.
1: Breville BMF600XL Milk Café Frother
Best for: Adjustable foam amount. You get exactly the amount of foam you want
Making hot chocolate with this machine is really easy. The Breville BMF600XL Milk Cafe Frother is best known for it's adjustable frothing. This cool hot chocolate machine has swappable disks that allows you to get that perfect amount of foam you need and want in your life. Simply add chocolate flakes, powder or syrup to the frothing milk and make your drink. This is the first on the best hot chocolate machine list and is a solid choice for chocolate lovers.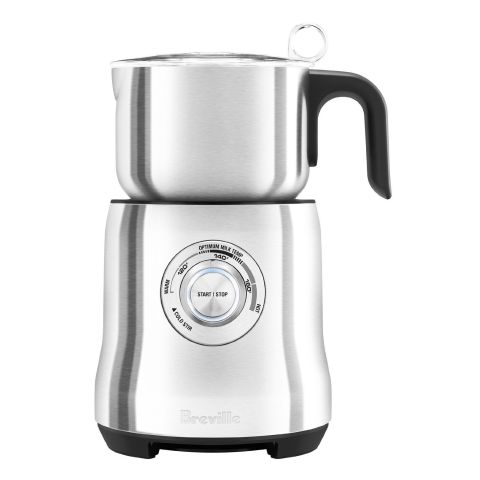 Check Price On Amazon
2: Mr Coffee Cocomotion
Best for: Simplicity – really this is the easiest machine to work, will turn itself off automatically when ready.
Don't let the name fool you, the Cocomotion by Mr Coffee can make you a mean hot chocolate cup. All you need to do is add some cocoa, milk and press the ON button, YUP it's that easy! This hot chocolate machine will take care of the rest and will heat up perfectly the chocolate mix and when it's done it will turn itself off automatically. It can make up to four big mugs with each gulp and also very kid friendly. This could be the best machine on this list simply because it has the perfect balance between cost, built quality, capacity and so easy to use.
Check Price On Amazon
3: Breville Hot Chocolate and Milk Frother
Best for: Diversity – this machine can make more than just hot chocolate.
OK so this machine is for professionals only ( Not really ). But it does for serious chocolate lovers and those who want a little bit more out of their drink. The Breville Hot Chocolate and Milk Frother will give you high performance and versatility, it won't only make you a hot chocolate cup, it can also make a mean cappuccino and lattes. You can chose from four different pre-programmed settings: Latte, Baby latte, Cappuccino and hot chocolate. This is a great choice.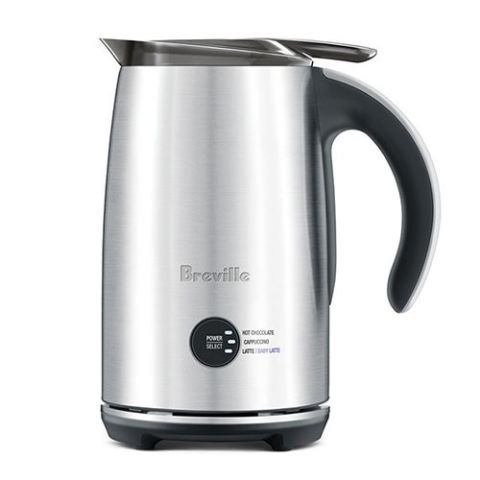 Check Price On Amazon
4: West Bend Cocoa Grande 60-Ounce Hot Chocolate Maker
Best for: Safety. Safety is important when you work with really hot drinks and germs.
The West Bend Cocoa Grande 60-Once is the chocolate maker of your dreams. It has a special feature that measures the temperature of the beverage and when it reaches the preset heat level it will turn off automatically. But wait, there's more, this device also comes with a BPA-free container, why do you need a BPA-free container you ask? It will keep you from ingesting harmful contaminants. This is a great choice for hot chocolate lovers.
Check Price On Amazon
5: Sagra Hot Chocolate Machine
Best for: Performance. This is an awesome machine for those who want top notch results in bulk
The Sagra Hot Chocolate Machine is a top notch choice for inviting people for a drink party. It has a large capacity of up to 3 liters and the unit itself is very spacious. Wanna impress your guests and transform your kitchen into a cool yummy chocolate heaven? This is the device for you. This premium machine can heat,mix and dispense high quality chocolate for you to enjoy. It will continuously stir the 3 liters inside until you're ready to drink it all.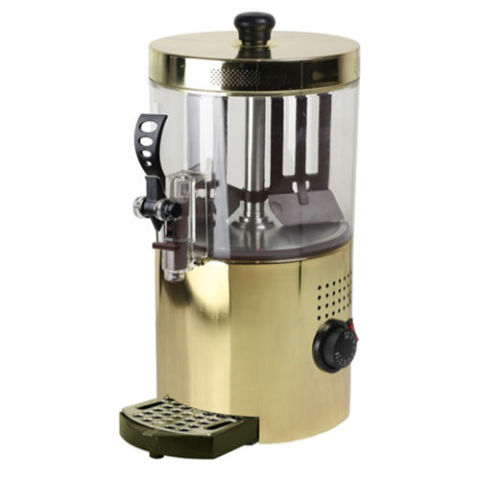 Check Price On Shop
6: Pfaltzgraff La Cafeteire Coco Hot Chocolate Frother
Best for: keeping it clean. Well, any serious chocolate drinker knows that after you make your drink, things get messy.
The Pfaltzgraff La Cafereire Coco Hot Chocolate Frother is not a chocolate maker per say, but it will be a great addition to your drinking game. It is built to add richness to your cup and the best thing about it is that you don't have to think about cleaning. It's made of non-stick coating that eliminates the hassle of cleaning. Just rinse it and wipe it and use it again.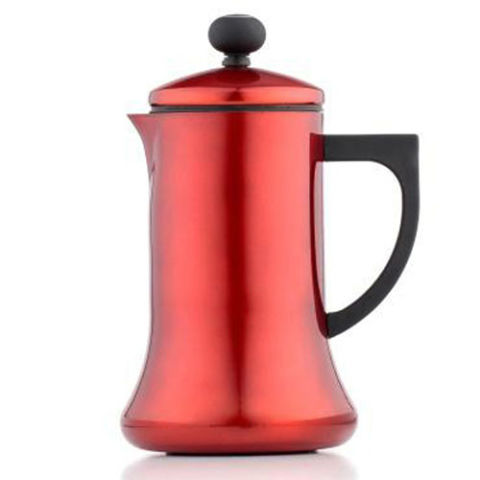 Check Price On Amazon
7: Epica Automatic Electric Milk Frother
Best for: Price. Well, let's not kid ourselves, price matter, and you get a decent machine for a good price here.
The Epica Automatic Electric Milk Frother comes with a two year warranty which right of the bat makes this machine pretty cool. It also delivers a consistent top notch results when it comes to foamy milk that you normally see from a higher price range of hot chocolate machines. It has a detachable stainless steel carafe and three milk-frothing settings, honestly, what more do you need?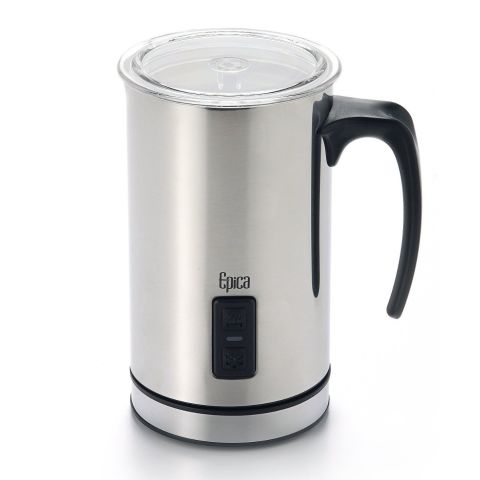 Check Price On Amazon
8: Nostalgia Electrics Retro Series Hot Beverage Maker
Best for: Price and looks. Kitchens now days are a design thing as much as utility, and this will look great in any kitchen.
The Nostalgia Electrics Retro Series Hot Beverage Maker is a great choice for those who love vintage things. It looks just like those cool hot chocolate machines of the past and the price tag? Forget about it, it's very convenient. The good price doesn't mean this is a bad machine, it can hold up to 32 ounces which is about four mugs. When you're done with it, just hide the cord into it's storage compartment and put this baby away for future use.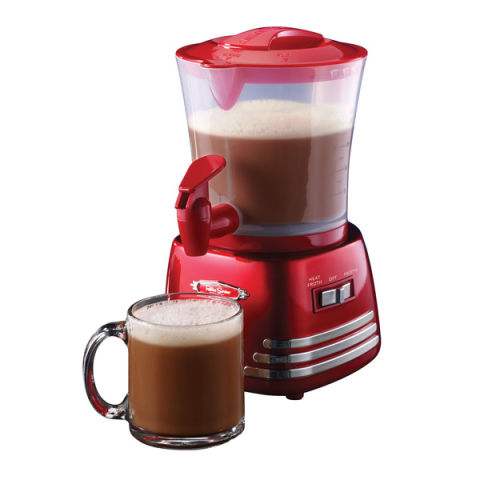 Check Price On Amazon
9: 5l Commercial Hot Chocolate Maker
Best for: Quantity and quality. Best hot chocolate maker on this list. Period. But comes with a high price tag.
If you sometimes fantasies about drinking a gallon of hot chocolate than this 5 litter Commercial Hot Chocolate Maker is perfect for you. But before getting this machine be warned, it's for serious chocaholics only. It comes equipped with a slow stirrer and progressive temperature control to make sure your chocolate drink will be warm and nice all day long. Now we know that this machine is meant to be for coffee shops and on a more commercial use, but think about this for a second, commercial built quality means it will work for years, well, i'm sold. Just make sure you can afford it.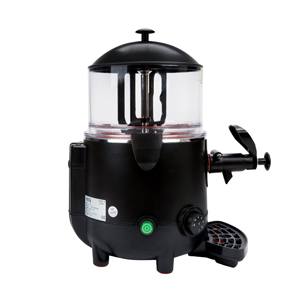 Check Price On Amazon
10: Hershey's Hot Beverage Machine
Best for large capacity, It's not a commercial machine but it's big enough for any home
The Hershey's Hot Beverage Machine is an appropriate device right? The two go hand in hand when it comes to chocolate of any kind. The machine has a large 60-ounce container and a thermometer controlled base and you can also use the automatic temperature control. Overall this is a great machine for the home.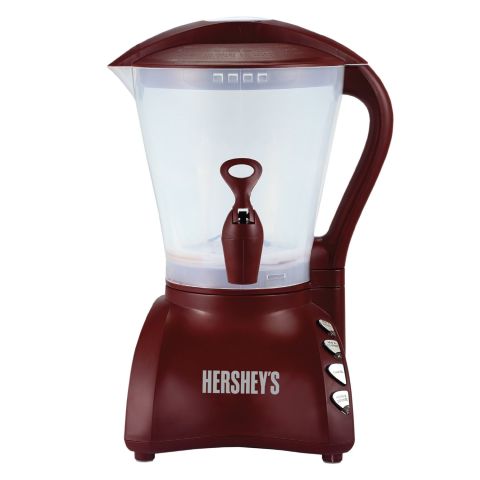 Check Price On Amazon
Related Product Reviews:
best electric can opener

hot dog steamer machines

over the door towel rack
The post 10 Best Hot Chocolate Machine Brands For Serious Sweet Drinkers appeared first on The Geeks Daily.