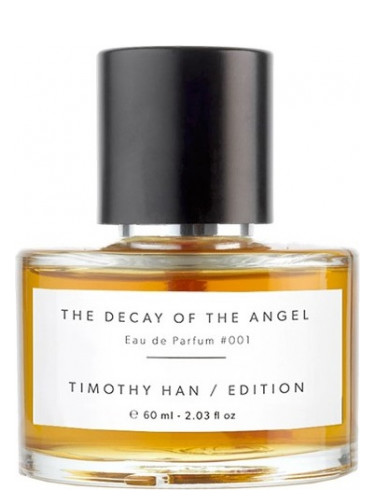 The Decay Of The Angel is a scent of exotic flowers and woods inspired by Yukio Mishima's 1971 posthumously published novel, The Decay of The Angel.


"A rich and exotic burnt floral fragrance with a subtle headiness that comes from desire infused by flowers on the wane.

Inspired by Yukio Mishima's 1971 novel of the same name, these are the final longings of a descending angel."


Top notes: Mandarin, Neroli, Rose, Ylang Ylang, Frankincense

Heart: Sambac Jasmin, Acacia, Cade

Base" Oud, Cedarwood, Patchouli, Tonka, Labdanum


"For this fragrance Timothy Han Edition Perfumes has collaborated with Warsaw based artist Gosia Sobczak who has created a series of illustrations that depict the five signs of the decay of an angel; Decay, Diaphoresis, Dirt, Dissatisfaction, Darkness.


These 5 Stages are reflected throughout the fragrance which turn a classic rose floral into an intense hedonistic experience.

The result is a powerful scent composed with the sweetness of flowers on the edge of decay laid over traces of fire and ash provided by Cade to bring a dark and dirty edge.

This is bound together with Hedione, the only known fragrance ingredient to induce arousal, and musk to evoke the notion of sweat and sex as fulfillment of a fallen angel.

"This is a take on a rose floral that will divide opinion.

By introducing dark undertones of sex and ash to what is often seen as a traditional and safe scent, we have created a perfume for the outspoken." – Timothy Han."

It is available as a 50 ml eau de parfum.


The Decay Of The Angel was launched in 2017.