The World Select Team for the 2017 Nike Hoop Summit was announced on Wednesday. The annual competition will be played on April 7 at the Moda Center in Portland, Oregon.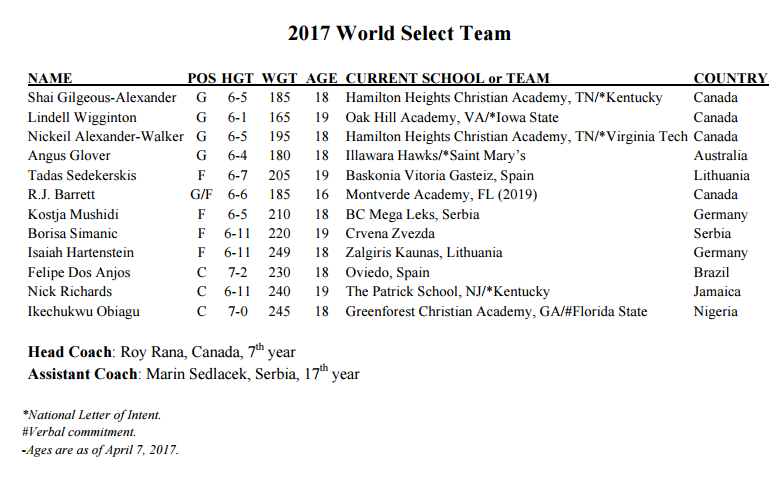 The World Select Team features some of the best, young, international prospects ranging from ages 16 to 19. Canada is the most represented country with four of the twelve players hailing from up North.
Five of the twelve players have committed to a university for the upcoming season with two planning to attend Kentucky.
The Nike Hoop Summit is often one of the best places to watch the young talent pool before many become prominent or household names. Some of the best international talent in the NBA has played against the US Team in the annual competition. That list includes the following (via USA Basketball):
World Hoop Summit alumni playing for NBA teams (as of Dec. 7, 2016) included: Alexis Ajinca (Pelicans); Nicolas Batum (Hornets); Anthony Bennett (Nets); Davis Bertans (San Antonio Spurs); Bismack Biyombo (Orlando Magic); Clint Capela (Houston Rockets); Omri Casspi (Kings); Cheick Diallo (Pelicans); Joel Embiid (76ers); Dante Exum (Utah Jazz); Evan Fournier (Magic); Serge Ibaka (Magic); Nikola Jokic (Denver Nuggets); Cory Joseph (Raptors); Enes Kanter (Oklahoma City Thunder); Skal Labissiere (Kings); Trey Lyles (Jazz); Thon Maker (Bucks); Boban Marjanovic (Pistons); Patrick Mills (Spurs); Nikola Mirotic (Rockets); Donatas Motiejunas (Rockets); Emmanuel Mudiay (Nuggets); Jamal Murray (Nuggets); Raul Neto (Jazz); Lucas Riva Nogueira (Raptors); Dirk Nowitzki (Mavericks); Tony Parker (Spurs); Sergio Rodriguez (76ers); Dario Saric (76ers); Dennis Schröder (Atlanta Hawks); Luis Scola (Nets); Kevin Seraphin (Pacers); Ben Simmons (76ers); Tristan Thompson (Cavaliers); Karl-Anthony Towns Jr. (Timberwolves); Andrew Wiggins (Timberwolves); and Kyle Wiltjer (Rockets).
The USA Basketball Junior National Select Team, composed of high school players, will be the competition. That roster has not yet been announced.
The post 2017 Nike Hoop Summit World Select Team Roster Announced appeared first on Def Pen.