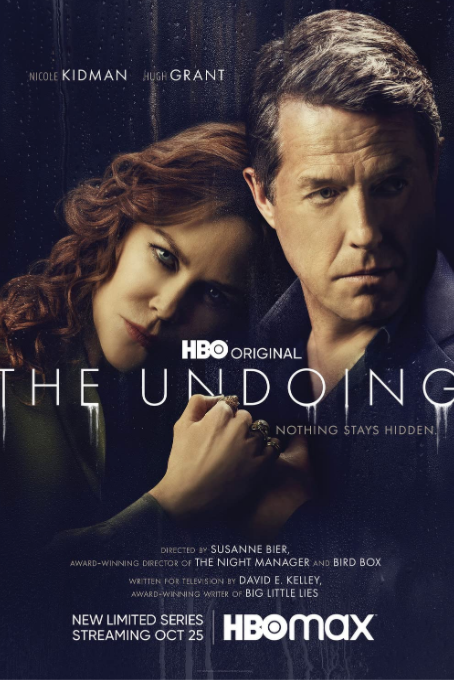 David Kelley's The Undoing mini-series debuted with a star-studded cast on HBO tonight. I mean, with Nicole Kidman as Grace Fraser a psychologist and Hugh Grant as her husband Jonathan Fraser an oncologist on the posh side of New York City, and a murder and a missing person, we can just stop there and how can you go wrong, right? You can't. The first episode was sleek and blockbuster powerful, an East Coast analog in many ways of Kelley's California Big Little Lies, which was pretty hot, suspenseful stuff, too, over two seasons.
[spoilers below]
The Undoing starts off with a nice long build-up of rich mothers (whose kids are in an elite private school) plus one (who's among them on a scholarship) meeting on some auction committee. Before the hour's over, Elena (the young mother with a scholarship for her son) has a conversation in the nude with Grace in a locker room (that is, Elena has not even a towel around her), Elena on the night of the auction kisses Grace on the lips, and Elena is found brutally murdered the next morning. And, when Grace tries to let her husband know about the murder -- he left in the morning to (supposedly) to attend a meeting in Cleveland -- she finds that he's gone missing. About as good a set-up as you're likely to find on any screen.
So here's where we stand:
1. Is there a connection between Elena's murder and Jonathan's disappearance? We don't know that yet, for sure, but, how could there not be?
2. Did Jonathan murder Elena? He's the most likely suspect at this point, his motive being jealousy, or maybe he was sleeping with Elena and she or he wanted to end that. He did say something to Grace about Elena, and his being missing doesn't help, but that's all still circumstantial at this point, as they say. There's even a chance that he, too, could be dead.
3. Any other suspects? The husband -- Elena's -- is always a possibility, but he seems like a nice guy. I suppose there's a very outside chance that Grace did it, but she didn't really have the time, and she seemed genuinely shocked to find out about the murder. So, make that chance very slight and outside. (My wife suggested Grace's father Franklin. We don't know much at all about him, but he's played by Donald Sutherland, which suggests some kind of significant role.)
4. How about someone not at all in the first episode? I'd say no -- Kelley's too good to pull rabbits like that out of a hat.
So we have a nice, taut, high-octane mystery on our hands, set in snowy, pre-pandemic New York City, which is fun to see in any case. See you back here next week.