B-town is filled with superstars who are watched by paps and adored by fans. Wherever they go, the cameras follow and that's just a part of an actor's life that comes with stardom. That and constant scrutiny, but that's for another day, another article. But if you think, this is going to be another homage to the brightest stars who jump cliffs and fight villains to keep us entertained, you couldn't be more wrong! For it is Raksh Bandhan and it is time you know the lesser known siblings of celebs about whom you've been curious all this while.
Without much ado, let's begin with knowing the brothers/sisters of actors who have been by their by side but not in the limelight. Shall we then?
Shah Rukh Khan's sister, Shahnaz Lalarukh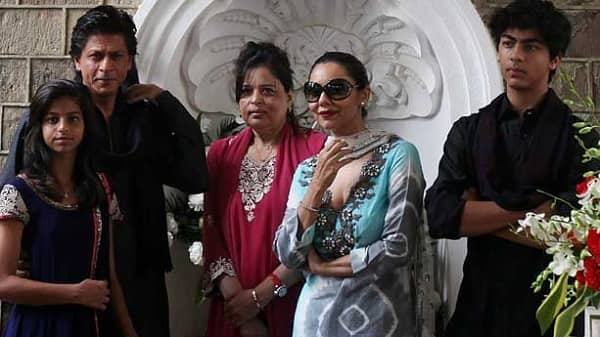 Shah Rukh Khan is a celebrity with global fame but little do fans know about his elder sister Shehnaz Lalarukh Khan who is not often spotted with her star brother at public events. Reports say that she was out of city when her father passed away of cancer in 1981. On returning home, she saw her father's dead body and fell unconscious. Following that, she often started remaining ill. If you're wondering, she stays in Mannat with the rest of Shah Rukh's family and seldom comes out.
Priyanka Chopra's brother, Siddharth
Hey hey lil bro.. happiest birthday and all my love and luck.. you have turned into such a special man.. I'm so proud of you and love you. You remind me so much of dad. Thank you for your kindness…and epic party last night!! see you as I'm back.. love Didi Ps… #birthdaypunches are so much fun @siddharthchopra89
While PeeCee has made it big in Bollywood, her bhai Siddharth is an entrepreneur. He did a culinary course from a university near Geneva, Switzerland and also owns the Mugshot Lounge in the upmarket city of Pune. Though Siddharth is a chef, he handles the business side of the pub.
Ranveer Singh's sister, Ritika Bhavnani
Big momma and Little momma :)) #Istanbul #DilDhadakneDo pic.twitter.com/m3afhgNmR2

— Ranveer Singh (@RanveerOfficial) 10 May 2015
The live-wire Ranveer Singh, if you do not know, has an older sister, Ritika Bhavnani whom he is very close to. Apparently, he also touches her feet after she ties his a rakhi! In fact, Ranveer often says that Ritika is responsible for his sweet tooth, as she gave him chocolates almost every day when they were kids.
Deepika Padukone's sister, Anisha
me and my little…coz sisters are the bestest!!!❤️ @ranveersingh
Anisha might be DP's sister but she is also her harshest critic. She tells her straight away when she doesn't like her movies, but also praises her when she does a good job. She doesn't want to enter the glamour industry like her sister instead, wants to represent India as a golfer on an international platform.
Anushka Sharma's brother, Karnesh
Wishing you & your family a blessed Diwali. May the light in you grow brighter this Diwali & bring you closer to your life's purpose ✨

A post shared by AnushkaSharma1588 (@anushkasharma) on
Anushka's elder brother Karnesh used to play state-level cricket, and played for the U-19 Bangalore Ranji cricket team. He was formerly serving in the Merchant Navy as well. The two have recently started their production company, Clean Slate Films and have produced a number of projects under their banner.
So, now you know!