Sanjay Leela Bhansali's magnum opus Padmaavat is creating records at the box office. The movie stars Deepika Padukone, Shahid Kapoor and Ranveer Singh in lead roles. Padmaavat gave Sanjay, Shahid and Ranveer their highest ever opening weekend grosser. To think about that this movie was banned in four states in India and many cinema owners across the country refused to screen it, it is quite an achievement and a slap in the face of the protestors. The movie has garnered Rs 114 crore at the box office already and it is soaring high. The collections are only going to increase. Certainly, it calls for a celebration for the team of Padmaavat for their toil and hard work has paid off.
The team including the three actors and the director got together for a quick celebration. They cut the take to cheer for the Rs 100 crore their movie has earned over the weekend. You can see in the pictures below that Deepika stood in between Shahid and Ranveer and held their hands to cut the cake. This cute moment holds extremely high value as this would be the first time the three actors have come together to promote Padmaavat.
Padmaavat invited a tsunami of protests and controversies over the allegations of objectionable content by the fringe groups. It was in the best interest of the Film that the three actors never came together to promote the film. Having Ranveer and Deepika promoting the film together or talking about it together would have been an incredible PR disaster for Padmaavat. But now that everyone has seen the film and majority are loving it, the three actors can pose for as many pictures together as they want.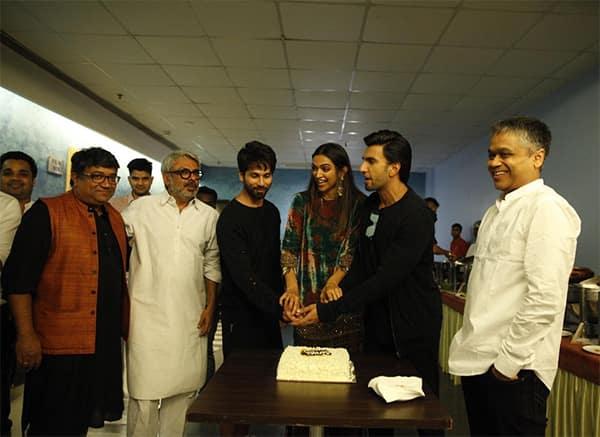 Despite the tribulations that have come the film's way, Sanjay Leela Bhansali's Padmaavat made approximately 115 cr in 4 days + special paid previews (Domestic / Thur : 19 cr, Fri : 32 cr, Sat : 27 cr , Sun : 32 cr). With several trade gurus stating that the film had the potential to reach the coveted figure in half the time, had it not been for the ban in 4 states.
Acclaimed critic and trade analyst Taran Adarsh has said talking about the film's success, "This is a humongous achievement for Sanjay Leela Bhansali because the film has been loved by the audience and this can be gauged by the box office numbers.I personally believe that Padmaavat is his best film to date, from the way he shot it to the way he has extracted the performances from his actors. This proves more than anything that he is indeed a master storyteller".