The festival of dance has already begun and we can't wait to shake our legs to some of the popular dandiya songs. But as we are stuck in our jam-packed schedule and can't really hit the dancing ground until the weekend, we want you guys to enjoy on our behalf. Right from screaming, Ae Halo to inventing new garba steps, we are sure you guys have planned it all. But amidst such excitement and the fascination to show off your great wardrobe, don't you dare forget to match your dandiya clothes with colours assigned for each day. So, while Jacqueline Fernandez taught you how to embrace yellow on Day 1, let Deepika Padukone carry forward the same trend. Give the Padmavati actress a chance to fascinate you with her sartorial choices and prove her penchant for colour green. On Day 2 of Navratri, we have Deepika Padukone nailing different looks and making us go 'green' with envy. Also Read: Is Deepika Padukone's look from Padmavati inspired by Aishwarya Rai Bachchan's appearance in Jodhaa Akbar? The designer answers…
Colour green is everywhere. Green stands for balance, nature, spring, and rebirth. It's the symbol of prosperity, freshness, and progress. And when you talk about prosperity or progress, the words are synonymous with none other than Deepika Padukone. The Padmavati actress is the ruling Queen of Bollywood and her hunger to get better each day will only help her to climb the ladder. Green also symbolizes a balanced, healthy, and youthful soul, which is personified by Deepika. If Jacqueline Fernandez is obsessed with yellow, her Race 2 co-star, Deepika Padukone, has a thing for green. Why else will she opt for the same colour for two important occasions of her life – one during the Cannes this year and other at MTV Music Awards in 2016? Though the outfits didn't really justify her great figure or charming personality, she did manage to make them look so alluring. We don't think anyone else but Deepika has such a variety of 'greens' in her wardrobe. And just in case you are unsure if DP has sizzled in green in the past, what are we here for? Let us give you a quick recap of the number of times Deepika beguiled us with her green ensembles.
Are you guys going 'green' with envy?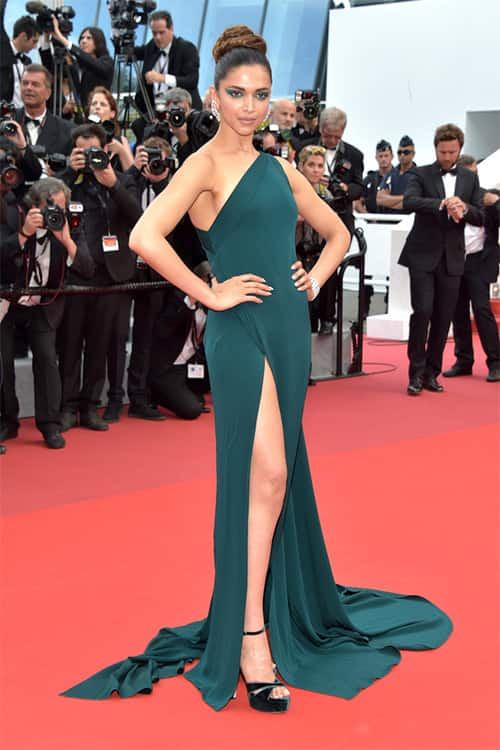 Green never looked so sexy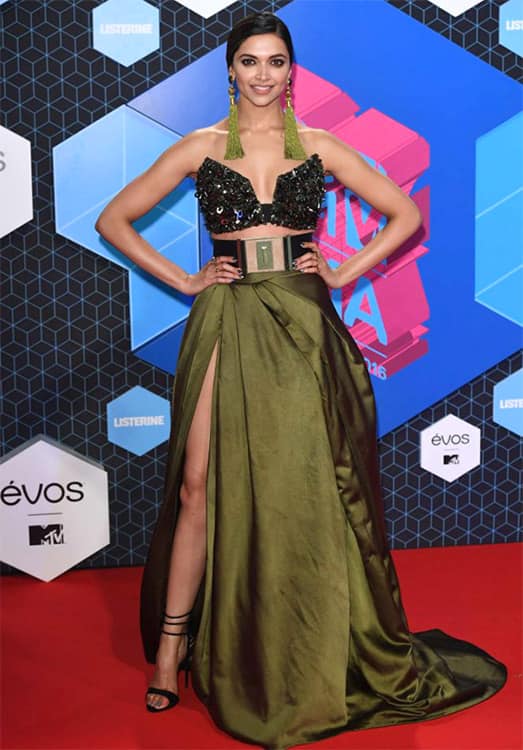 Modern or Traditional – Deepika Padukone has green outfits for all the occasions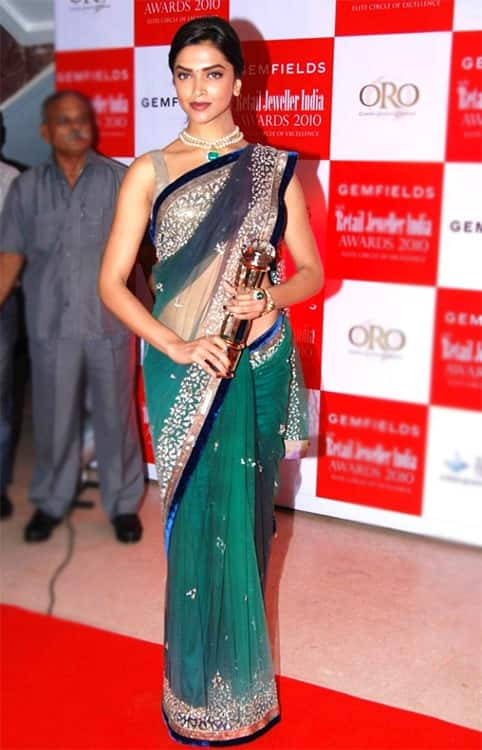 We officially declare green as our favourite colour, thanks to Deepika Padukone
Though she's known for her not-so-great sense of styling, there have been occasions in the past when the actress regaled us with her uber chic choices. Ignoring the fashion critics and laughing off all the criticism, DP certainly kept her spark alive all these years. With her demeanour, Deepika was successful in making us go gaga over her and why hot! Also Read: I would STEAL Deepika Padukone's SUPER CHIC airport look right away and you should too – view HQ pics
Tomorrow, on day 3 of Navratri, we'll have another celebrity whose personality matches with colour grey and whose life has nothing less than fifty shades of it! Any guesses who she is?