Qute honestly, this week on Bolly Insta has been rather dull. However, there are a few exceptions though. And like always, Shah Rukh Khan and Priyanka Chopra have managed to be among the top 5 Instagrammers this week too. Let's find out who reigns the Insta game this week.
Shah Rukh Khan
This guitar has had a Safar of its own. Gave it to @ipritamofficial before the film & he gifted me the beautiful music of JHMS in return…

Priyanka Chopra
Ms Chopra, who turned 34 last week is currently holidaying with her family. PeeCee shared with her fans pictures from her vacation on her Insta feed when she was in Maldives. And now, the Chopra family is headed to another location. And where's that? We will have to find that out!
Summer wonderland.. #islandgirl 🥂 #thechopravacation

A post shared by Priyanka Chopra (@priyankachopra) on

Taimur Ali Khan
Nope, Kareena Kapoor's baby boy Taimur hasn't debuted on Insta as of yet but guess what? He turned 7 months old this week and Karisma shared a picture of a Yummy Chocolate Cake as her Insta story. So cute! Can you believe he is going to turn one in the next few months? (ALSO READ: Kareena Kapoor Khan celebrates Taimur's 7th month birthday with a yummy chocolate cake – view pic)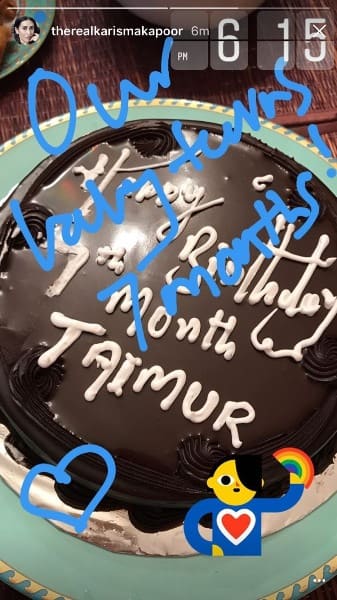 Disha Patani
Like a doting girlfriend, Disha Patani wished Tiger good luck for his film Munna Michael, which released on July 21, 2017. She went on to call Tiger a "star" in this post where she is all praise for his performance in Munna Michael. (ALSO READ: Girlfriend Disha Patani calls Tiger Shroff 'a star' for his performance in Munna Michael)
#munnamichael what a package!!! guys don't forget to watch it today❤️❤️❤️ tiger you are a star

Sonakshi Sinha
We are quite loving Sonakshi Sinha's newfound passion for travel. After walking the red carpet at IIFA Awards 0217 this year, she continued to stay in NYC and explore places around. Sona has shared some of her pictures from her vacation on her Insta feed. Here's the most beautiful one.
Sona in wonderland ✨#sonastravels #newjersey #natureschild #happiness

A post shared by Sonakshi Sinha (@aslisona) on

That's all for this week, we will be back next week… Until then, stay tuned!