The dastardly incident that happened with Bhavana has shook not just Kerala, but the entire country in indignation. It showed that in our country, forget an ordinary man, not even a celeb can be safe from the hands of anti-social elements. Thankfully, the police have been very alert on the case, and have already apprehended 7 people in the case, including Bhavana's former driver.
Bhavana's colleagues in the industry have been extremely vocal about the issue, and have taken on to Social Networking Sites to support her. Earlier, we had written about about how Prithviraj wrote an open letter where he lambasted the culprits as well as certain sections of media who tried to exaggerate the whole situation. Now other celebs like Mohanlal, Dulquer Salmaan, Manju Warrier, Nivin Pauly, Sidharth, Innocent, Kunchacko Boban have gone on social networking sites to condemn the incident.
Here are some of their fiery reactions…
Dulquer Salmaan (on Facebook)
"I was hesitant to speak out about this incident yesterday out of respect for the victim of this travesty. It's easy to just post something on social media, but I'm afraid it somehow becomes about yourself. This is so much more than all that. It's something that sickens and frightens my core. I take great pride in our state and how safe our society is. Especially how we treat and respect our women. And yesterday it's like that shattered. This is somebody's daughter, somebody's sister somebody's family and someone who has brought to life so many wonderful characters to us film lovers. I wish and pray our superb police force, the Kerala Police catch these spineless cowards hiding behind their masks. Including myself and our industry, I request all our boys and men, young and old to be alert and vigilant. It's equally our responsibility to care about, look out for, and to respect & protect our women."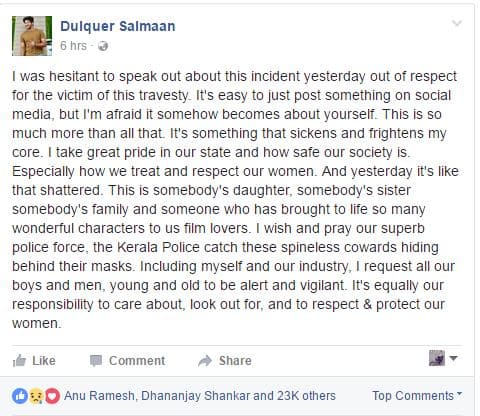 Mohanlal
Manju Warrier
"She is standing strong despite going through such an ordeal. I salute the young lady. She was attacked in a moving vehicle in a crowded city. This should not be seen as an attack on a celebrity, but on womenfolk…"
Nivin Pauly
Innocent
Kunchacko Boban
Rima Kallingal
Rachana Narayanankutty
Namitha Pramod
Archana Kavi
Sidharth
Standing with you #Bhavana All the strength and love in the world for you.

— Siddharth (@Actor_Siddharth) February 19, 2017
We do hope the right kind of justice is served to the perpetrators of the crime.