PMM Agency CEO Named as "Top Women in PR" Honoree

Columbus, OH (January 5, 2016) — PR News has named Kimberly A. Blackwell, PMM Agency Chief Executive Officer, among the country's "Top Women in PR". The annual recognition salutes the innovation and accomplishments of the year's most influential industry leaders in media, public relations and communication who have succeeded sometimes against the glass ceiling and other times against the grain. Honorees will be celebrated during a national awards presentation on January 24, 2017 at the Grand Hyatt in New York City.
The 2017 list is comprised of executives who have made bold advances in managing crises, developing Brand messages, protecting and building brand reputations, creating content for digital platforms and writing culture for their clients.
"I am appreciative to PR News for the acknowledgement," said Blackwell. "To be recognized among the industry's leading executives is quite humbling. With too many to mention, gratitude must be shared among a community of supporters, as clients and colleagues have assisted in the growth, influence and impact of PMM. Leading an organization now 17 years young, and with tremendous runway ahead, I realize daily that with success, significance must accompany. The opportunities we create must impact the differences we make for others."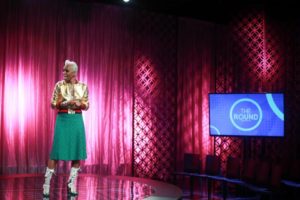 "Kim has undeniably established herself and PMM as one of the country's most trusted, valued and proven communications firms for marketing and brand engagement platforms," said Connie Orlando, SVP, Specials, Music Programming & News, BET Networks and Executive Producer of CentricTVs The Round. "While managing for some of the most recognized corporate brands and talent, she's a talent in her own right. Beyond Kim's industry credibility and performance as a top executive, Kim's expertise to influence across broader audiences has uniquely positioned her to inspire and empower others. As talent of The Round, and an embodiment of Centric's mission, we couldn't be more proud of this deserved achievement."
"Kim Blackwell has to be the sister Malcolm Gladwell was talking about when he coined the phrase 'connector' in The Tipping Point," said Brickson Diamond, Chief Operating Officer, The Executive Leadership Council, a network of the nation's most influential African-American executives and Board Chair, The Blackhouse Foundation. "She sees beyond the monikers of big player and small player, finding the connective tissues that unearth opportunity. Kim identifies the players and the opportunities, then gets the deal done, elevates the brand and delivers – again and again. Guaranteed. As a member of the Executive Leadership Council, we applaud Kim's recognition as a top executive in brand management and public relations."
For media inquiries, please contact Chevonne Harris at 614.370.0125 or [email protected].
About PMM/Kimberly A. Blackwell
Founded in 1999, PMM is a national award winning full-service marcom and talent management corporation. Its founder Kimberly A. Blackwell has been recognized as one of the country's "Top Executives in Marketing & Advertising". PMM builds, positions, manages and protects some of the world's most recognized brands as marketing agency of record to its Fortune 100, government agencies, world-class athletes and influencer clientele. Having earned a reputation of trusted brand manager, curator of consumer connections, and sports and entertainment agent and representative, PMM's brand is brand – engagement, communications, crisis and culture.
As a thought leader, widely recognized in her governance duties and industry expertise, Blackwell is no stranger to the White House, boardroom or lecture circuit. She's appeared on BET Network's The Round on CentricTV, HuffPost Live, and featured in Fortune and Inc. magazines. Captured on covers of business trades and saluted among leaders of the smartest companies, Blackwell has been honored as an EBONY magazine POWER 100, recognized as Smart Business Magazine's "Class of 2016 Smart 50", and celebrated in the midst of the nation's "Twenty-Five Influential Black Women in Business". In 2011, Blackwell was appointed and currently serves as one of the nation's eight female CEOs on the National Women's Business Council. NWBC is a non-partisan federal advisory council serving as a source of independent counsel to the President of the United States, Congress and the SBA on economic issues of importance to women business owners.
About PR News
The PR News Group at Access Intelligence, LLC is a go-to source that serves the communications and marketing community at corporations, agencies and nonprofits. The PR News Group focuses on honing and growing PR and marketing professionals' skills in social media, crisis management, digital PR, measurement, employee relations, media training, CSR and writing through its flagship newsletter, webinars, conferences, awards programs, workshops and guidebooks. With the launch of its weekly newsletter over 70 years ago, PR News has remained dedicated to supporting the growth of communicators and marketers all while keeping them abreast of the latest news affecting their industries.
###
Read Marketing Strategist & Brand Manager Kimberly A. Blackwell Recognized Among the Nation's Top Industry Leaders in Public Relations on Columbus Chamber of Commerce.