We've just talked about the best places to order pizza in Lincoln Park, and Voila! The beloved neighborhood now welcomes a new pizzeria this week. With a unique atmosphere and authentic menu offerings as well as being the Northside's only minority-owned pizzeria, Ayo Pizza Café & Shop sets itself apart from the rest.
A Melting Pot of Italian-American Cultures and Dishes
Ayo Pizza Café & Shop (Ayo) a local pizzeria, café and specialty bodega nestled in the heart of Lincoln Park officially opens on Wednesday, November 17, catering to neighborhood businesses, residents, and visitors to the North Avenue and Clybourn shopping district. Founded by hospitality veterans Eldridge Williams, Chris (Cap) Scardina, and Chef-partner Christian Sia, Ayo is one of the few minority-owned pizzerias in Chicago, and (based on their research) the only minority-owned pizzeria on Chicago's Northside.
Similar to other concepts the trio operates, manages, and have in the pipeline – Ayo represents a melting pot of rich Italian-American cultures, which are reflected in the pizzeria and café's dishes – from classic Italian staples like caciocavallo (cheese), to Southern (sweet potato) twists on tiramisu – Ayo Pizza Café & Shop offers unique, but familiar flavors and ingredients to suit every taste. The location, however, is special to ownership, as co-founder Chris Scardina – an Italian African American – grew up in the neighborhood and frequented the previous pizzeria (Amato's) for nearly 20 years.
"I have a lot of fond memories of the neighborhood and grabbing slices of pizza at Amato's, as I grew up around the corner and played pick-up basketball on the courts nearby" says Chris (Cap) Scardina, co-founder and operating partner of Ayo Pizza Café & Shop. "Ayo is a special project I've been building with my partners for a long time, and we look forward to breathing fresh life into the space for those in the neighborhood to frequent and enjoy for years to come.
A Unique Neighborhood Spot To Hang Out
Ayo is a neighborhood pizzeria and café focused on take-out and delivery service for those looking for grab-and-go coffee, pastries, pizza and snacks, morning, noon and night. However, Ayo does provide limited indoor seating (up to 20 guests) – two-tops and single, counter-style seating along the windows – and seasonal patio seating (12-15 guests) for those looking to dine onsite. Filled with bright red and yellow décor and furniture, which is complimented with rich wood and pizza "art" on the walls, Ayo's space is comfortable and familiar to the neighborhood, but also sets itself apart with a unique 'vibe,' and authentic menu offerings. The Ayo team describes the pizza café and shop as a "Dope pizzeria, café and bodega that's warm and inviting, but lively – the ideal place to bring a date, or your mom."
Co-founder and operating partner, Eldridge Williams, who is a hospitality veteran in Chicago and has worked at and co-founded some of Chicago's most beloved restaurants, including Wicker Park's, The Delta, says, "Every aspect of Ayo, from the atmosphere to the food and music, reflects each team member's heritage and unique style. We're not trying to be anything we're not; and are positioning Ayo to be a fun subculture of Lincoln park – a neighborhood spot to hang out, be social and enjoy good food."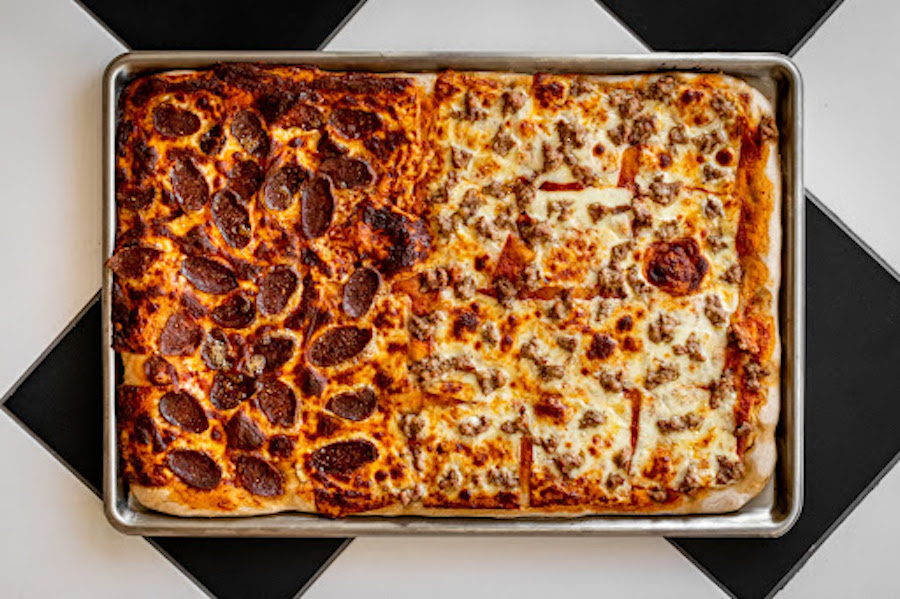 Pizza, Pastries, and More on the Menu
Led by the talents of Chef Christian Sia, Ayo serves two types of pizza: traditional Sicilian, by the slice, and classic Chicago tavern-style pizza – 14-inch whole pies. The food menu is led with quality, fresh (and when possible, locally sourced) ingredients, as well as imported meats and cheeses for their signature pizzas and pastries. Ayo's Sicilian pies pay homage to everyone's favorite Nonna (Italian Grandmother), through simple, traditional ingredients, and include classic flavors such as: (prices reflect per slice)
Cheese – with red sauce, mozzarella, and oregano ($3.00)

Sicilian "Pepperoni" – with salami picante, mozzarella, and red sauce ($3.25)

Sausage – with fennel sausage, mozzarella, and red sauce ($3.25)

Verdure (vegetarian) – marinated vegetables, sweet ricotta, and Calabrian chile ($3.25)
Ayo's signature tavern-style pizzas are sold as whole pieces (14") and include traditional Italian American ingredients, like: (prices reflect whole pizzas)
The Basics – tomato sauce, mozzarella, fior di latte ($22)

Protein Style – calabrian salumi, nduja, tomato sauce, fior di latte ($26)

The Chicago Style – featuring fennel, cherry pepper relish, caramelized onions, roasted red peppers, tomato sauce, mozzarella ($24)

Not A Marg – flor di latte, sweet ricotta, basil redux, semi dried tomatoes, heirloom cherry tomatoes ($23)

Nonna Cappellano Tomato Pie (vegan) – eggplant caponata, garlic breadcrumbs, basil redux, tomato sauce, calabrian chili & ricotta ($21)
And while pizza is the start of Ayo's menu, the café also serves select pastries led by Chef Heather Summers and overseen by Chef Sia. Ayo sweet treats and breakfast items include the following, with more options being added in the coming weeks:
Sweet Potato Tiramisu – with sweet potatoes, lady fingers, mascarpone, coffee, cocoa ($6)

Hazelnut Torta Tenerina – hazelnut praline, gooey chocolate brownie, hazelnut whipped ganache, tempered chocolate ($5)

Panettone Muffin (vegan) – with rum-soaked dried fruit, pistachios, orange ($4)

Collard Green & Goat Cheese Danish [vegetarian] – roasted heirloom cherry tomato, collard greens, goat cheese, balsamic ($5)

Bombolone (Bomboloni) – seasonal jam, powdered sugar ($3)
Ayo will also feature a full-service coffee bar, featuring coffee partner, Dark Matter Coffee, with a variety of classic coffee and specialty coffee / espresso drinks, as well as breakfast pastries. Additionally, Ayo offers guests the option to purchase Pepsi products and water with their pizzas, snacks, and sweet treats. Alcoholic beverages will be available for purchase (for offsite consumption), soon. The pizzeria and café will also offer seasonal pizzas and pastries. Guests interested in seasonal and catering offerings, can visit Ayo's website or social pages to browse the café's most updated menus and specials.
Looking ahead, Ayo plans to add additional options, including vegan pizzas to the menu, as well as appetizers and salads, including Suppli.
Hours and Location
Ayo is located at 953 W. Willow Street and is currently open five days per week, Wednesday through Sunday, with hours set to expand in the coming months. Hours of operations are Wednesday – Friday, 1:00 p.m. to 9:00 p.m. – Pizza and coffee service available open to close. Saturday – Sunday, 9:00 a.m. to 9:00 p.m. – Pizza and coffee service available open to close. Ayo's pastries are available Friday, Saturday, and Sunday on a first-come, first-served basis (once they run out, they're out for the day).
Featured Image Credit: Ayo Pizza
The post Ayo Pizza Café & Shop Opens In Lincoln Park November 17 appeared first on UrbanMatter.