With no word yet on exactly when Chicago beaches will open during Phase 4 of Illinois's coronavirus response, Chicago drive-in theaters are gearing up to take the summer spotlight. With many locations already open around the Chicagoland area, even more are on the way. Starting tonight, you can catch a film at Chicago's Soldier Field, and beginning next month, corporate giant Walmart will be opening drive-in theaters across the nation.
---
View the Best Mac & Cheese in Chicago
Time to get cheesy? View our list of the best mac & cheese in the city.
View the Best Mac & Cheese in Chicago
---
Fueled Events, a private event company, and the city are working together to bring in the drive-in experience to Soldier Field. Starting at 8:30 pm on Wednesdays all the way through Sundays, cars and pedestrians can sidle in to catch a classic film.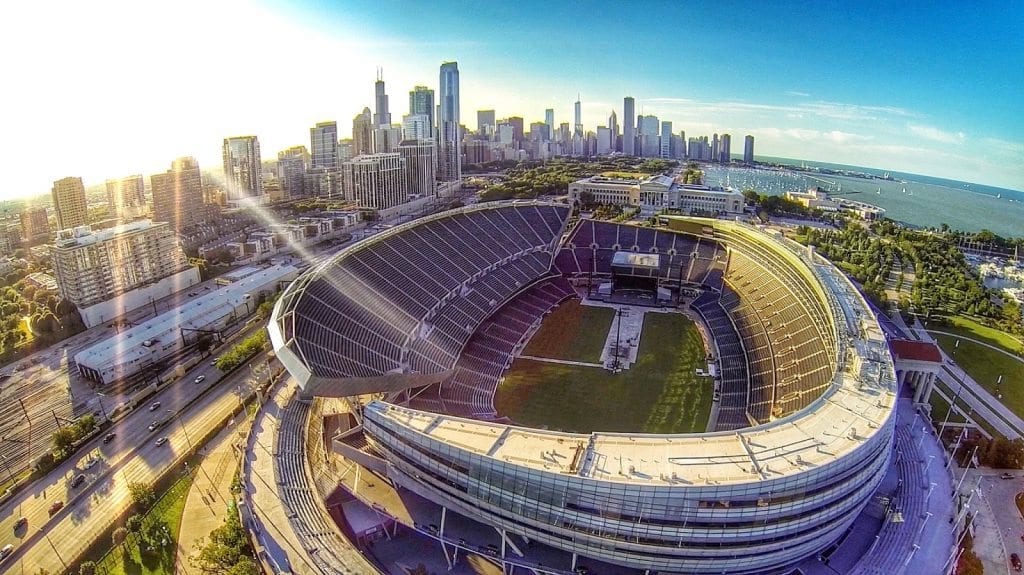 For the first round of screenings this weekend, guests can expect Ferris Bueller's Day Off, Groundhog Day, Fast & Furious, Grease, and Shrek. Next weekend's lineup includes School of Rock, Mission Impossible, Boss Baby, and Beverly Hills Cop. Tickets run at $55 per car and come with a bucket of popcorn. Tickets can be purchased on their website.
To keep up with social distancing guidelines, cars and pedestrian areas will be placed eight feet apart from each other; sanitation stations will also be available throughout the stadium and all concession purchases will be cashless.
One dollar from every sold ticket will be sent as a donation to the Greater Chicago Food Depository; patrons are also encouraged to bring along some canned goods to donate as well.
With drive-in theaters making a roaring comeback across the nation during the pandemic as people search for safe ways to satiate appetites for entertainment, Walmart is also taking their shot at getting in on the fun.
In a combined effort with Tribeca Enterprises, 160 Walmart parking lots will be turned into drive-in theaters. Running from August to October, Jane Rosenthal, CEO and co-founder of Tribeca Enterprises and Tribeca Film Festival, said that Tribeca Drive-In theaters are "much more than a fun, retro way to see movies — it's one of the safest ways for communities to gather."
Given the rise in cases in states all over the nation, hopefully safe and socially distant drive-ins will be a way to curb the cases while still giving people a taste of summer enjoyment. "Summer hasn't really felt like summer yet," said Walmart's chief customer officer, Janey Whiteside, in a statement at the start of July.
Walmart is yet to release the exact locations where the drive-ins will be set up, but they said that the events will be held at Walmart Supercenters across the whole country. They're also working on ways to make the purchase of snacks, drinks, and other concessions easier for customers so as to create a better viewing experience.
What do you think about the return of drive-in theaters? Have you been to one yet? Will you go? We'd love to hear from you! Give us your thoughts in the comments below.
At UrbanMatter, U Matter. And we think this matters.
Tell us what you think matters in your neighborhood and what we should write about next in the comments below!
Featured Image Credit: Soldier Field
READ MORE LIKE THIS
DOWNLOAD THE URBANMATTER APP
FIND PARKING
The post Soldier Field Drive-In Theater Opens Tonight, Walmart to Open Hundreds Soon appeared first on UrbanMatter.