Today, guest author Shea Morgan has a few easy recipes to share with any family who wants "family dinner time" but doesn't have the time to do the fancy cooking… Give them a try!
Both moms that work outside of the home as well as "stay-at-home" moms know that sometimes (or all the time) meals can be frustrating. Trying to Cook for your family or even just yourself can take up time that you just don't have. Crock-Pot meals were always a go-to for my mom when we had a busy day planned. Crock-Pots are super simple and an easy way to get the great home cooked meal we love without slaving over a stove top all day. Here are some Crock-Pot meals you can try!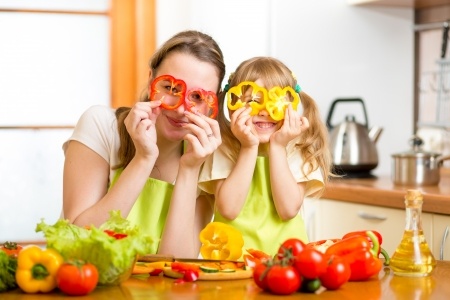 Overnight Breakfast
This hearty breakfast you make the night before can help make mornings run a little smoother. A breakfast like this can help you get though a rough morning in a breeze.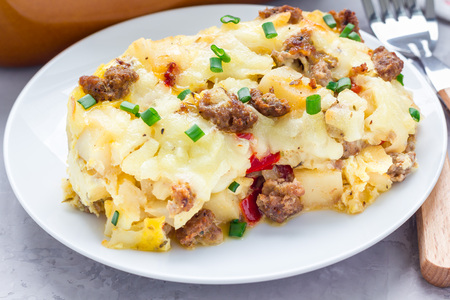 What you will need:
2 pounds Ground Sausage
Shredded Cheddar Cheese, 4 cups
1 Bag of Frozen Shredded Hash Browns
1 Bag of Fresh or Frozen Diced Green Peppers, Red Peppers and Onions
1 Cup of Milk
18 Medium Eggs
Salt and Pepper
How to:
Cook ground sausage in skillet.
Spray Crock-Pot with cooking spray.
Fill the bottom of the crockpot with shredded hash browns.
Add in the sausage, peppers, onions and cheese. Mix together.
In a separate bowl, add the eggs and whisk together. Add the 1 cup of milk and salt and pepper. Whisk together again.
Pour the egg mixture into the crockpot and mix together.
Cook on low for 7-8 hours and serve in the morning!
Easy Chicken Fajitas
If you want to add a little spice to your evening meal, this would be the way to go. With simple ingredients and endless topping options, this is simple and easy to please the whole family.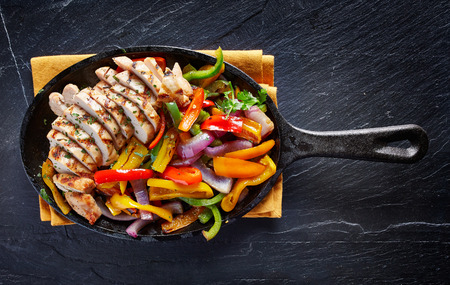 What you will need:
1 pound of Chicken Breasts
3 Peppers (Green, Red, and Yellow), sliced
1 Onion, sliced
1 Package of Taco Seasoning
Flour or corn tortillas
Toppings – sour cream, cheese, guacamole, etc.
How to:
Slice peppers and onions then place them on the bottom of the crock pot.
Put chicken on top.
Sprinkle taco seasoning on top of everything.
Cook on low for 6-8 hrs (or high for 3-4).
Shred everything up and mix together. Serve with tortillas with all the toppings you desire.
Vegetarian Chili
This one is for all my vegans out there! This may have quite a few ingredients but very easy to put together. Your next family gathering will thank you (veggie lover or not).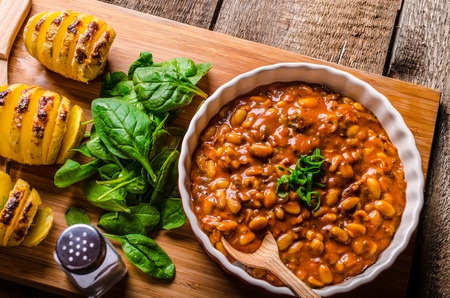 What you will need:
2 tablespoons canola oil
1 1/2 cups yellow onions, chopped
1 cup red bell peppers, chopped
2 tablespoons minced garlic
2 to 3 serrano peppers, stemmed, seeded, and minced, depending upon taste
1 medium zucchini, cut into small dice
2 cups fresh or frozen corn kernels
5 large Portobello mushrooms, stemmed, cleaned, and cubed
4 large tomatoes, peeled, seeded, and chopped
2 tablespoons chili powder
1 tablespoon ground cumin
1 1/4 teaspoons salt
1/4 teaspoon cayenne
3 cups cooked black beans, or canned beans, rinsed and drained
1 (15-ounce) can tomato sauce
1 cup vegetable stock
1/4 cup fresh cilantro leaves, chopped
How to:
In a large slow cooker, combine all ingredients except for cilantro.
Cook over low heat for 7 to 8 hours (high heat for 3 to 4) stirring occasionally.
Before dividing into bowls, stir in cilantro and season with salt to taste.
Turkey Stuffed Peppers
This is a lighter take on what my grandma normally makes. Very simple and something a little different to do with your peppers.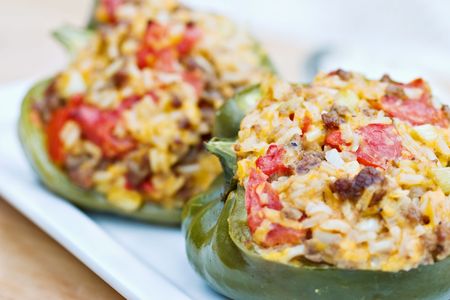 What you will need:
5-6 (depending on size) tri-color bell peppers, tops cut off and seeds and ribs removed
1 pound ground turkey, uncooked
1 cup rice, cooked (brown rice or white rice)
1 cup black beans, rinsed and drained
1 cup frozen corn, thawed
1 cup red enchilada sauce
¾ cup shredded Mexican cheese, plus more for topping, if desired
½ tablespoon chili powder
½ teaspoon ground cumin
salt and pepper to taste
How to:
Spray the bottom of a slow cooker with nonstick cooking spray. Place the peppers inside.
In a large bowl combine ground beef or turkey, rice, black beans, corn, enchilada sauce, cheese, seasoning and a sprinkle of salt and pepper.
Place the filling into the cavity of each pepper.
Cook on high for 2-3 hours or on low for 4-6 hours or until the meat is cooked through.
Serve immediately with some of the optional toppings, if desired. Goes great with a side salad!
Lo Mein
This is a recipe that may take some more planning but without a doubt worth it. It's delicious taste will transport you to another place.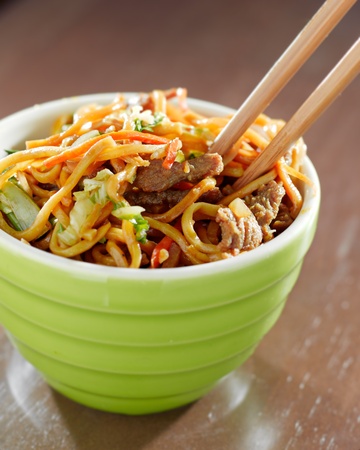 What you will need:
2 pounds boneless pork shoulder
3 cups broccoli florets
2 carrots, shredded
2 stalks celery, diced
1 cup snow peas
1 (5-ounce) can sliced water chestnuts, drained
1 pound spaghetti
FOR THE SAUCE:
1/3 cup reduced sodium soy sauce
3 cloves, garlic, minced
2 tablespoon brown sugar, packed
1 tablespoons sambal oelek (ground fresh chile paste) to taste
1 tablespoon oyster sauce
1 tablespoon freshly grated ginger
1 teaspoon sesame oil
How to:
Line a Crock-Pot with a liner. Open Crock-Pot liner and place it inside a 5- to 6-quart Crock-Pot bowl. Fit liner snugly against the bottom and sides of bowl; pull top of liner over rim of bowl.
Whisk together soy sauce, garlic, brown sugar, sambal oelek, oyster sauce, ginger and sesame oil in the slow cooker. Add pork shoulder, then cover and cook on low heat for 7-8 hours or high for 3-4 hours.
Remove pork shoulder from the slow cooker and shred the meat before returning to the pot with the juices.
Stir in broccoli, carrots, celery, snow peas and chestnuts. Cover and cook on high heat for 15-30 minutes, or until vegetables are tender.
Cook pasta according to package instructions; drain well.
Serve pasta immediately, topped with pork mixture or mix together in crockpot.
Skinny Veggie Lasagna
Another one for my veggie lovers out there. A thinner, veggie version of the classic lasagna will make you feel like you're cheating.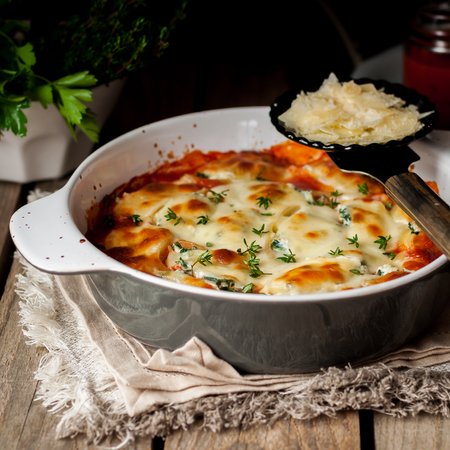 What you need:
24-ounce jar or can of Italian tomato sauce
9 thick lasagna noodles with wavy edges
24-ounce part-skim ricotta cheese OR cottage cheese
3-4 cups chopped vegetables of choice (spinach, carrots, or kale works)
2 cups shredded Mozzarella or Provolone cheese
Parmesan cheese for topping
fresh parsley for topping
How To:
Spray the Crock-Pot with nonstick cooking spray.
Spread ½ cup tomato sauce to the bottom so the noodles don't stick.
Break noodles so that they fit and mostly cover the bottom.
Cover with about one third of the ricotta, veggies, sauce, cheese, and end with noodles.
Repeat layers two more times for a total of three complete layers.
Cover and cook on high for 3 hours or on low for 5-6 hours.
Turn the crockpot off completely and let the lasagna sit for at least one hour.
Shepherd Pie
This is another classic Grandma Morgan recipe transferred to crock-pot. This dish is fairly simple and has a very homey feel.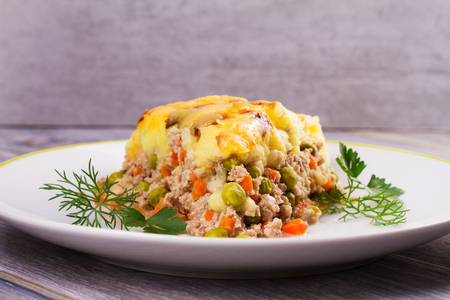 What you need:
3 pounds ground beef
1/2 onion chopped
Mashed potatoes prepared (either homemade or instant)
(2) .87 ounces' brown gravy mix packages
1 teaspoon garlic powder
1 teaspoon onion powder
12 ounce frozen sliced carrots not thawed
12 ounce frozen peas not thawed
10.5 ounces cream of mushroom soup
How to:
Brown your ground beef with your onion in a skillet over medium-high heat, drain.
Prepare your preferred version of potatoes.
Mix together your beef mixture, brown gravy mixes, garlic powder, onion powder, carrots, peas and cream of mushroom soup.
Spray your crock pot with cooking spray.
Pour your beef mixture into your Crock-Pot.
Spoon your mashed potatoes on top and spread evenly.
Cover and cook on high for 4 hours or on low for 8 hours.
Banana Bread
I know what you're thinking… Bread in a Crock-Pot? Well this simple banana bread will hit the spot for dessert or even for special occasions and family gatherings.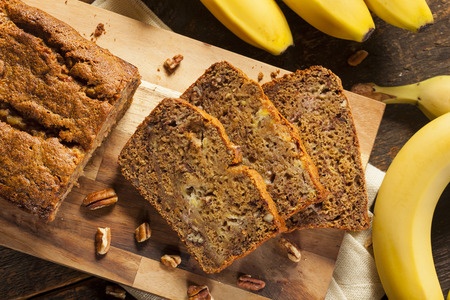 What you need:
2 eggs
1/2 cup butter, softened
1 cup sugar
2 cups flour
1 tsp baking powder
1/2 tsp baking soda
1/2 tsp salt
3 med. bananas, mashed
*Optional* 1 cup of pecans (add for taste and texture, as many as you would like)
How To:
Combine butter, eggs and sugar until well combined.
Add in baking powder, baking soda and salt. Mix well.
Alternate between mashed bananas and flour until all ingredients are well combined.
Grease baking pan/bread pan.
Pour bread mix into baking pan and place in crock pot.
Cover the top of the crock pot with a few paper towels.
Cook on low for 4 hours.
Carefully remove bread pan from crock pot and enjoy.
When you know you have a busy week coming up and the dread of making meals each night wears you out, I hope that these recipes might be able to ease the stress. SML Tip: make the ground beef, sausage, or turkey ahead of time when you're not so rushed and then freeze. You can just stock pile some up when you need the cooked meat in a pinch for these types of recipes.
Enjoy your family dinner time!
The post Crock-Pot Recipes for the Rushed Mom appeared first on Shannon Miller.