Hai poche curve, un aspetto magro e longilineo?
Molto probabilmente la tua morfologia è arettangolo, la forma che attualmente utilizza la moda come icona di perfezione.
Ma un corpo"magro", uniforme e asciuttonon necessariamente è più facile da vestire e valorizzare rispetto ad altri tipi di corporature. Vediamo insieme, per esempio, quali modelli di jeans sono più adatti ad enfatizzare la
Donna
a rettangolo.
La caratteristica principale delladonna a rettangoloè lamorfologia longilinea, quasirettilinea, con l'assenza quasi totale di forme, androgina.Questa forma del corpo tende a distribuire il grasso in maniera uniforme, ingrassa difficilmente o poco, è proporzionata ma a differenza della donna a clessidra, la donna a rettangolo non ha un punto
Vita
particolarmente accentuato.
Le spalle sono proporzionate e in linea con la figura, il torace è piccolo o poco pronunciato, le braccia sono magra e longilinee, il seno è solitamente piccolo o inesistente, la vita segue la linee delle spalle e dei fianchi presentandosi rettilinea e poco marcata, la pancia è magra. I fianchi sono stretti e dritti, poco formosi o morbidi, il sedere è poco sviluppato e piatto, le gambe sono magre e slanciate.
COME VALORIZZARE IL FISICO A RETTANGOLO?
Il segreto per valorizzare il corpo a rettangolo così geometrico, rigido e spigoloso è consigliabile optare per un abbigliamento che crei morbidezza e forma.
SI quindi ad abiti morbidi, monocromatici e colorati, abiti a peplo, gonne ampie, tessuti svolazzanti, maniche a pipistrello, ma riducendo le stampe al minimo, top che creino volume sul petto, pantaloni, gonne e abiti a vita bassa. Evitate vestiti e materiali aderenti, gonne troppo corte e indumenti a vita alta.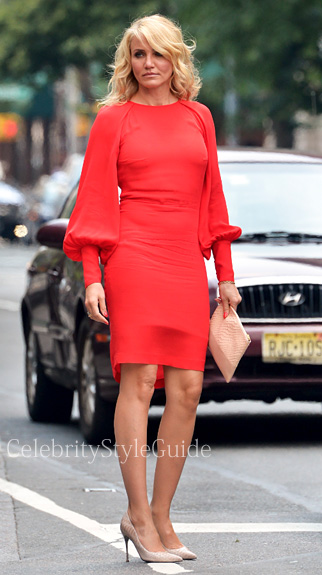 E i JEANS?
Per queste sue caratteristiche, la figura a rettangolo è la donna che può indossarejeansavita bassaskinny, slim fit, boyfriend, boot-cut o a zampa, arricchendo l'outfit con una
cintura alta o con una fibbia appariscente.
SHOP THE LOOK!
Jeans skinny a vita bassa €39,95 - Amazon.it
Top New Look €19,26 - Amazon.it
Tronchetti brown Anna Field € 32 - Zalando.it
Cintura Guess € 60 - Zalando.it
Cappotto smanicato River Island €100 - Zalando.it
Be Glam, Be U!
POTREBBE INTERESSARTI ANCHE:
Scarpe pelose: ecco l'ultima tendenza dello street style!