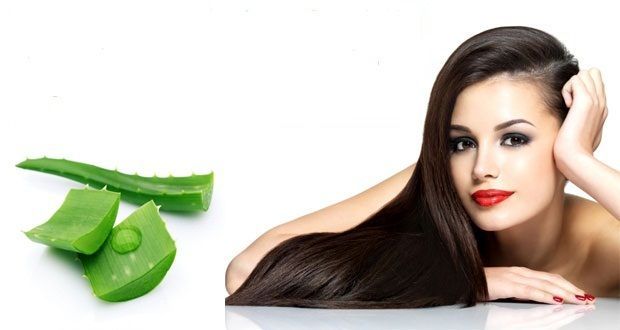 Aloe Vera: – All of those people who are into skincare and Hair care already knows how beneficial Aloe Vera plant is for our health. So be it skin, hairs or health problems it will never going to disappoint you. It looks like a cactus and has been used since many ages. It has numerous health benefits and negligible side effects that is why it is denoted as a miraculous plant. Here we will be talking about how it can cure all your hair related woes.
# Promotes Hair Growth: – Are you tired of hair fall? Then Aloe Vera might help you. Aloe Vera has an enzyme called proteolytic that can help in preventing hair loss. It also exfoliates the dead skin cells from the scalp and absorbs moisture. When moisture is retained in the scalp, it helps your hair to grow faster. Just massage aloe Vera on your hairs before going to bed and wash your hair in the morning with a gentle shampoo.
# Reduces Dandruff: – Dandruff is caused due to the dry and itchy scalp. To get rid of dandruff your need to provide required moisture to the scalp and aloe Vera can help you in that. It also has antimicrobial and anti-inflammatory properties which treat infections and provide a soothing effect to the scalp.
# Prevents Oil Production: – If your scalp is dry it will result in excess production of oil to maintain the Ph of the scalp, when you try to get rid of excess oil it results in dry scalp and this cycle continues. In this condition, aloe Vera might come as a rescue for you as it can maintain the Ph of the scalp. Just mix aloe Vera and lemon juice in 1:2 ratio respectively and apply on the scalp.
# Conditions: – Aloe Vera has amino acid which can condition your hairs, stimulate hair strengthening and add shine to the hairs. Aloe Vera also regenerates cells and repair hair damage. You can also use it as a leave-in conditioner after hair shampoo.