10 Best Ways to Celebrate Krishna Janmashtami at Home!
We all love celebrating Birthdays.. isn't it and when It is our favorite Lord Krishna Birthday, it has to be special. Krishna Janamashtami, commemorating the birth of Lord Krishna is coming soon again. And this year I am planning to make it special. Janamashtami celebrations are not limited to fasting and then feasting at night. You can much more do to celebrate the day and make Janmashtami extra special.
There was a time when the whole family used to go to temples and be mesmerized by their lights, decorations and the little ones dresses as Krishna and Radha. Temples decorated with jhankis (tableaux) portraying important events in Lord Krishna's life. I used to love everything about it and even today I miss paying visits to the temples (Temple Hopping) owing to the crowd in which you can barely breathe. But, this time I will keep all my worries aside and will definitely try to visit one and enjoy the festivities.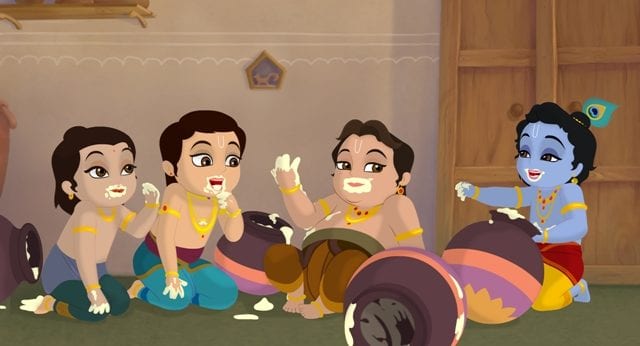 But, if you don't want to be in the crowd and plan to celebrate the Krishna Janmashtami festival at home. I will try to help you with some Best ideas to celebrate Janamashtmi at home.
10 Best Ways to Celebrate Krishna Janmashtami at Home:
1.Shopping for Dieties: If you have Radha-Krishna deities at your place, get them dressed up in new outfits. Go out and buy some new outfits for them to make this day extra special. Also, buy new jewelry for both them and giving them a complete makeover. There are many vendors who sell deities dresses, jewelry and paalna (bed)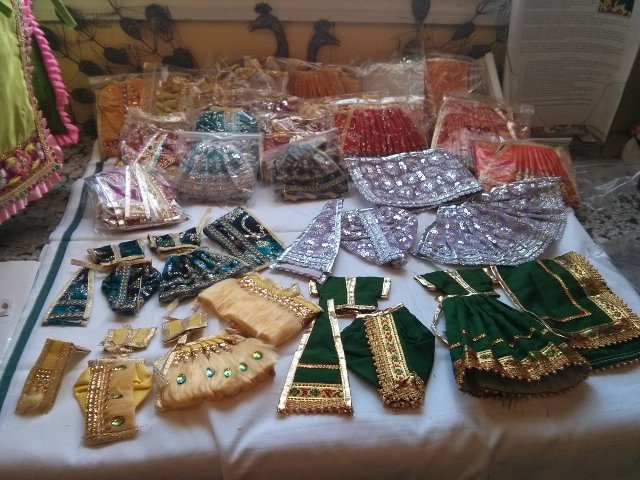 2.Dress up like Krishna or Radha: Dressing up like Krishna or Radha on Janamashtmi is the best thing. If you have a little one, the dress him/her like Krishna with a lovely feather crown and flute. Kids look cutest when they dress up like Krishna. But if you don't have kids you can prepare those feather crowns for everyone(male) at home and get them dressed up in ethic attires. For females in the house, they can go for traditional lehengas and dress up like Radha with lots bangles, a queen crown and a jeweled Handi in Hands. Looking for affordable Krishna Dresses for your little One .. here are few from Amazon.. (Buy Here and Here )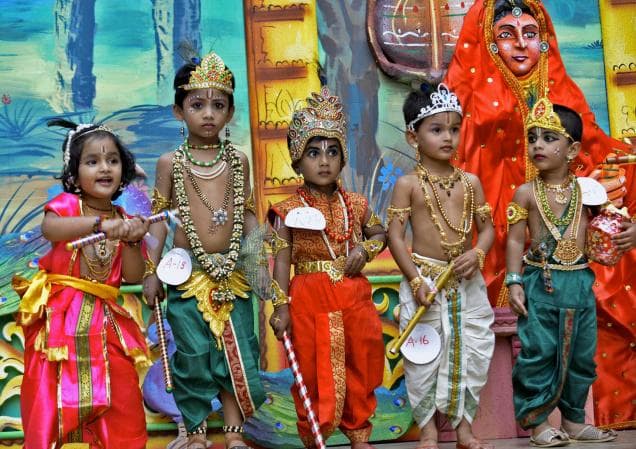 3. Decorate your House with Handi's and Peacock Feathers: Just like Diwali, light your house with bulbs, candles and diyas. To go with the theme of the festival bring some peacock feathers and garlands to decorate the house. To create a Krishna's birth scene add on a tiny paalna (bed) with little Krishna figure. And place Matkas in the corners of the house or the sides of tables with some cotton to depict the curd coming out of it. It will be a give the best look of Krishna's house.. Involve everyone in the house to keep up with the spirit of the festival.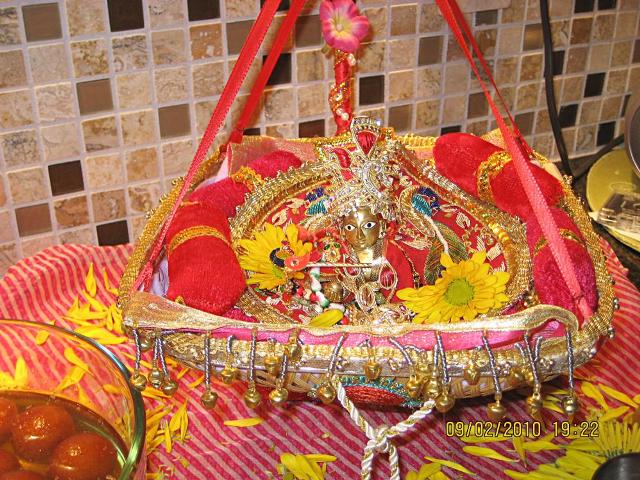 4. Drawing Krishna's Footsteps: Like Diwali, on Krishna Janamashtami it is considered auspicious to have krishna's footsteps leading to your house. Which is believed to bring lots of love, happiness and good luck. Drawing the tiny little feet of Krishna could be so much fun. If you have kid you can use his/her feet for creating the Lord Krishna's feet. To get that impression mix rice flour and water to make a thin paste and make your little one walk with it on. Or use your hand and fingers to draw the same.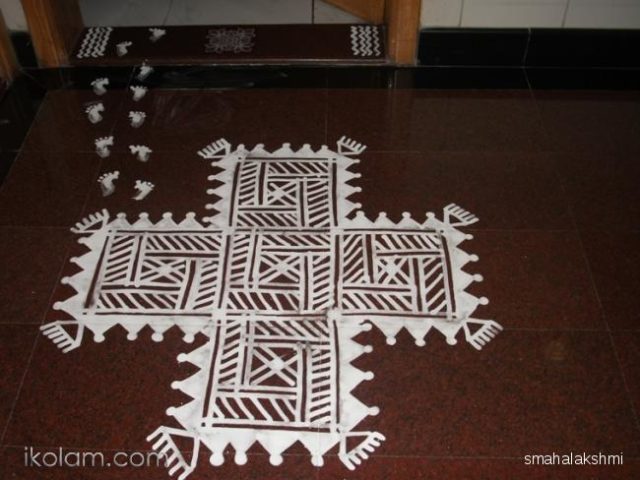 5. Invite friends and Relatives: Festivals are best celebrated with friends and family, so don't miss this chance to be together again and have a gala time. Invite your besties and close relatives to celebrate. Spend some quality time by chanting bhajans, dancing and playing.
6. Cooking Delicacies: You don't have to go extra mile to be the host as you are already fasting. Have a Potluck, where each family brings a special dish with them, so that all of you can feast together and savior multiple dishes without over exerting yourself.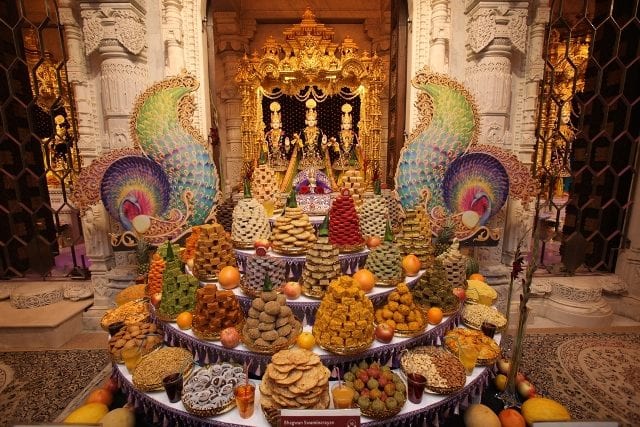 7. Watch the Celebrations Together: Though, you are not planning to temples to watch the Krishna Janamashtami festivities and celebrating the same at home. You can still see all the temple decorations and the beautiful jhanki's prepared by the devotees. Tune in to News or channel that broadcast live celebrations in ISKON Temples.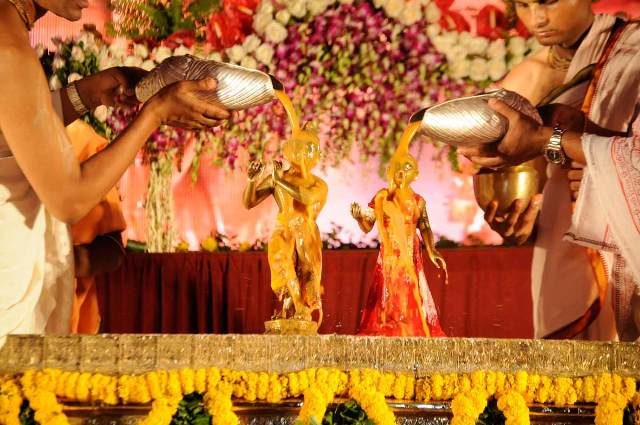 8. Chant Bhajans: Let's forget everything and get devoted into the feel of the festival by chanting the Krishna bhajans. Play on the best bhajans and songs to elevate the charm of festivity for your cutest deity.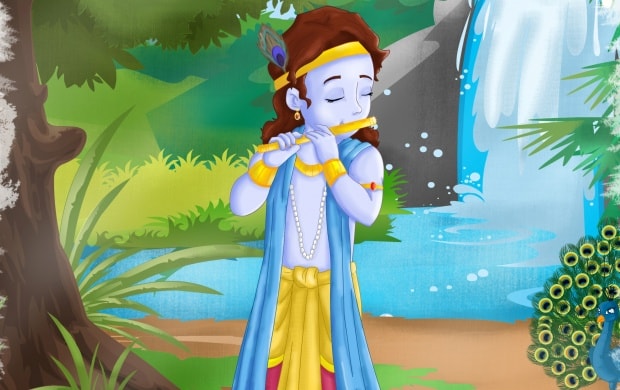 9. Read Stories to Kids: To inform the little ones about the importance of the festival and get them involved even more read some fun, Krishna based stories to them. As a Kid, I have loved everything about Lord Krishna's Childhood. He was the naughtiest of all but at the same time inspiration for others too. Kids will love to hear the stories of his childhood.
10. Birthday Gifting: To make the celebration even more exciting, ask each family member/friends to buy a small birthday gift for Lord Krishna. And then you can distribute them in each other and enjoy getting a gift on little Krishna's Birthday. It is going to be so much fun. You can bring presents for the little one in the house as well.
These are some of the Activities to do on Krishna Janmashtami to celebrate it with your family at home. Celebrate the festival with your heart and do everything with lots of love and affection to enjoy it the most. So, hope these ideas will give you an idea on how to Celebrate Janmashtami at Home.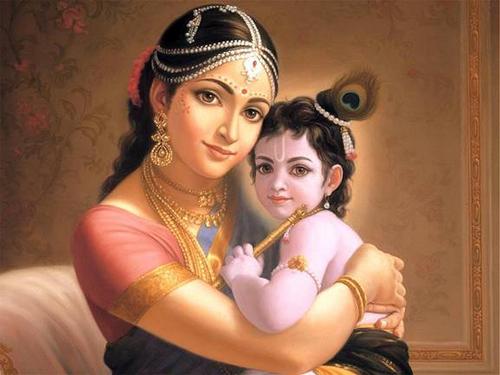 How do you celebrate Krishna Janmashtami? Do you go to temples or celebrate at Home?
PS: I do not claim the ownership of Images
The post 10 Best Ways to Celebrate Krishna Janmashtami at Home! appeared first on Beauty And Makeup Matters.