Who doesn't love pretty packaging's and when it comes to makeup, it's even more tempting… isn't it! Talking about the prettiest lipstick packaging I have even seen, the Christian Louboutin Lipsticks I almost fell off my bed. The packaging was like a precious ornament, something I have never seen ( or even imagined) before. But the price tag of $90 ( jaw drop..), it made it impossible for me to get hold on to these beauties. But what if I find an affordable dupe of Christian Louboutin Lipsticks, well I guess I will do a happy dance. And yes that's what exactly happened when I stumbled upon these dupes of Luxurious Christian Louboutin Lipsticks from an affordable makeup brand in India, Sivanna Colors. These Sivanna Gold Matte Lipsticks are almost an exact dupe of Christian Louboutin Lipsticks.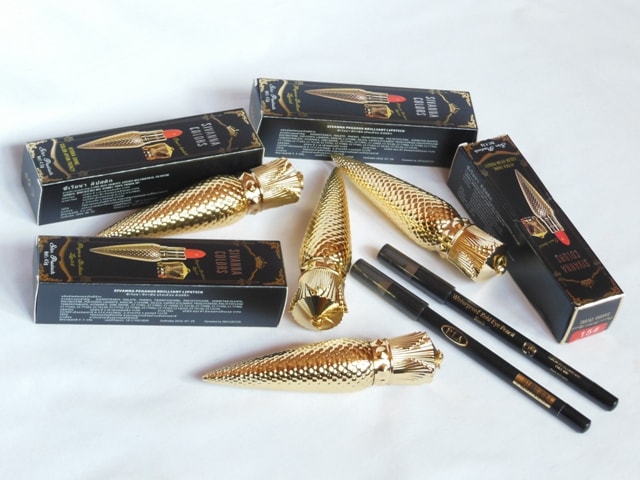 Let's checkout what are these lipsticks and if they are worth a try.
Product Claims: I actually didn't get what all was printed on the packaging because the details were more relevant for the lip gloss. But whatever, let's leave those claims and checkout the actual product and how it worked for me.
Price: Rs 250 for 4.5gms ( Buy from @Charis.enterprise on Instagram)
Packaging: Sivanna Gold Matte Lipsticks packaging is quite similar to the Christian Louboutin sheer formula Lipsticks. The beautiful metallic gold packaging with a snake skin texture and a king's crown shaped cap makes it the best thing I have ever bought. The cap shuts tightly and also has the signature red inside just like Christian Louboutin heels. There is a metallic hoop on the cap which can be useful to use these lipsticks as an ornament or as an accessory. Sivanna Gold Matte Lipsticks, have definitely the best lipstick packaging I have ever seen, love holding them in my hands.
My experience with Sivanna Gold Matte Lipsticks:
Shade: Sivanna Gold Matte Lipsticks are available in 15 gorgeous shades with lots pinks, reds and neutrals. Sadly, these beauties just have numbers to identify them. I got 4 shades from the collection, Sivanna Gold Matte Lipsticks in 3,11,13 and 15.
Sivanna Gold Matte Lipstick 3: #3 is a dark vampy reddish brown shade perfect for fall/winter season.
Sivanna Gold Matte Lipstick 11: #11 is my favorite shade of the collections. It is beautiful muted peach with warm undertones. It works great for neutral lip look and still not like the regular brownish nude. It is a shade that I haven't tried before. I just love neutral peachy coral shade.
Sivanna Gold Matte Lipstick 13: #13 is a stunning bright red lip color. It looks quite close to MAC Ruby woo. It is a neutral red, like a perfect Tomato red Lip shade for flaunting Sexy red lip look.
Sivanna Gold Matte Lipstick 15: #15 is an orangey red and is slightly deeper than #13. I thought it is going to be a burnt orange shade but it has more red than orange. Though, I still like this color and it will work wonderfully on warm Indian skintones.
Formula: Sivanna Gold Matte Lipsticks have a satin smooth creamy texture which glides easily on lips without any tugging or pulling. They are not super creamy or buttery but creamy enough to give an even application. The formula is neither hydrating nor drying and wears quite comfortably.
Pigmentation: Sivanna Colors Lipsticks have an awesome color payoff. All the shades are beautifully pigmented and with 1-2 swipes I get a rich opaque color on my lips. These Lipsticks have a satin matte finish which I prefer anytime over the flat matte finishes which are super drying.
Longevity: Staying power of this lipstick has been amazing. The lip color lasts easily for 6-7 hours on me with food and snacks. I like that even the lighter shade stays put throughout the day. The lipsticks does fill in lip lines like regular mattes but they do look start looking a bit flaky after sometime. So, just prep your lips before application for a smoother long lasting finish. I also like that these set to an almost transfer-proof finish so it won't slip or slide around the lips.
Fragrance: The review of these Sivanna Gold Matte Lipsticks wouldn't be complete without a mention of their delicious fragrance. Contrary to the weird smelling affordable lipsticks, these have a beautiful candy scent. Something like a centre fresh bubblegum.. its yuum!! Love it even more because of the scent.
PS: I ordered from @Chris.enterprise on instagram and shipping discount on my order plus these 2 waterproof Eye pencils as freebies.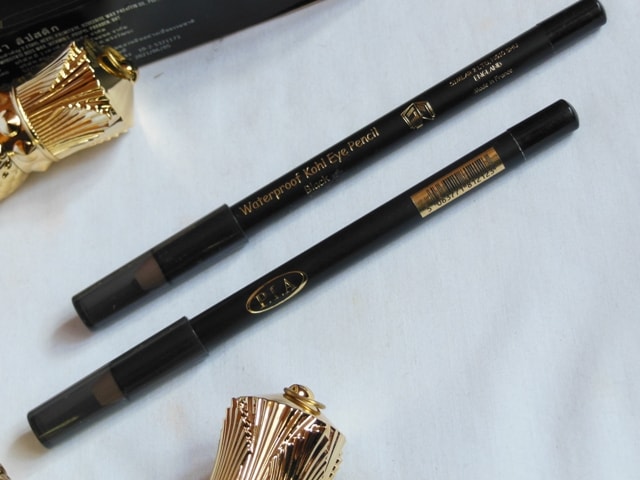 Recommendation: Sivanna Gold Matte Lipsticks are the best affordable lipsticks in India with the prettiest ever packaging. They are a perfect combination of packaging, formula and fragrance that I would have ever imagined in an affordable lipstick. The bullet glides on smoothly and the perfect satin matte finish qualifies them for the best matte lipsticks in India. These Sivanna Colors lipsticks totally bowled me over with their amazing formula and longevity. I got a nude, bright reds and deep burgundy lip colors. I missed on picking pinks from the range but will surely be getting them in my next order with Sivanna Colors. Because the price tag of Rs 250 with this quality and packaging is hard to resist. Want to have all of them in my collection. Highly Recommended!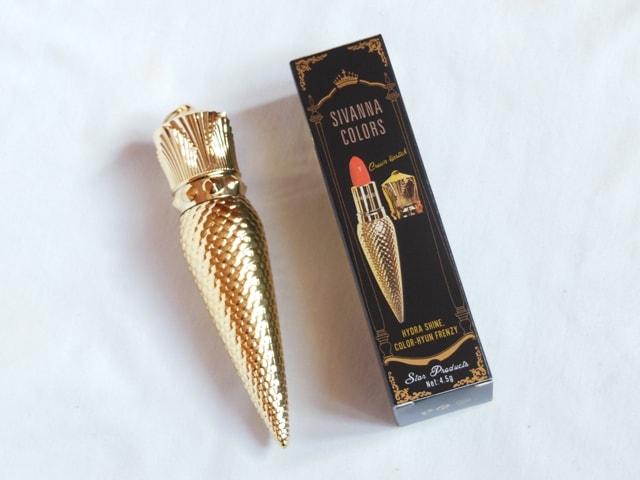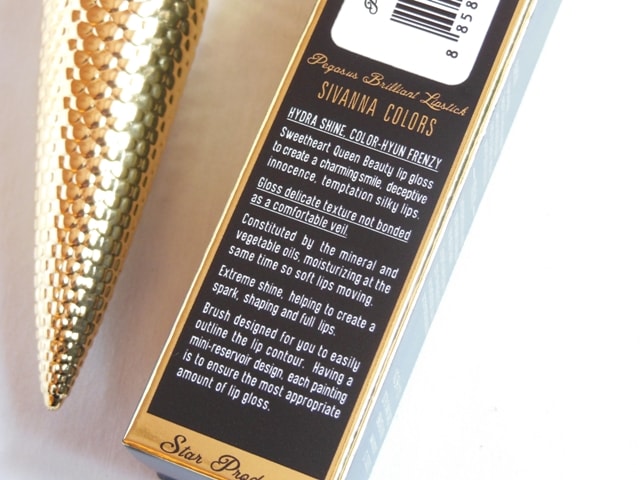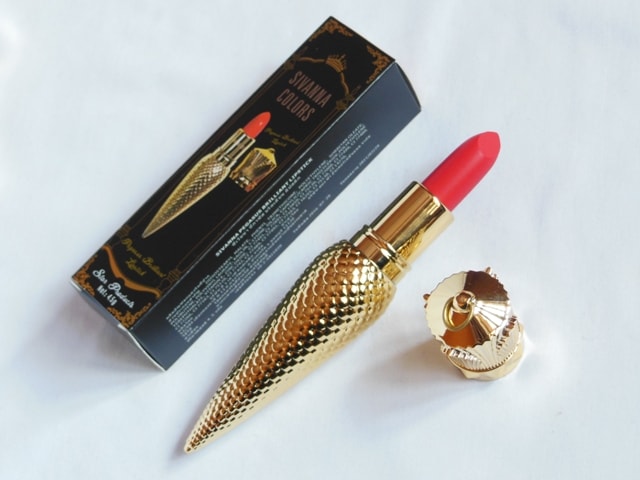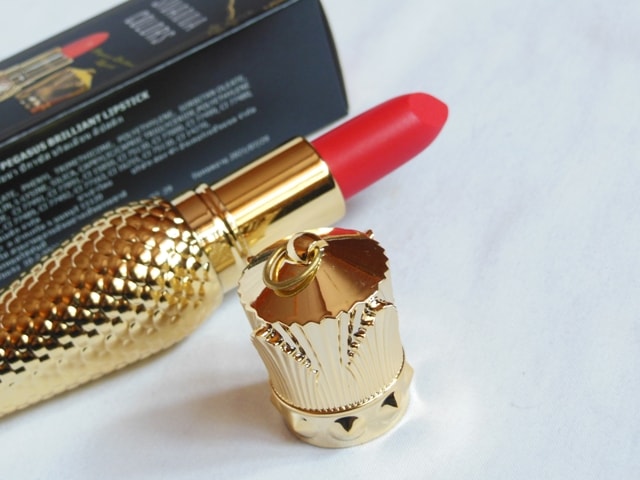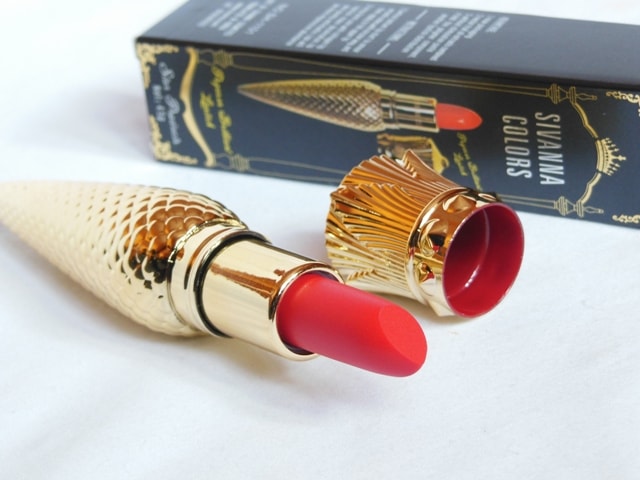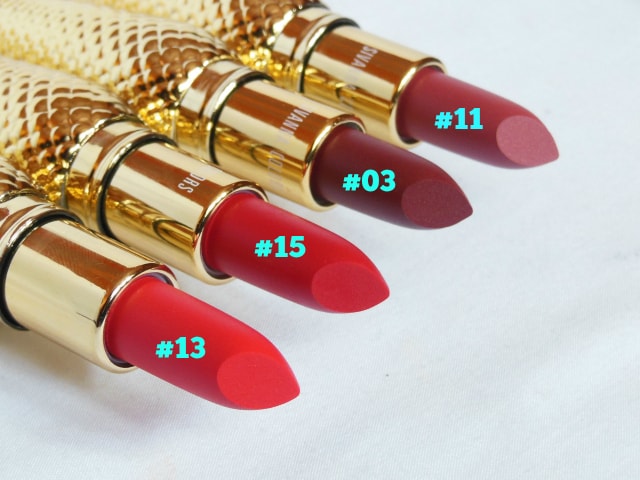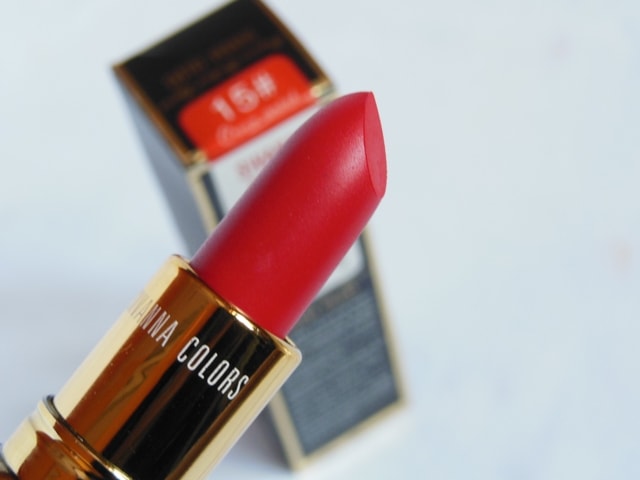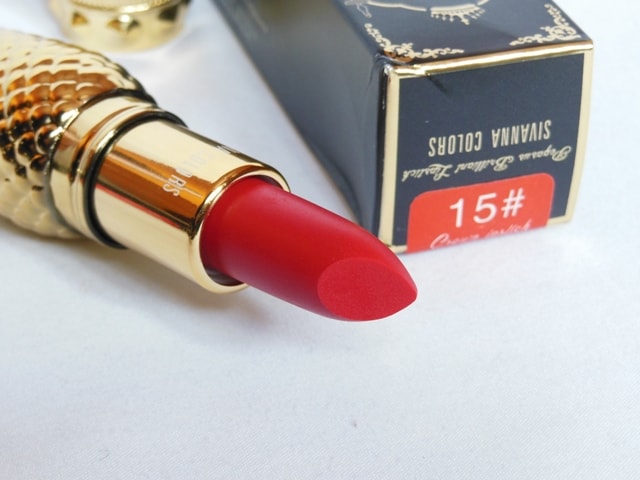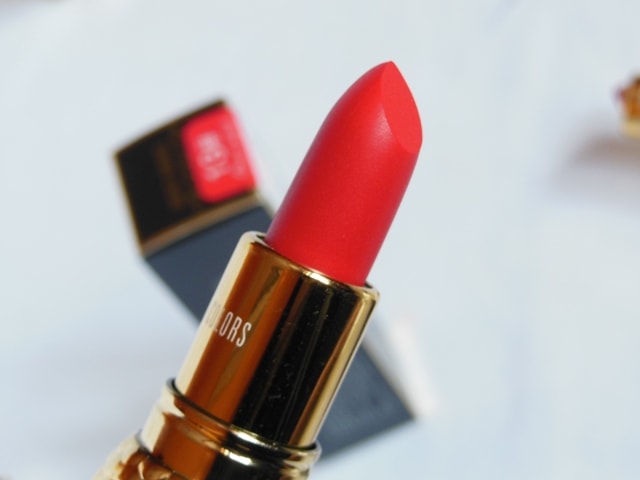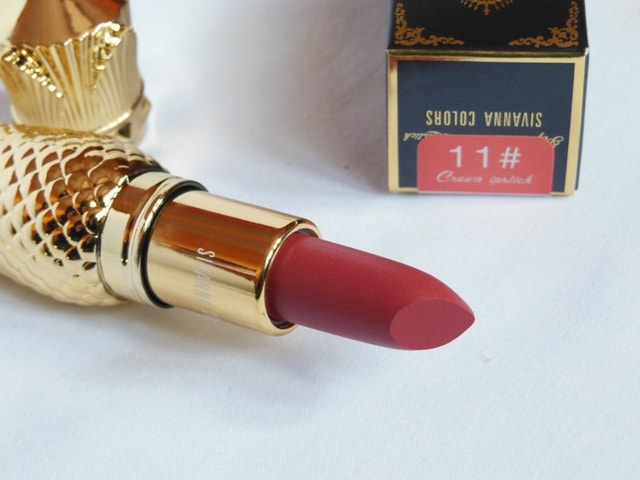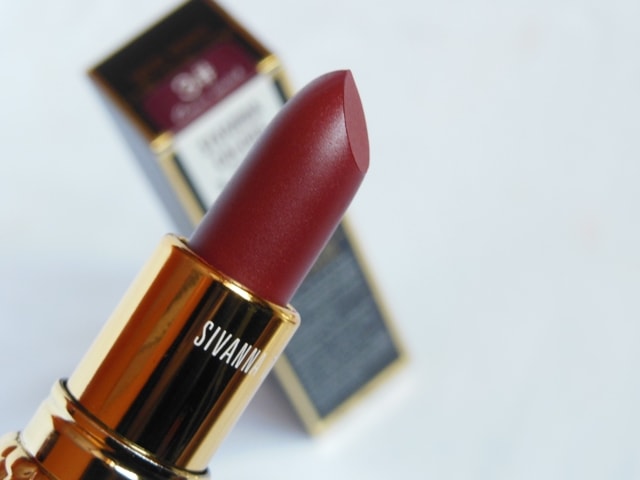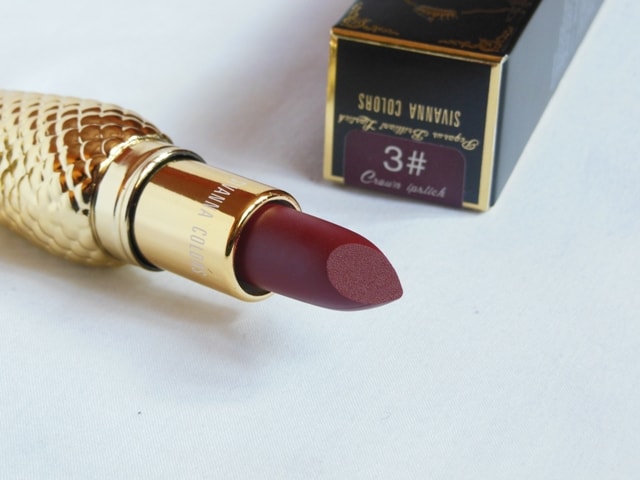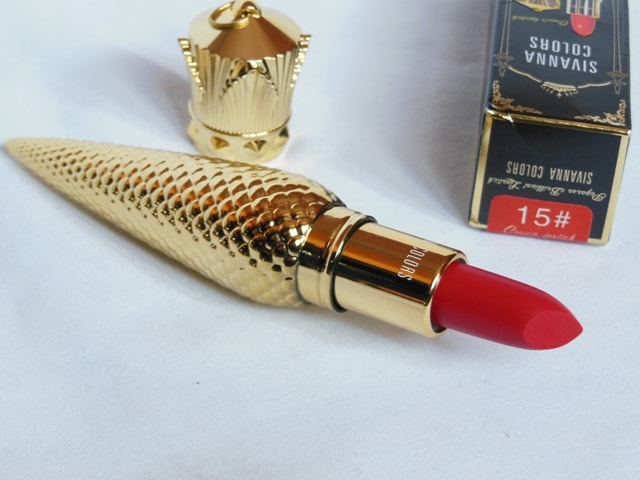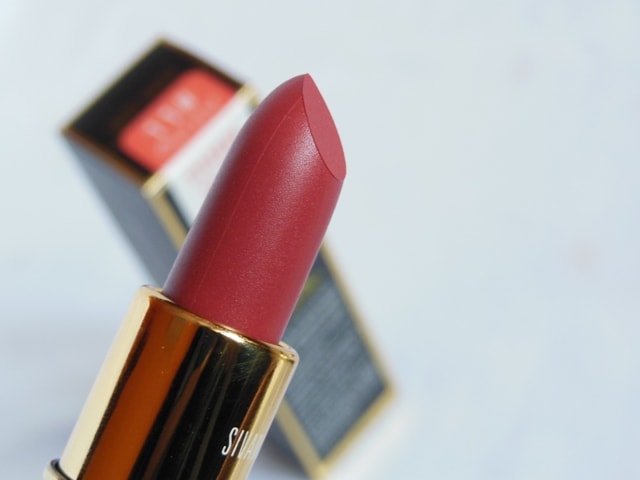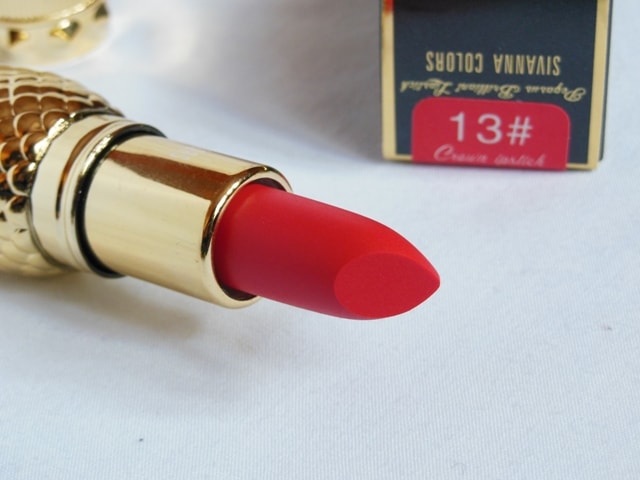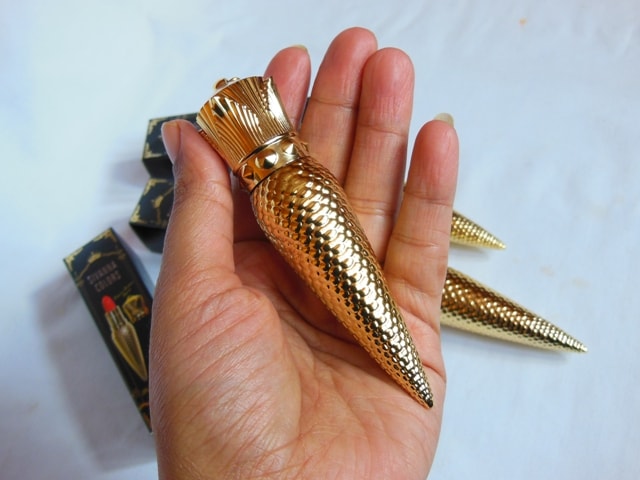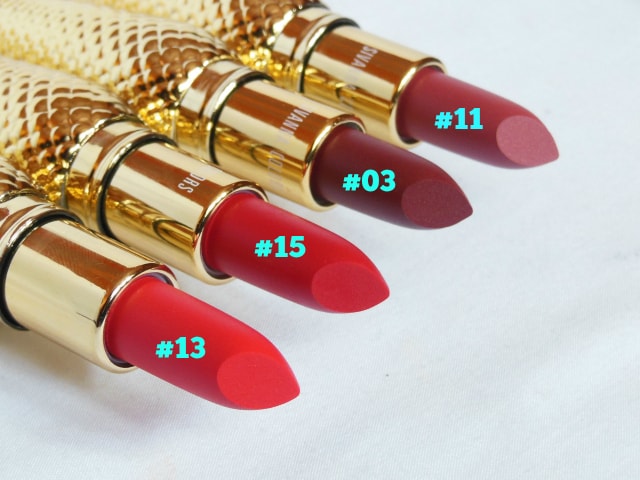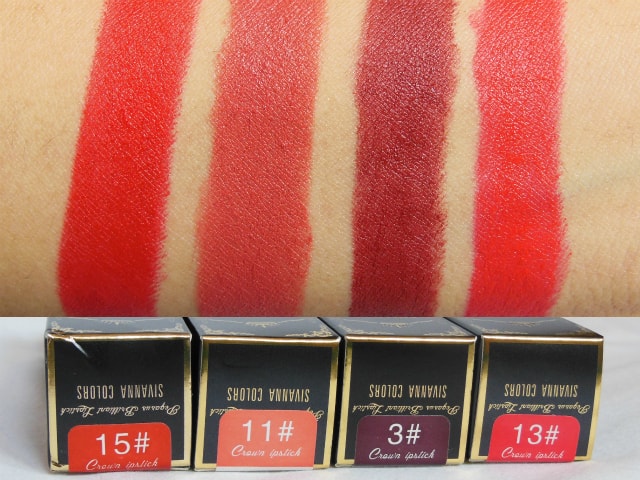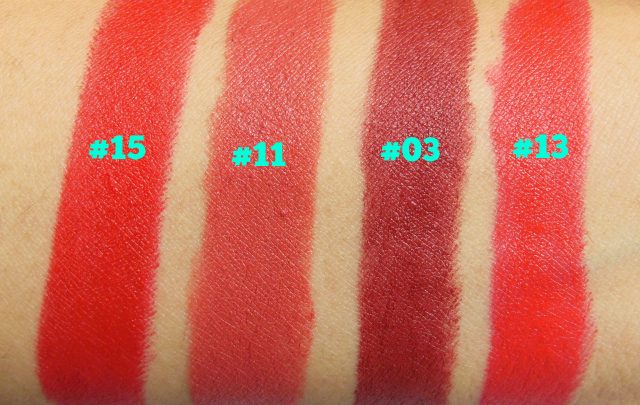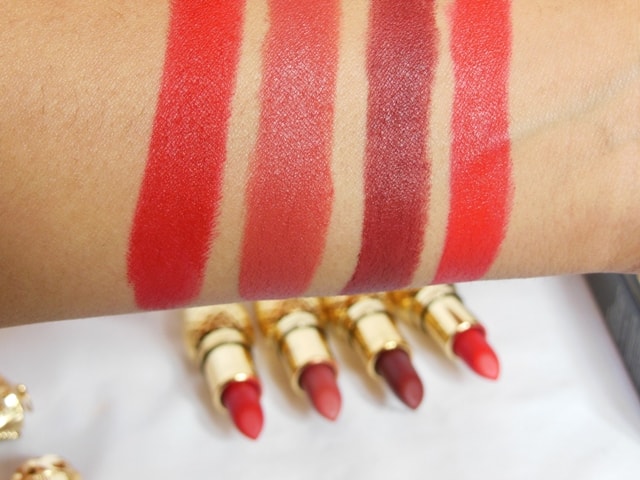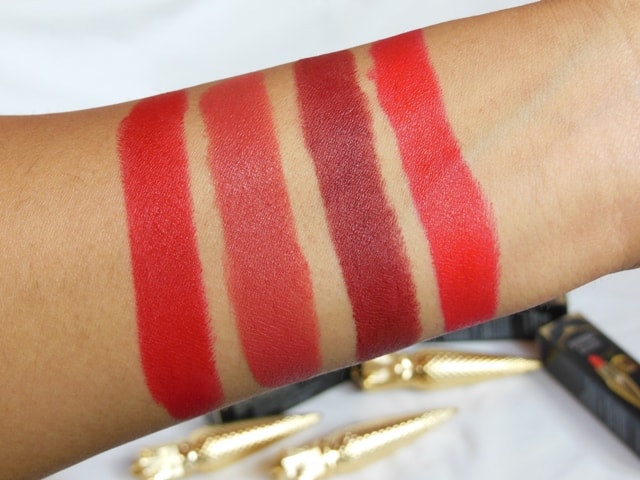 Don't Miss to Checkout:

Best Nude Lipsticks for Dusky Indian Skin
NYX Liquid Seude Cream Lipsticks
Dupe Discovered: MAC Rebel Lipstick
Rating: 5/5
Have you tried Sivanna Gold Matte Lipsticks? Would you like to buy these Dupes of Christian Louboutin Lipsticks?
The post Sivanna Gold Matte Lipsticks Review, Swatches – 3, 11, 13, 15 appeared first on Beauty And Makeup Matters.