Affordable Dupe of Christian Louboutin Lipsticks in India
Who wouldn't like to own the most expensive lipstick in the world made by well known luxury designer, Christian Louboutin. Christian Louboutin Lipsticks are mesmerizing but at $90 they don't fit everyone's budget. But worry not because today, I am going to share with you something that will let you enjoy that Royal Packaging without having to rob a bank to buy it. Yes, I am talking about the Drugstore affordable dupe of Christian Louboutin Lipsticks in India by Sivanna Colors.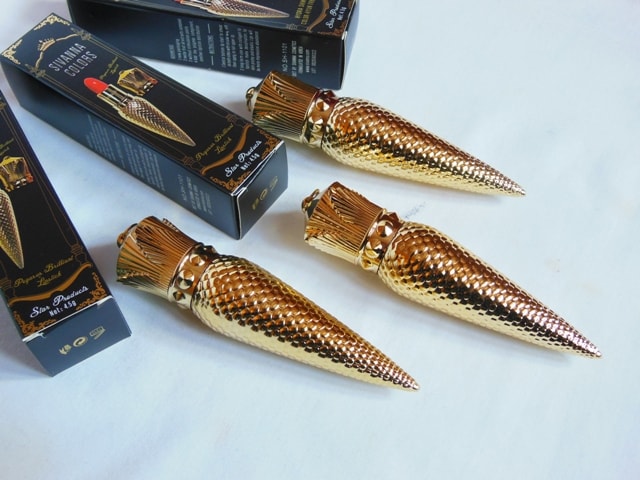 I saw these Dupes of Christian Louboutin Lipsticks on the instagram stories of one of my favorite nail bloggers Kajal @nailzfashionista and I couldn't resist myself from trying these. They looked so stunning that I have to order them instantly.
Little bit about the Brand: Christian Louboutin
Christian Louboutin as a brand is known for its ultra sassy heels. Every fashionta dreams of owing a pair of Louboutin heels. But Mr. Louboutin entered into the world of beauty with huge collection of nail paints. And sticking to the theme of Louboutin brand the nail paints comes in a super stylish, chic packaging but obviously with a hefty price tag of $50. They instantly became the talk of the town and every started saving to grab at least one of those beautiful bottles. But Christian Louboutin has even bigger plans and they came up with their first range of lipsticks, the Christian Louboutin Lipsticks.
Christian Louboutin Lipsticks are one of the prettiest lipsticks I have ever seen in my life. The ultra luxurious packaging looked like a piece of art waiting to be a part of my makeup vanity. However, some find the packaging a little over whelming but I was completely smitten by the beauty of the lipsticks. They look nothing less than a precious ornament. Actually, they are designed in such a way that they can be used as a neck accessory.
The unique design looks stunning and can bring royalty to my regular vanity table. But the price tag of $90 is something that makes it hard to enjoy the lipsticks.
The Christian Louboutin Lipsticks collection comes in three finishes matte, sheer, and satin and they have this snake skin packaging for the sheer lipstick collection.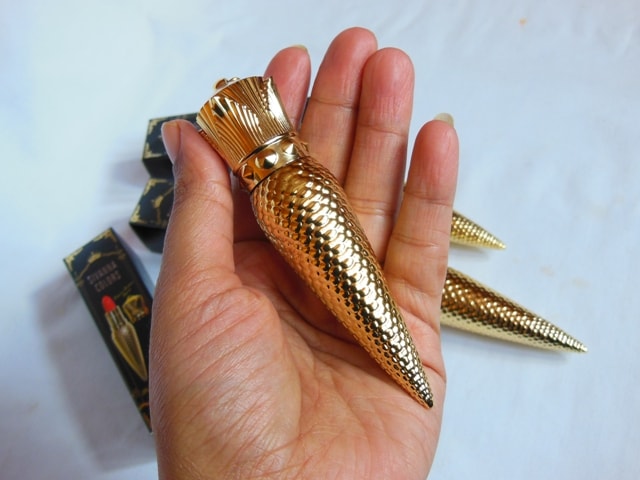 Sivanna Colors Gold Matte Lipsticks: Dupe of Christian Louboutin Lipsticks
These Sivanna Color Lipsticks looks quite similar to Christian Louboutin Sheer Lipsticks in packaging. The metallic snake skin bottom with a King's crown cap! The packaging feels sturdy and nice in hands, not at all cheap or filmsy!
These Sivanna Colors Lipsticks have a satin matte formula which glides on smoothly and is one of the best matte lipsticks I have tried. It is not super drying but super long lasting. The application is smooth and beautifully pigmented. This formulation is perfect for everyday wear for those who prefer a more natural matte finish.
I just wish these lipsticks had names because I have to remember them by numbers only. I guess there are a total of 15 shades available in these Sivanna Colors Gold Matte Lipsticks. My favorites from the ones I bought are #11 and #13.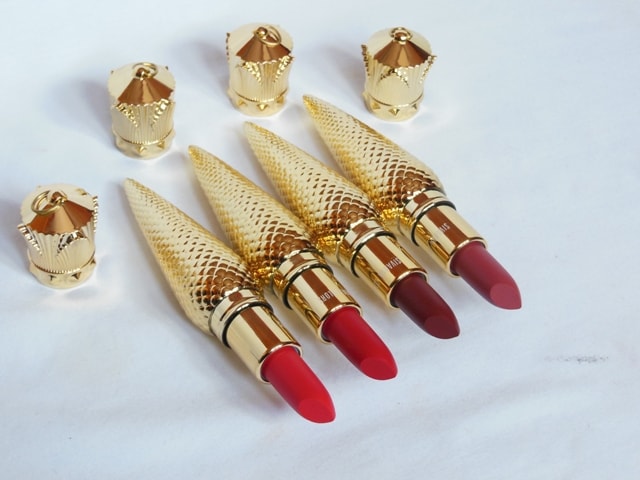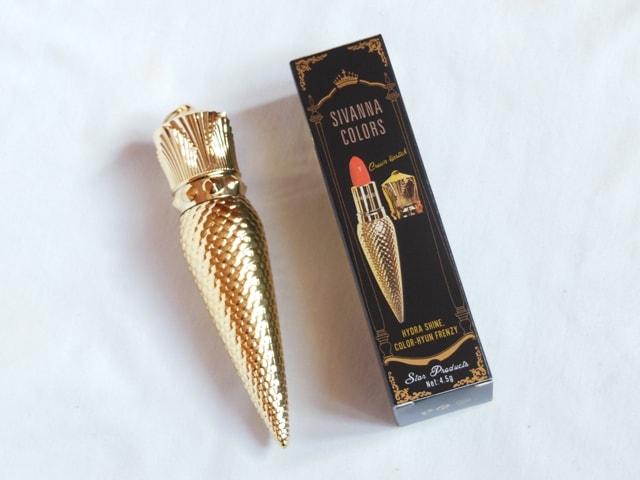 Cherry on the cake is these lipsticks have a delicious candy fragrance.. Yumm!! And all of this costs you just Rs 250..


. Yes.. you read it read they are priced at Rs 250 only.. isnt that a steal

You can checkout these lipsticks on Amazon.in or checkout their Instagram handle @Charis.Enterprise for some bonus offers and discounts
Sivanna Matte Gold Lipstick star collection. We have #15 different shades which suits all Indian Skin tone. Rs: 250/-
Don't Miss to Checkout:

Affordable drugstore dupes of Kylie Jenner Lip Shades in India
Affordable Beauty Blender Dupe in India
Drugstore Dupe of MAC Rebel Lipstick
Are you tempted to buy these Sivanna Colors Gold Matte Lipsticks?
PS: This is not a sponsored post, I bought these with my own money!
The post Affordable Dupe of Christian Louboutin Lipsticks in India appeared first on Beauty And Makeup Matters.