Top 10 Themed Wedding Destinations in India
Weddings in India are nothing less than a week long festival with lots of celebrations, ceremonies and good food. The young generation these days, wants to make their wedding a traditional yet enjoyable experience, something they can cherish for a lifetime.The concept of destination weddings has been around for some years in India now.If you are tying a knot anytime soon, this post is for you. I hope this will help you pick the perfect Themed Wedding Destination in India for you.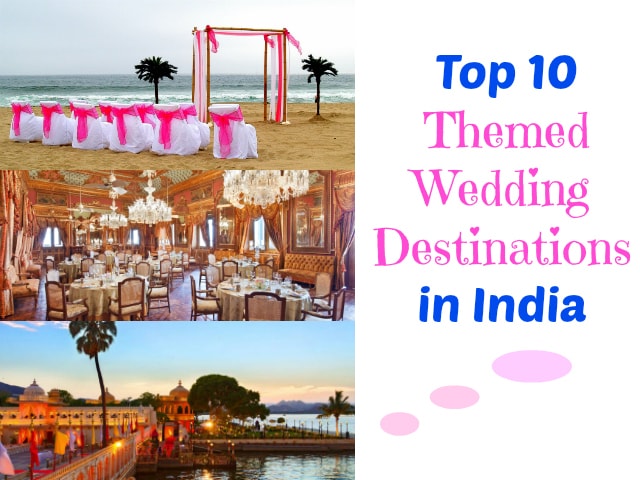 So, lets get started and see who all made it to the list of Top 10 Themed Wedding Destinations in India
Top 10 Themed Wedding Destinations in India
1. GOA: I will start with my personal favorite, Goa. Goa is a perfect destination if you want to enjoy a wedding full of fun, frolic and light-hearted fun. Goa offers you a pleasant coastal weather all through the year, especially during the peak wedding season, that is, November to February. Enjoy an awesome pre-wedding shoot, rain dances and beach cocktails at the Goan beaches and some really picturesque moments, enjoying the famous Goan Sunset. One thing to keep in mind is that it can practically rain anytime in Goa, so choose the venue for different ceremonies, accordingly in terms of indoors or outdoors. There are many resorts in Goa that can be great for a themed destination wedding,
The Park Hyatt, however has a luxury of its own with a private beach and in-house wedding planners. You can get everything customized as per your individual style. The USP happens to be the Portuguese architecture, fine weather, beautiful backgrounds for pictures and of course, the beaches. Theme could be Goan theme and you can make it more fun with exotic flower accessories for the bride and groom and even the wedding guests.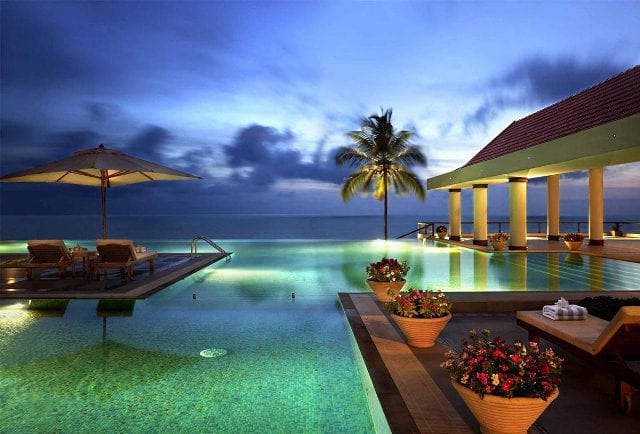 2. MUSSOORIE: Conducting a wedding at the queen of hills could be your best bet in the humid summer months. The cool climate, breathtaking views of the hills and pollution free environment are just perfect for a summer wedding. If you are really into pre-wedding shoots then, Mussoorie has a lot of Havelis and points, such as the Doon Valley that can offer a beautiful backdrop.
JW Marriott Mussoorie Walnut Grove, which lies on the Kempty fall road happens to be the best choice. The benefits being: 400 square feet venue space that can easily accommodate 300 guests. You get onsite wedding planners and an expert team of Caterers and magnificent architecture and awesome views of Himalayas at your doorstep.
3. UDAIPUR: If you want your wedding to be a royal affair with exotic, aristocrat settings, Udaipur is the place to be. Udaipur is the city of Palaces and lakes and offers many interesting places such as the fateh sagar lake,Jag mandir palace etc for a pre-wedding shoot. The guests can enjoy boating, sightseeing etc in the free time.
Jag mandir palace a palace turned into a hotel that could be the perfect venue for your wedding situated right in middle of Lake Pichola. Depending upon the gathering, there are various halls in the palace that you can choose for your wedding. The petty carvings, sculpture and spacious courtyards could be used for large gatherings up to thousands of people.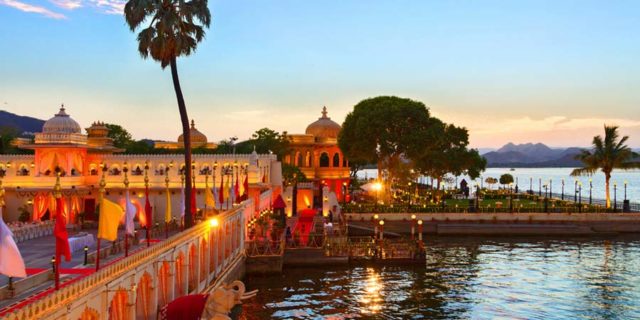 4. JAIPUR: Apart from very luxurious options, Jaipur also offers some rather affordable options to conduct a destination wedding. All the tourist attractions happen to be located near the vicinity of the hotel. The old mansions of Jaipur, such as: Mandawa Haveli, Alsisar Haveli. Perfect for Indian weddings and is among the best wedding venues in jaipur.
Mandawa Haveli is a family run Haveli Jaipur is a very colorful place for a wedding and Rajasthan offers you a delightful cuisine as well. The guests can be kept entertained by folk music shows and puppet shows.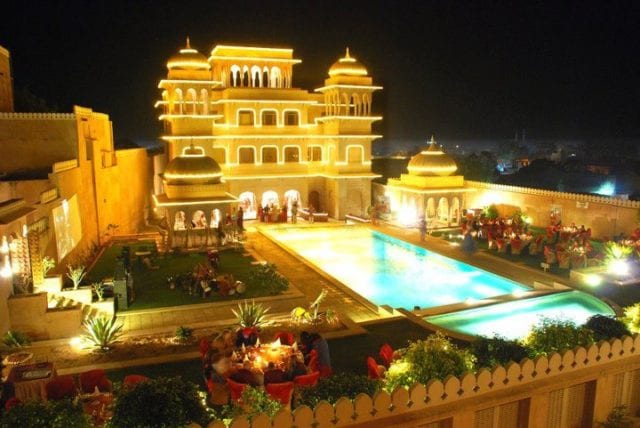 5. Kerala: The greenery, natural beauty and backwaters make it a perfect tourist destination but Kerala is also a potential wedding destination. Resorts such as, Zuri Kumarakom, near Alleppey, could be one possible venue. Theme could be an elephant wedding with the groom arriving on elephant instead of mare or a traditional Tamil wedding. Something, different from traditional north Indian weddings.

6. Agra: The city Agra is the house of one of the Wonders of the world, Taj mahal and definitely need no introduction. Now, imagine a wedding with the eternal symbol of love in the backdrop, in most of your wedding pictures. Hotels like Radisson and Jaypee offer customized wedding packages.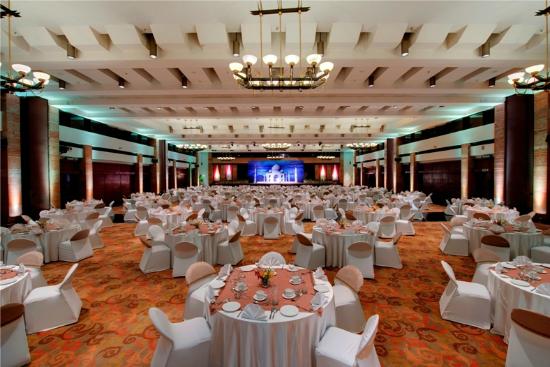 7. Andamans: The Havelock islands in the Andamans are considered perfect for holding your Wedding functions. The staff at the resort would help you arrange everything from caterers to florists to decorators. Guests get to enjoy Beaches, Corals and adventure sports.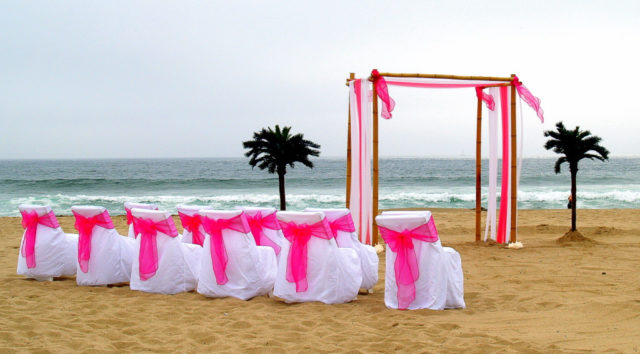 8. Neemrana Fort, Rajasthan: Located at an approachable distance from Jaipur and Delhi, Neemrana fort is another hunt for those wanting to conduct a destination wedding. In the retreating summers or early winter months, this place would be a delight as a wedding venue. Large open space,, rustic fort like feel, pools, cultural activities and stunning lighting in the evenings add an extravagant charm to your wedding.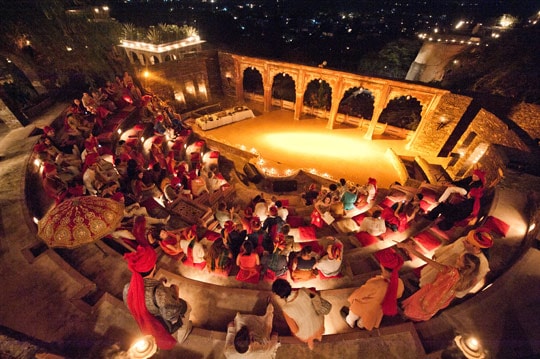 9. Hyderabad, the City of Pearls: Hyderabad, the city of Nizams could be another good choice. The like Taj Falaknuma Palace and Chowmallah Palace are two places you could book for your wedding. Some traditional pearls as wedding return gifts would be something your guests would cherish. Definitely one of the best Themed Wedding Destinations in India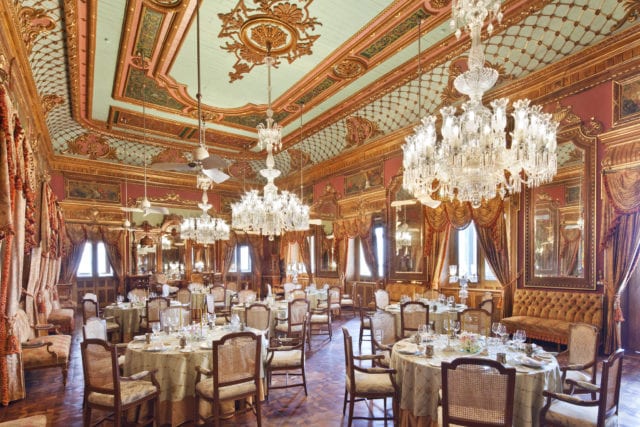 10. Rishikesh: What better place to conduct a wedding than in the lap of a famous place of Pilgrimage. It altogether adds a divine essence to your wedding? The famous hotel Ganga kinare offers you to conduct your ceremonies right at the bank of Ganges. Open skies with surrounding mountains and the holy Ganga. What more could you ask for!!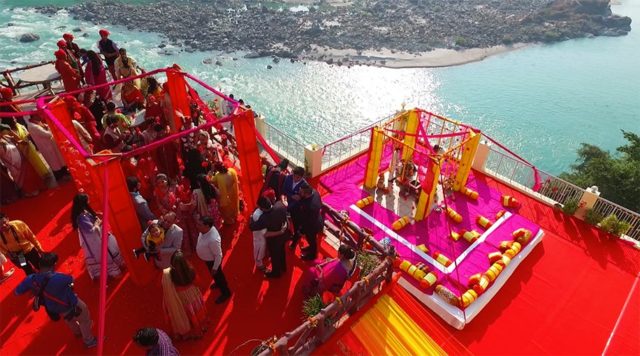 So, these were the top 10 wedding destinations for themed weddings in India.
Now, looking at all these options I feel like getting married again. And this time I would like to make it an an easy – breezy Beach wedding Or may be a royal affair at a Palace.. what say ..
Which one is your favorite Themed Wedding Destinations in India? Have you attended any destination wedding yet?
The post Top 10 Themed Wedding Destinations in India appeared first on Beauty And Makeup Matters.