Max Mara Spring 2018 collection at Milan Fashion week was minimal and chic. Read the review to know what we think about the collection!
Review | Collection

Max Mara Spring 2018 Collection at Milan Fashion Week was inspired by Baudelarian view of the city. According to Wikipedia, "Charles Pierre Baudelaire was a French poet who also produced notable work as an essayist, art critic, and pioneering translator of Edgar Allan Poe. He made Paris the subject of modern poetry. He would bring the city's details to life in the eyes and hearts of his readers."
The collection had well-tailored outfits for the modern woman. The show started with brown pantsuits, trench coats, pencil and fringed skirts, reminding us of the Fall Winter 2017 RTW collection. Later, the show drifted to boyish denim pants, jackets and jumpsuits.
According to the fashion show description, "Max Mara's latter-day flāneuses are perfectly accoutered to savour the summertime city's delights. Smart cosmopolites seek out discreetly luxurious oases and hidden gardens, hedonistic citizens of a modern terrain clad in new crisp linen trenchcoats and a pencil skirts sporting the heritage sand-on-sand logo motif woven or printed onto jackets and sweaters. An understated elegance with a spot of drama struck by the resurgence of light and pleasure."
Sheer was prominent in the collection. There were sheer skirts, trousers, shirts and jackets but layered on other fabrics. That solves the age-old (or perhaps a year-old) question of what to wear under sheer dresses, perhaps! Floral prints were seen – both small and oversized. My favorite look from the collection was this floral print pantsuit.
The color palette was dreamy with white, beige and lavender. Black and brown were alluring. Accessories included gradient sunglasses, cross body bags and T-strap heels. Makeup was bold – bright lips paired with side swept straight hair.
Overall, a chic collection for the modern women, with well-tailored pants and skirts as the baseline. But it leaves you wishing for more!





Max Mara Spring 2018 Collection: Gallery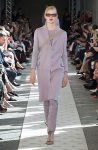 Image Credits: MaxMara.com
The post Max Mara Spring 2018 RTW Collection: A Baudelairean View of the City appeared first on Shilpa Ahuja.