Summer's here and it's hot as ever! Your home studio is probably blasting the AC but here are 5 tips for embracing the heat – both literally and metaphorically – that will help deepen your Pole practice.
1. Bring the outside in! What clothes, smells, and textures evoke the spirit of summer vacation in your body? Summer camp, lounging poolside, or of course the beach. Being able to pole outside – especially ON the beach – is always a treat, but when that's not available we can bring the fun of summer dressing to class! Try doing your flow and solo dances in a bikini, cut offs, a flowing sarong… Whatever makes your body feel like school's 100% out for summer. Dancing in "non-dance wear" can wake up parts of our dance we didn't even know were sleeping. Bad Kitty has a super cute "Mermaid Bay" collection I'll casually leave right here for you…
2. Sweat it out! Yes, I know, as dancers we don't sweat, we sparkle. But if Beyonce can do it – so can you! This is a great chance to detox. Before class try 10-20mins of intense sweating that doesn't involve movement. If you have access to a sauna or steam room, that's great. If not, you can create it in your own bathroom by shutting the doors and windows and letting it shower steam things up. Also, if you're in a hot part of the country (as I am) just going outside may do the trick. If you do this, be careful of the sun. Stay in the shade and wear sunscreen. However you do it, let body get out a really good sweat then shower off and go straight to pole class. You'll feel yourself be more limber and open (and grateful for the AC!)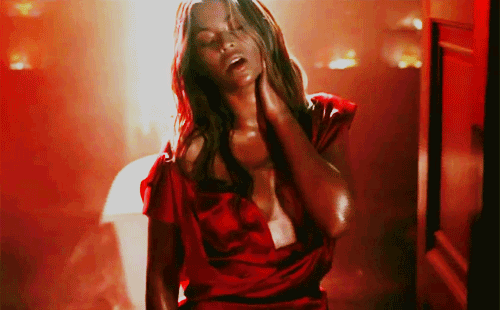 3. Have a cook out! Host a summer themed party for your pole friends. So much of the pole community's magic comes from friendships made in the studio and strengthened outside of class. So step up and be a leader! Everyone loves to be invited… Summer is the perfect time to get the gang together and grill out, sip fun drinks, and dance the night away. Bonus points if your venue has a pole for play time! Get to know your pole friends (and yourself) better through casual down time together. See how your dance changes after a summer night of group bonding.
4. Make a new playlist! Let summer give your body permission to be a bit more playful, silly, and carefree in your dance. Take a walk on the lighter side… Let it be easy and fun! We push ourselves so hard all year. Summer is a time for vacation! Here's some of my favorite summer pole play songs. See if any of these connect with your body… Then go find the songs that inspire you and make a play list.
5. Discover a new scent! As I've mentioned before, smell is the body's most emotionally connected sense. What does summer smell like to you? To me it's sunscreen, coconut oil, sea spray, and watermelon. Here's some less obvious summer scents you may want to explore wearing while you pole.
Basil: With an aroma a bit like an herb garden after a summer rain shower, basil's gently activating properties can enhance diffusions and air fresheners.
Chamomile: Roman, German and Wild: the bright, fruity-floral scents of the chamomiles add calming, nurturing benefits to summertime diffusions and skin care applications.
Citronella, Lemongrass, Lemon Balm, Lemon Eucalyptus and Palmarossa: Grassy-fresh scents resembling green lemons. These are great for freshening and protecting skin on sultry summer evenings.
Citrus: Bergamot, Grapefruit, Lemon, Lime, Mandarin Orange, Sweet Orange and Tangerine: juicy, sweet, fruity scents add a summery sweetness to air fresheners and diffusions for uplifting effect.
Geranium: The rosy, green-herbal scent of geranium adds a balancing freshness to summertime body care applications like washes, lotions, mists and skin care oils.
Helichrysum: With a sunny scent resembling herb-infused honey, helichrysum provides a galvanizing emotional benefit and a fortifying benefit to skin care applications.
Jasmine: Adding just a drop or two of jasmine's intensely floral radiance to seasonal sprays and body mists will sweeten their aromas.
Lavender: This indispensable calming soother is a must for any summer-weary skin application. Pair it with aloe vera gel or extract for a winning skin care combination.
Neroli: Also known as orange flower essence, neroli possesses a spicy, green-floral note that enhances all summertime skin care care applications.
Rose: Otto and Absolute: Nothing comes close to the rich and radiant aroma of summertime flowering rose, which also offers outstanding nourishing benefits in skin care applications. Try it in overnight applications of facial care during the summer months such as a water based facial mist or jojoba oil based facial oil.
Sweet Marjoram: Less flowery than lavender, and less herbal than oregano, sweet marjoram lies somewhere in between the two. Add its balancing and normalizing effects to the cleansers, lotions and oils you use in your summertime skin care regime.
Ylang Ylang: Exotically floral ylang ylang adds a calming, soothing note to any summer skin care application. Try making a traditional South Pacific hair dressing of a dab of coconut oil and a few drops of ylang ylang.
All this writing about summer makes me want to put my feet in the water and sip a piña colada. -And then go to pole class! Happy dancing, BK Family! Cheers!